The top Australians of the day were Megan Williams in 34th place for the women and Mitchell Greenway in 38th for the men.

For the third day in a row, weather conditions were perfect, with sunny skies and warm temperatures showcasing the Norwegian countryside.

In the women's four lap race, Malene Degn of Denmark opened a ten second gap on the Swiss duo of Koller and Sina Frei in the first lap. She managed to hold onto the lead until the halfway point in the race before Koller bridged up in the third lap. The two rode together for the beginning of the final lap before Koller pulled away on the climbs to win decisively, by over a minute. Frei hung on for third.

"For the first part of the race I was further back, and I had to fight to get to Malene," explained Koller. "Then we rode together until the last lap, when I realized that I had got a little gap. When I heard that it was 30 seconds then I just had to be careful not to crash or have any problems."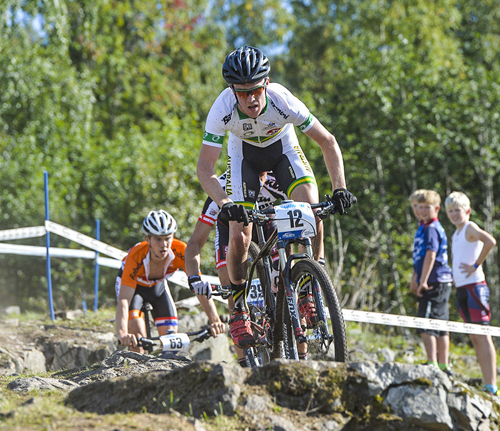 (Reece Tucknott was the best placed Australian junior male - Rob Jones)

The men's race was decided in the first lap of the five lap race, when Andreassen rode away from the rest of the field with an impressive display of power and skill. By the end of the first lap he had a 30 gap on Egan Bernal (Colombia) and Hugo Pigeon (France), and it continued to grow. Pigeon fell off the pace and Bernal was eventually joined by Luca Schwarzbauer (Germany), but the duo could make no dent in Andreassen's lead.

The Danish rider finally slowed in the last lap when a slow leak forced him to be cautious on the descents and technical sections. However, he still rolled in 37 seconds ahead of Bernal, who outsprinted Schwarzbauer for the silver medal.

"It was a very great day," said Andreassen. "I felt perfect, and it was my biggest goal for the season, so I'm very happy to complete it. I felt a lot of pressure, because I have won a lot of races this year, so people were expecting me to be fast today. But I felt good before the race so I was ready to give it my best."

Results

Junior Men: 21 km (5 laps)
1 Simon Andreassen (DEN) 1hr 08min 49sec
2 Egan Bernal (COL) 0:00:37
3 Luca Schwarzbauer (GER) 0:00:38
4 Milan Vader (NED) 0:01:19
5 David Horvath (GER) 0:02:30
6 Hugo Briatta (FRA) 0:02:48
7 Neilo Perrin Ganier (FRA) 0:03:53
8 Neilson Powless (USA) 0:03:55
9 Moreno Pellizzon (ITA) 0:03:56
10 Filippo Colombo (SUI) 0:04:02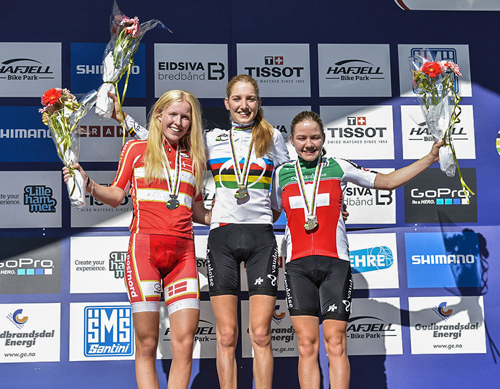 Junior Women: 16.8 km (4 laps)
1 Nicole Koller (SUI) 1hr 06min 16sec
2 Malene Degn (DEN) 0:01:06
3 Sina Frei (SUI) 0:01:27
4 Alessandra Keller (SUI) 0:01:49
5 Barbora Prudkova (CZE) 0:02:10
6 Evie Richards (GBR) 0:03:00
7 Isla Short (GBR) 0:04:51
8 Chiara Teocchi (ITA) 0:05:51
9 Marlena Drozdziok (POL) 0:05:52
10 Greta Seiwald (ITA) 0:06:13