The women's race was expected to be a battle between Neff and Pauline Ferrand Prevot of France. The two riders dominated the Elite World Cup, taking five wins out of seven races, so this was to be the showdown. However, Neff soon showed that she was in top form for the day, attacking on the first climb of the five lap race.

Ferrand Prevot bridged up on the climb in the first lap, and then both riders crashed in the descent, with Neff the first to get going and open a gap on her rival. The gap grew slowly over the next few laps until lap four, when Ferrand Prevot had to stop in the pits to get a twisted chain replaced, which promptly broke, forcing her to run to the next pit, and dropping her to ninth, and out of medal contention.

While Neff was cruising to a decisive win, Margot Moschetti (France) was steadily moving up, and was into second place by lap four, with Linda Indergand (Switzerland) joining her in the same lap. Moschetti was able to open enough of a gap on the final lap climbs to assure herself of second place, with Indergand coming in just behind for bronze.

"I felt really good today, and it was great that everything worked out," said Neff. "I knew that I had the shape, so I was happy that I could put everything together today, race my race and take the win.

"When we did the Team Relay, Pauline and I had nearly the same time, so I knew it would be a tight battle today. So I just tried to do my race like I do when I win, and go out fast and ride my own pace.

"We were together on the first lap and she was ahead of me on the climb, but I was able to get in front for the downhill. On the second lap in the downhill we had a little crash together and both of us had our chains off, but I was faster to get back on the bike, and then I had a gap and it kept getting bigger."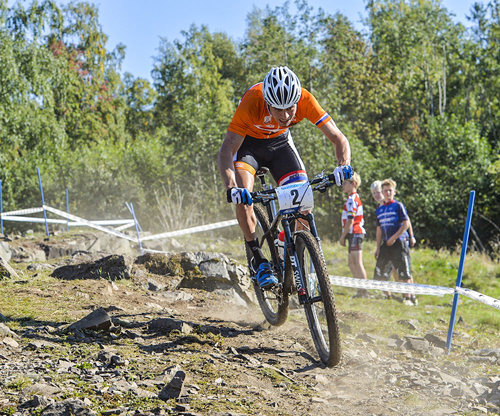 (Michiel van der Heijden opened the Netherlands' championship account )

The men's race began with a strong attack from Samuel Gaze (New Zealand), who led for the first two laps with Jordan Sarrou (France). Gaze crashed hard in the third lap and was forced to abandon, while van der Heijden bridged up to the leaders in the same lap. Sarrou then flatted in the following lap, leaving van der Heijden alone in the lead, which he held to the finish. American Howard Grotts had an impressive ride through the field from 33rd at the end of lap one, to take the bronze at the finish.

"Whenever you can win the rainbow jersey it is a great day," said van der Heijden. "The start was good, and it was my goal to be up near the front at the beginning.

"I was starting to feel better and better through the race, but still suffering because it was so hard and you have to stay focussed all the time. I had no time to enjoy my last lap because (Sarrou) was close, but now I can start to enjoy it."

Emily Parkes was the top Australian woman in 27th, with Cameron Ivory the top man in 18th.

Under 23 Women
1 Jolanda Neff (SUI) 1hr 17min 49sec
2 Margot Moschetti (FRA) 0:01:47
3 Linda Indergand (SUI) 0:01:53
4 Yana Belomoina (UKR) 0:03:08
5 Jovana Crnogorac (SRB) 0:03:25
6 Helen Grobert (GER) 0:03:47
7 Alice Barnes (GBR) 0:04:50
8 Pauline Ferrand Prevot (FRA) 0:05:36
9 Ramona Forchini (SUI) 0:05:40
10 Lisa Mitterbauer (AUT) 0:05:48

Under 23 Men
1 Michiel Van Der Heijden (NED) 1hr 18min 40sec
2 Jordan Sarrou (FRA) 0:00:49
3 Howard Grotts (USA) 0:01:12
4 Jan Vastl (CZE) 0:01:28
5 Grant Ferguson (GBR) 0:01:39
6 Anton Cooper (NZL) 0:01:56
7 Julian Schelb (GER) 0:02:28
8 Leandre Bouchard (CAN) 0:02:35
9 Andri Frischknecht (SUI) 0:02:56
10 James Reid (RSA) 0:03:16