According to Sporting Director Matt White the team will move away from its attempts to build a dedicated sprint train, something it had tried to develop around the departing Matt Goss, and double down on versatility, with riders like Simon Gerrans, Michael Matthews, and Michael Albasini, as a stop-gap as it nurtures its aspiring GC talents.

Versatility has been synonymous with Orica-GreenEDGE from its inception; the team winning everywhere from team time trials to mountain stages, monuments to one-week stage races. And the success has been spread, too. As of Simon Gerrans's victory in Quebec, the team boasts 100 wins in its three seasons in the peloton, split between more than 20 different riders, a reflection of its depth as much as the spread of responsibility and opportunity.

It will be more of the same, next season, with the team's major acquisitions for 2015, Caleb Ewan, Magnus Cort, and Adam Blythe, but more regular stage race success may be the team's next serious port of call.

White has told Cycling Central the team is committed to creating a GC engine for the squad, something he'd hoped to centre around transfer-target Wilco Kelderman, but will now hope to foster around the Yates brothers and Esteban Chaves. White believes the talented trio may be all Orica needs.

"What we have now with guys like Esteban (Chaves) and the Yates brothers, is that pure climber," White said. "Which means we can also go to almost any WorldTour race and be vying for wins across more stages, the higher mountains too, and maybe build GC off that.

"I think we've got the best young talent in the world in our roster at the moment."

Simon and Adam Yates, joined Orica at the start of the year and have already picked up a number of quality results with the team. Adam won the Presidential Tour of Turkey, and rode a respectable GC at the hotly-contested Amgen Tour of California. In June, he went further, with a high finish at the Criterium du Dauphine. Simon meanwhile, despite an injury-plagued year has been steadily on the improve, and most recently won the King of the Mountains classification at the Tour of Alberta.

"What I like about the Yates brothers, is that they're hungry to keep pushing on, you've always got to hold them back," White said. "I'd rather work with kids you've got to hold back, than kids you've got to keep pushing to chase goals, certain objectives.

"We have big plans for them. I think both will need another year (to develop), but we'll probably take them to the Tour and get them to focus on a few key stages. They're still a full season away from trying to ride a good GC."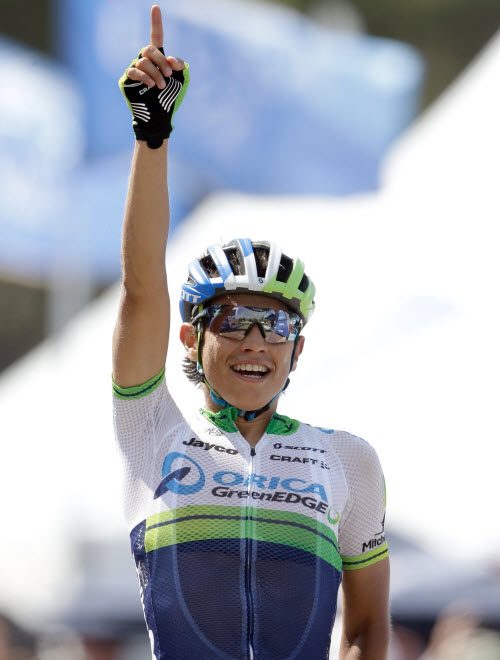 It's Chaves however where White sees the most immediate potential. Chaves, a pint-sized climber has the ability, White believes, to ride top-10 at next year's Giro d'Italia. The Colombian, 24, finished his first Grand Tour last Sunday, in 41st overall, riding without pressure, but aiming for consistency throughout the three weeks.

As a point of reference, Fabrio Aru (Astana) finished his first Grand Tour in 2013, 42nd overall, while Nario Quintana (Movistar) was 36th in Grand Tour debut, La Vuelta in 2012.

"What's common with all of them (the Yates's and Chaves) is they need to really learn and hone their ability to ride GC at smaller races. Master it at that level and then bring it forward to Grand Tours.

"It's a different level going from an eight day race to a 20-day race, the fatigue is a big factor and that's uncharted territory for young riders. You can deal with the fatigue of a week but how you deal with the three weeks is always going to be a lot harder.

"I think the first guy that's going to be capable of that will be Esteban. We've got work to do on his time trial, and I think we'll wait to see exactly what's in store at the Giro and Tour before setting plans in stone, but I think next year we will target Esteban for a GC ride at the Giro."

Fatigue saw Chaves slip from a top-10 position in the Vuelta's first week to eventually fade, but there were signs however the former Tour de l'Avenir winner can step up in the next few seasons. A strong climbing performance on Stage 6, to La Zubia, and the tenacity to finish give White confidence.

Further progression, White says, will not necessarily require root and branch changes to Orica's existing structure either, citing the makeshift approach he helped engineer at Garmin.

"I think a realistic top-10 is something we'd be hoping for with Esteban next year," said White.

"Until you get to that stage where you're actually going to win the Tour de France, you don't necessarily have to rework the team completely.

"I've overseen guys finish top-five twice before, 2008 with Christian Vande Velde and 2009 with Bradley Wiggins, and on both occasions we took a team very similar to what we've got now (at Orica-GreenEDGE).

"Unless you're going to win the Tour, you don't have that same responsibility. You can podium, you can certainly ride top-five without having a super, super GC-focused team."

Follow @al_hinds