Both of them knew the conversation needed to happen. It had been simmering to the surface for quite some time, but it was only now, in June, at the Tour de Suisse that Shayne Bannan broached it.

"Come back in the car with me," offered Bannan. And so he did.

There's something about car rides that prys the heart and mind open. The unsaid, drips, then pours out, helped perhaps, by sparing eye-contact, and the gentle hum of the engine.

They were frank. Bannan, mainly. There was no sugar-coating it, the partnership hadn't been anywhere near as successful as either had hoped.

After 10 minutes, all was said and done. Catharsis.

Goss was out.

The decision was mutual, as Goss tells it anyway. Still it's not something he would have anticipated, nor desired even 12 months before. Both had wanted things to work. They hadn't.

In September, he finished his last race with the team, the Tour of Alberta, or rather didn't. A DNF is marked to his name for the final stage. An appropriately invisible close to Goss's time in Orica colours.

In three years with the team he'd clocked just two wins, and for the first time since he'd turn pro, in 2014, he hadn't won once.

Where exactly did it all go wrong for Matt Goss? What exactly happened to the world-beater that joined the team in 2012?

At a time of accelerating development, strength, speed and confidence, the Australian, stagnated, then went backwards.

For Matt Goss, these were the lost years.


***


Internally at least, frustrations with Goss's non-performance at GreenEDGE had been building for some time. One must remember that the Australian, was, at least in 2012, by far the team's best paid rider, on a deal close to double that of any of his team-mates. And yet the return on investment from the now 27 year old, in retrospect, is among the poorest of the crop.

At the time of Goss's signing, in 2011, his deal was vindicated. Here was a rider bubbling to his prime, and ready, or so it appeared to hit his stride in a new, ambitious team, unrestrained by the presence of other sprinters. He'd won Milan-San Remo, he'd very nearly won a world championship, in Copenhagen. The world was his oyster.

But things never clicked.

There's a confluence of factors that together unravelled Goss, the first, was the assumption that he could, or would be able to factor against the world's best sprinters in an incredibly tight, and highly competitive top-tier of fast men.

In reflection, Matt White conceded last week that one of the big lessons with Goss was how dramatically the trend of finely-tuned lead out trains built specifically around a single key sprinter had altered the speed game. Cavendish and Greipel, the emergence of Marcel Kittel, and the fact that Peter Sagan was a better climber, and arguably faster finisher left Goss little opportunity to succeed.

"We learnt that the hard way with Gossy," said White. "It's a very, very hard market to crack. Unless you can beat the Kittels, Greipels, or Cavs, of this world, you're pretty much wasting your time."

At least in Goss's first year with Orica, the number of near misses would suggest that even with a team focused on delivering the Australian to the line, racking up the wins the team had hoped was going to be hard graft, harder still in the evolving sprint environment without a train that rivalled Argos, Lotto, or, more recently, Omega Pharma-Quick Step. Goss did win, once, at the Giro d'Italia, a landmark of sorts for the team as its first Grand Tour win, but the number of seconds, thirds and fourths, built in droves as further wins alluded him.

As Goss sees it, contending with building a new squad around him, and vying for wins against the world's best was always going to have its challenges. At least initially he'd underestimated how long they would take to iron out.

"I had a great season in 2011, but I had it in a team which had been around in one form or another for a long time, and had a well-drilled sprint train, a really disciplined setup," Goss said. "They knew how to do everything. In 2012, we didn't. I was building a leadout train from scratch, in doing sprints I'd never really done before - I'd never really done the big bunch sprints at the Grand Tours, I'd always worked for Cav. It was a new experience, really getting the leadout to work properly."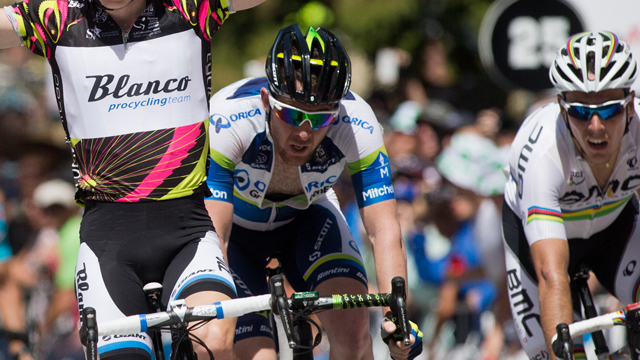 The frustration with the team's teething problems in developing and honing a leadout, in building Goss into the sprinter they wanted him to be, netting the results they wanted, perhaps demanded, conspired to amplify in to pressure which Goss had previously never had to contend with.

Perceived and real pressure

The external pressure was there from the media, for Goss to perform. Questions were asked, doubts raised. Internally, the team remained patient, but Goss was feeling it all the same.

"When it didn't work properly, really dealing with the pressure of the media - and everything - that was a different scenario to what I'd been used to in the past. I knew it was going to be more than usual, being an Australian team, Australian riders, and at the time being a marquee signing. I knew a lot of weight was going to be on my shoulders.

"It was a combination of the pressure and expectation. It then snowballed after we missed out at the 2012 Tour."

Expectation came with the money, both Orica-GreenEDGE insiders and Goss himself acknowledge, but how much pressure that actually materialised on the Australian is contentious. Orica was finding wins across the board, its first year seeing Michael Albasini, Luke Durbridge, Daryl Impey, Aidis Kruopis, Simon Clarke and Simon Gerrans all winning at twice or more. With Gerrans's victory at San Remo, the Tour Down Under, and the National Championships, the weight was off the team's collective shoulders, 26 wins in total in its debut season, nothing to snort at.

Despite Goss being signed as the team's talismanic leader, the reality was that through such a spread pool of winners, Goss wasn't being relied on to perform. The internal pressure was less. Still it didn't make the results sheet any prettier. Goss wanted things to change. A better start to 2013 saw Goss end his pre-season and survive the hit out at Nationals, and then the Santos Tour Down Under in good shape, but winless. Success appeared to be in the offing. A win in Tirreno-Adriatico, channelling some of his old mongrel, just before Milan-San Remo was a breakthrough, and then he got sick. The unseasonably cold weather and high training load saw him repeatedly down with illness, something he failed to recover from the rest of the year.

"I tried to do more and more training to catch up in 2013 to be better but it meant I was sick a lot, I did three course of antibiotics during the Giro that year just trying to push through, and basically burning myself out in the process. At the end of the day I was the one that was paid to put the runs on the board, though. I should've known how far I could've pushed myself."

All the while, Simon Gerrans was lifting the team's profile into the stratosphere. Yellow, and a stage at the Tour de France, the "gift" to Daryl Impey, all overshadowed Goss. The signing of Michael Matthews, from Rabobank, and his immediate success gave the team a viable sprint alternative. Toward the end of 2013, Goss pulled the pin, and went back-to-basics.

A fresh start

The focus on Gerrans only increased this year. The team's golden boy delivered the team one of its biggest victories, Liege-Bastogne-Liege, while Matthews continued to quietly blossom. A growing tally of Grand Tour stage wins to Matthews name and leader's jersey both at the Vuelta and the Giro d'Italia have now eclipsed Goss's past contributions.

As Orica shifts its focus to hillier races, the arrival of more versatile sprinters, and a string of dedicated climbers, the Tasmanian has become an expensive luxury that no longer fits the team's mould. Orica clearly didn't know what to do with the Australian this season, racing him sparingly, only 50 race days compared to 85 the year before, and often making him ride in support of Matthews or Gerrans rather than chase his own ambitions.

A fresh start, by all reports, with MTN-Qhubeka, may foster Goss's resurgence as a force in the professional peloton. But exactly what the Australian needs to shift, or change is not clear. Goss will once more turn to single day races, drifting away from attempts to take swags of wins at the Giro or Tour de France, but presumably the same challenges that have blighted his success in recent years remain.

A point often made in Goss's favour is that he remains remarkably young, still only 27. Indeed, if he can find a new lease of life at his new home there's huge scope to what his career might still offer. But there's plenty to prove. Goss says he's still motivated, but the last three years must weigh on the mind.

"It's a fresh start, 2015, I'll go back to a role that I've had success with in the past (at Highroad)," says Goss. "There's another sprinter on the team who's a dedicated bunch sprinter, which means I can sit back a bit and take my opportunity from day-to-day, when they arrive, those harder stages, and one dayers again like San Remo. I won't have to keep trying something that isn't working.

"I'm looking forward to again picking and choosing my days, that's always worked better for me in the past. I'm looking forward to it."

Follow @al_hinds