While the team time trial (TTT) is a special competition for professional trade teams, the man's and women's Orica operation provides the core of the Australia team for the national competitions to come later in the week.

The men's Orica-GreenEDGE team finished 31 seconds behind the BMC Racing Team, but almost four seconds ahead of 2012 and 2013 champions Omega Pharma-QuickStep who claimed bronze.

Orica-GreenEDGE included four Australians, Luke Durbridge, Brett Lancaster, Michael Hepburn and Damien Howson. It was rounded out by Jens Mouris from the Netherlands and Canadian Svein Tuft.

The six riders worked well as a unit improving their position at every time check along the Ponferrada course, but they couldn't catch the eventual winner, BMC.

"They lost a little bit too much time at the start and at this level you just can't lose 20 to 30 seconds," said sport director Matt White.

"We were one of the strongest, if not the strongest team coming home but the gap was just too much to BMC Racing to bring back.

"For us to win today, all six guys had to be exceptional. We haven't got any superstars in our team and the guys were good but not everyone was incredible and you need to be, to be world champions."

"We soldiered on through and came home strong as we knew we would, but we were too far back to threaten for that gold medal."

Orica-GreenEDGE was beaten by just 0.8 seconds in the TTT last year and had vowed to turn the tables on the Belgian Omega Pharma-QuickStep team on Sunday.

They did that, just, but hadn't factored in BMC, which including Australia's Rohan Dennis, returning to the form that saw them claim silver in 2012.

Dennis is a new addition to the US squad having switched from Garmin-Sharp less than two months ago in a rare mid-season transfer.

"We always knew we had a chance, we had a good team, a strong team," said Dennis. "A lot of us were hoping `okay, a podium would be great but the win is still definitely possible', and to pull it off is a very good feeling."

Dennis, wearing the green and gold, will be Australia's only rider in the individual time trial on Wednesday and is an outside chance to claim a medal.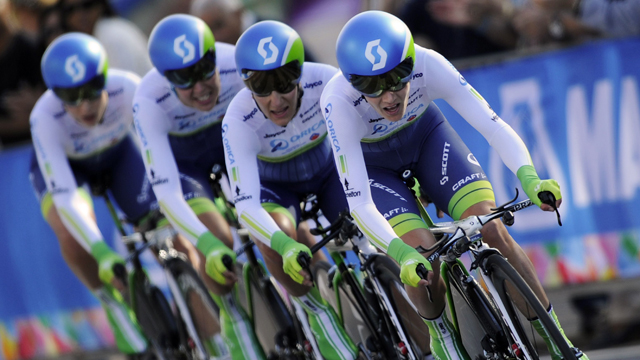 (Orica-AIS improved on 2013 to claim world championship silver - AAP)

The silver was Australia's second for the day after the Orica-AIS women's team earlier claimed the same in their event.

That was almost as good as gold given the all-conquering US Specialized-lululemon team was always going to win if they stayed upright.

The second place was an improvement on last years third placing.

The team included Australian's Annette Edmondson, Amanda Spratt, Jessie MacLean, Melissa Hoskins, Sweden's Emma Johansson and Italian Valentina Scandolara.

The six riders stopped the clock at 44min 50sec, one minute 17seconds behind that set by Specialized-lululemon.

"We gave it a good crack, we were able to pull off second and we are absolutely stoked about it," said Edmondson.

"A month ago we raced the Sweden World Cup and we were about three minutes behind Specialized-lululemon. It was going to be a big ask, but it was six kilometres shorter and we pulled back two minutes on them so we had a really good ride."

Orica-AIS sports director Gene Bates said the team has a clear strategy going into the race.

"We knew it was a really quick start, the middle section was difficult and obviously the climb at the finish was always going to be the pivotal point of the course," said Bates.

"The idea was to use everybody as much as possible early, conserve a couple of the riders through the middle section of the race and get to the climb as fresh as possible with as many riders as we could.

"It all really played out well. We will look and have a review afterwards, but I don't think we will find much to pin point at all."

Australia is arguably the strongest nation at the week-long world championships with favourites in under-23 men's road race and the flagship elite men's road race.

If the performance of Orica-GreenEDGE and Orica-AIS is any guide, the Australia team should finish the week ahead with all of its goals met.

The first five days of the UCI Road World Championships will be live-streamed on the Cycling Central website, while the final two days will be broadcast on SBS ONE and streamed online.