Van der Haar (Giant-Shimano Development) rode off the front to a solo elite men's victory while Compton (Trek Factory Racing) came from behind after a mechanical during the opening lap.

The 23-year-old van der Haar went on to master the heat and technical course after playing with the field for four laps. He went out hard on the first lap but eased up to ride with Kevin Pauwels (Sunweb-Napoleon Games) and Tom Meeusen (Telenet-Fidea) before again accelerating away from the field.

Pauwels won the battle for second place while another 23 year-old, Corne van Kessel (Telenet-Fidea) mounted his first World Cup podium after shaking off Klaas Vantornout (Sunweb-Napoleon Games).

"From the first lap it went perfect today," said van der Haar. "I came in front with Pauwels but then became alone, and I didn't expect that. I pushed him too far and he made a mistake.

"I didn't take a drink in the race as I knew I could manage the heat, I don't think you need to do it for an hour. It turned out to be a good decision.

"I am happy with my demonstration today, it was a good race and this was my first peak of the season. I'm pleased to be the World Cup leader again and I hope to go on like this."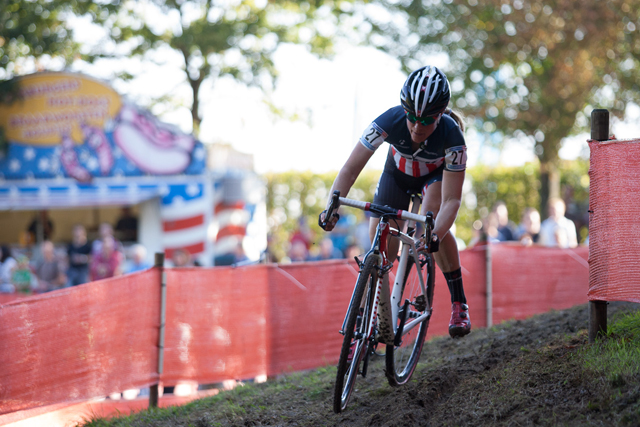 (Katie Compton started slowly but finished fast to win the elite women's race - Balint Hamvas)

Compton's race had a different narrative to that of van der Haar's but the final outcome was the same for her as it was for the young Dutchman.

Pavla Havlikova (Czech Republic) led first before Lucie Chainel-Lefevre (France) took the lead as Compton ran into trouble during the opening scramble after a mechanical forced a bike change.

The lead changed hands as Compton worked her way through the field with Helen Wyman (Kona Factory Team) riding in front with a lap and a half to go.

From there Compton took charge with Wyman losing more ground on the climbs than she made up on the technical sections.

Compton rode to the finish to win by 13 seconds while the battle for third was won by Sophie De Boer (Parkhotel Valkenburg) ahead of Belgian Ellen Van Loy.

Belgian Michael Vanthourenhout won the men's under 23 category ahead of compatriot Wout Van Aert and Frenchman Fabien Doubey.

The second round of the UCI Cyclo-cross World Cup heads to Koksijde, Belgium on the 22nd of November.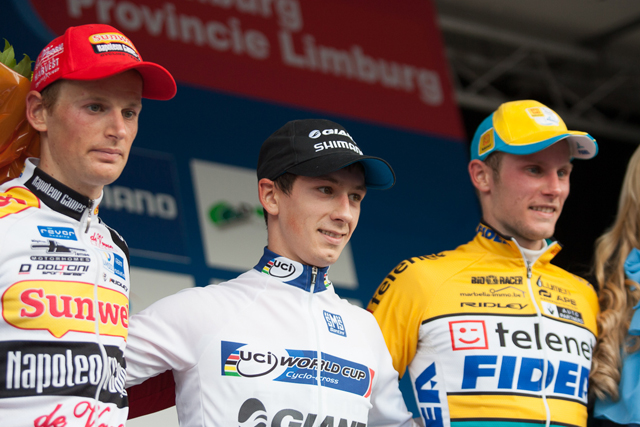 (Elite men's podium)

Elite Men
1 Lars Van Der Haar (NED) Giant-Shimano Development 1hr 05min 42sec
2 Kevin Pauwels (BEL) Sunweb-Napoleon Games 0:00:26
3 Corne Van Kessel (NED) Telenet-Fidea 0:00:34
4 Klaas Vantornout (BEL) Sunweb-Napoleon Games 0:00:38
5 Tom Meeusen (BEL) Telenet-Fidea
6 Thijs Van Amerongen (NED) Telenet-Fidea 0:00:41
7 Philipp Walsleben (GER) BKCP-Powerplus 0:00:48
8 Jens Adams (BEL) Vastgoedservice-Golden Palace 0:00:59
9 Jeremy Powers (USA) Rapha-FOCUS 0:01:10
10 Gianni Vermeersch (BEL) Sunweb-Napoleon Games 0:01:24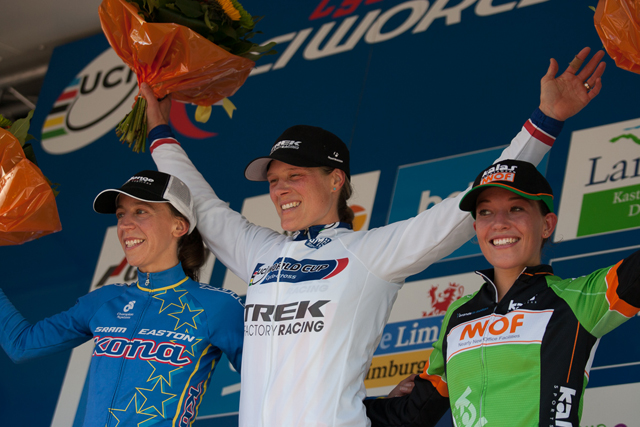 (Elite women's podium)

Elite women
1 Katherine Compton (USA) 43min 50sec
2 Helen Wyman (GBR) Kona Factory 0:00:13
3 Sophie De Boer (NED) Parkhotel Valkenburg 0:00:25
4 Ellen Van Loy (BEL) 0:00:38
5 Elle Anderson (USA) 0:00:42
6 Nikki Harris (GBR) 0:00:57
7 Sanne Cant (BEL) 0:01:03
8 Pavla Havlikova (CZE) 0:01:09
9 Sanne Van Paassen (NED) Boels Dolmans 0:01:25
10 Jolien Verschueren (BEL) 0:01:32