The Austrian who rides with Swiss UCI Professional Continental Team IAM Cycling, will attempt to break the record set by Voigt on Thursday 30 October on the velodrome of the UCI World Cycling Centre (WCC) in Aigle, Switzerland.

As the current Austrian Champion in the time trial, and three time winner, the twenty-four year-old Brandle is well placed to put Voigt's record under threat.

He has has a strong season with a victory at the Tour de Berne, two stage wins at the Tour of Britain and a 5th overall at the Tour of Belgium.

His performance in the UCI World Road Championships time trial was solid if unspectacular, finishing mid-pack at 3min 39sec behind the winner, Bradley Wiggins.

"I am 100 per cent focused on this project, which is very close to my heart," said Brandle. "I have decided to try my luck because I have been impressed by Jens Voigt since I was a young child.

"His personality and style have made a mark on me. To attack over and over again, in all conditions, and fight to exhaustion knowing that the chance of winning is small has also become my trademark.

"After he made his successful assault on the Hour, I thought he had fulfilled his dream, and within just a few weeks I surprised myself by starting to have the same dream. Just imagine if I have what it takes to fight against the clock and the metres. In spite of what happened a few days later at the Worlds in Ponferrada (Spain), I stayed calm.

"It even encouraged me to try my luck. As of today I do not know whether I can beat the mark or not. But as usual, it will be a very personal struggle between me and the clock. And just for that, I am really looking forward to the big day."

0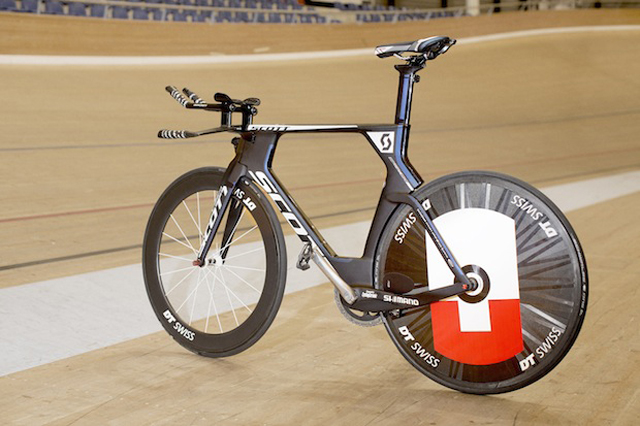 (The Scott bike Brandle will use for his record attempt)

Record holder Voigt covered 51.110 km in 60 minutes on September 18th 2014 at the Grenchen velodrome in Switzerland.

"I am delighted that a young rider is interested in attacking the Hour Record just weeks after Jens Voigt's stunning performance," said UCI President Brian Cookson.

"This proves that the Hour Record has again become a dream for athletes, including those of the new generation, as well as for cycling fans.

"I am convinced that in the future many other riders will attempt to add their names to the prestigious list of legendary Hour Record holders."