(Read Episode 1: The adventure of a lifetime or the most foolish decision ever?)

Episode 2: All the gear and no idea

As tends to happen once you say you are going to take on a challenge people rally behind you.

This is fabulous because it drives you on and in many ways makes your task that much easier. You grow a few inches and feel a little stronger. On the flip side it makes it a lot more difficult to coward out.

That's certainly the case for #2on2inPeru. After trawling the Internet, talking to experts who have helped up set up our equipment (thanks Rolling Fix) and securing the support of some very generous companies and individuals it is safe to say... we can't pull out now.

Being first timers to the world of touring we had no idea what to pack and thought many would be in the same boat so here's a few snaps and a brief explanation of what's coming along for the ride.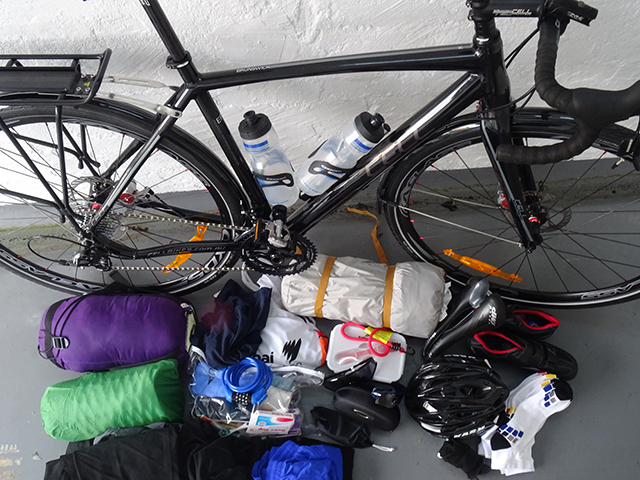 Cell Brunswick: a cyclocross bike with silky smooth gears and fatter wheels to help climb the hills and fly down the valleys - equipped with two panniers there is ample room for storage of our other goodies at the back)

Kask helmet and SMP saddle: comfort and safety are of paramount importance on a long ride. The roads are bumpy so being protected is essential.

Oakley Eyewear: it's crucial to protect your eyes from the sun while not obstructing your vision as you steer your ride over terrain you are seeing for the first time. If you feel cool in the process that is just a bonus.

Sleeping bag, sleeping mat and one man tent: striking the balance between light weight and warm is a tricky balancing act. I would prefer to carry more to make sure I am warm.

Clothing: there isn't that much room in the panniers so there's no points for fashion or variety here. 2x bike shorts, 2x thermal sets, 2x fleece jumpers, 1 waterproof/windproof lightweight jumper, 2x waterproof shorts, 1 x inflatable pillow, and yes, underwear.

Hygiene: toiletries as required, chamois - your portable quick dry towel.

Medical: it sure pays to travel with a doctor. Feeling confident Dr Nick has us covered on this front. Chat with a medical professional prior to departure to line up yours.

Tech: GPS, power bank, smartphone - keep in touch, video and photo capable too - and a journal and some pens for when the tech fails.

Food: a few treats from home and easy to prepare meals in case you get stuck. Water purification tabs are also a must.
Share your support for the pair on Twitter using #2on2doPeru and tune in for tomorrow as the two Nicks touch down in La Paz.