(Read the earlier episodes here)

Episode 4: Our Grand Depart
El Alto to Hauarina (60km)

After three days battling altitude sickness Dr Nick and I could wait no longer. It was time! The alarms were set for 5:30am. Today was the day.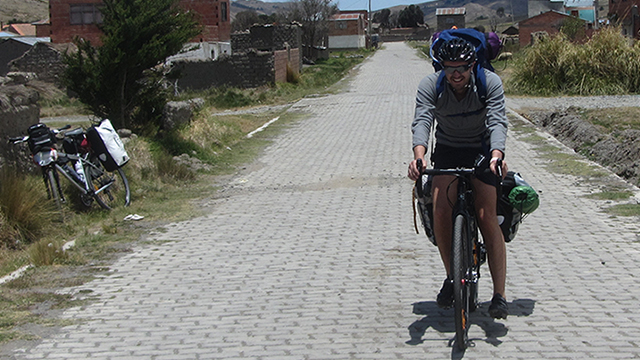 Unfortunately the early wake up call also coincided with a particularly nasty stomach upset. I had been to the men's room eight times in four hours. This was going to be an ordeal.

And so it proved. I could ride for little more than an hour at a time - sitting in the good doctor's slip stream was the only way forward.

Thankfully the scenery was a superb distraction. Snow capped mountains - headlined by Huayna Potosi - to my left and the aqua blue glow of the lake on my right.

The further we cycled the more isolated and tranquil the experience became. Over our first few kilometres we were swarmed by trucks and buses, shepherded to the edge of the road by horns and the ominous roar of approaching engines. By lunch time the sinister sound of stalking vehicles had vanished.

Lunch was plain rice for me and an hours nap on the side of the road. Another 12 kilometres in the saddle was all that was needed to reach our camp for the night.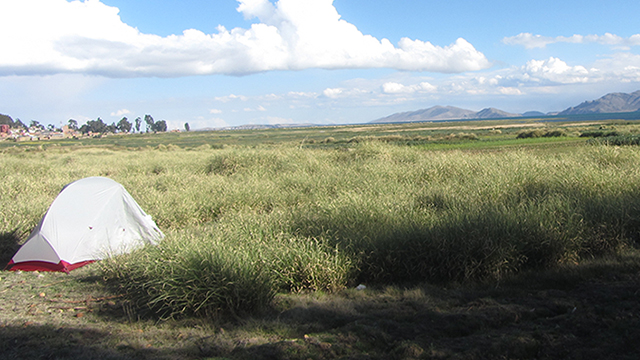 Battling first day exhaustion (and illness for the doctor too by now) meant cooking pasta by the camp fire wasn't easy. A lapse in concentration created a raging fire which had to be extinguished using our depleted water supply. It will be a thirsty night and there will be a few blisters being nursed in the morning!

The sun had barely dipped into the water by the time dinner was over. Time for two rugged up riders to crash out in their tents.
Share your support for the pair on Twitter using #2on2doPeru and tune in for tomorrow for the next installment.