(Read earlier episodes here)

Episode 6: Shut up legs
Day 3: Unknown camping spot to Copacabana (20km)
Altitude 4,260 (our highest yet)

After setting up camp the night before on a football pitch I woke to the sound of raised voices speaking Spanish.

I unzipped my tent and found Dr Nick embroiled in a conversation with the elderly lady who had granted us permission to use her well the night before. We paid her at the time but she wanted another $1.20 (for six litres of water when we were desperate, we were only too happy to oblige!)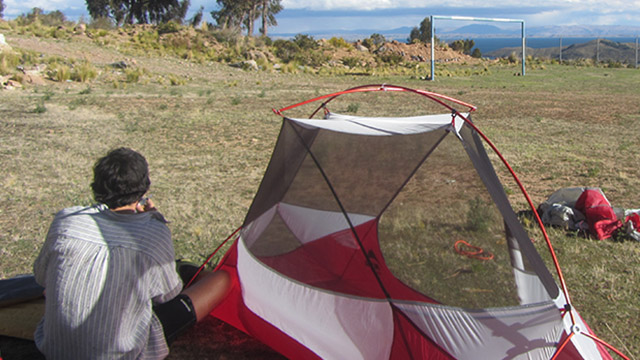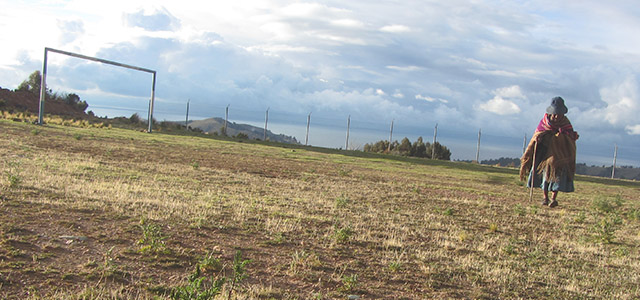 Once that was settled it was time to enjoy the leftover stir fry and hit the road once more.

We had 250 metres worth of climbing in front of us and the highest altitude of our journey to date. The air was thin, crisp and with a real chill to it as we had our Jens Voigt "Shut up legs" moment.

Still we soldiered on hypnotised by the majesty of the rolling hills rubbing our right shoulder, the perilous abyss of nothing except a great fall to our left. The gradient continued to climb as the road slithered along the cliff face, snaking around the bend to reveal llamas munching by the roadside. It was a surreal, distinctly South American experience.

Almost sparingly as our legs began to fail, the road responded by falling downwards. We whistled our way down the final few kilometres to Copacabana.

After a third day in a row of sweat drenched riding we decided to splurge and take the afternoon off, checking into an $8 a night hostel. First item on the menu was a hot shower. The only downside to the glorious feeling of hot water was the electric shock we recieved turning the nozzle on and off. A small price to pay for feeling clean!

Share your support for the pair on Twitter using #2on2doPeru and tune in for tomorrow for the next installment.