Cycling Central dropped into the company HQ in Annecy to take a tour of the famous service de course (SSC) facility.


The familiar bright yellow coloured SSC neutral service cars and motorbikes of Mavic have been synonymous with top-level pro bike racing for many years.


In 1972 the annual Tour de France dress rehearsal, otherwise known as the Criterium du Dauphine, was in full flow, racing around the trademark Alpine mountains flanking the town of Annecy, the home of Mavic.


One of the team support vehicles had broken down, leaving the riders without any race support. The then Mavic head honcho Bruno Gormand was at the race, and offered up his own car as a temporary replacement.


And from that incident the idea of the Mavic Service de Course came to being, with the free neutral support system now an integral and iconic part of pro bike racing ever since - along with its race-wide radio communication system.


The first official outing for the SSC was in the 1973 edition of Paris-Nice and it slowly grew from there until 1977, when the SSC support system first appeared at the Tour de France. Most Tour de France and ASO organised races and numerous other top line events (and, more recently sportive events) have been since supported by the yellow cars.


It wasn't until 1984 that the first SSC motorcycles appeared in the pro race convoys, the first one being a Honda XL600 at the Paris-Roubaix, and they have since become standard practice. That same year the company also provided a yellow Cessna aircraft, which patrolled the skies above races acting as a relay for race radio information – it was also planned that an airship would take to the skies in the coming year, but that scheme never eventuated.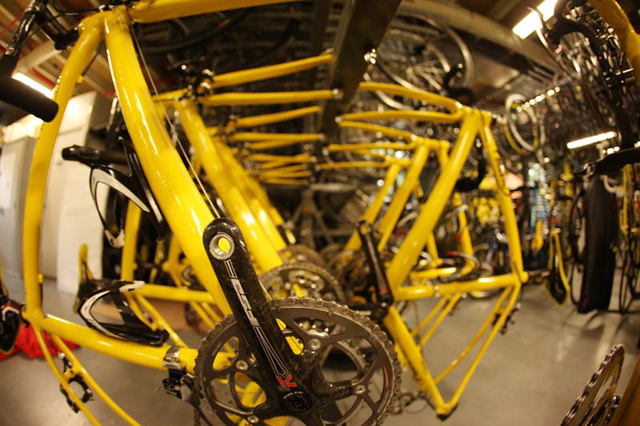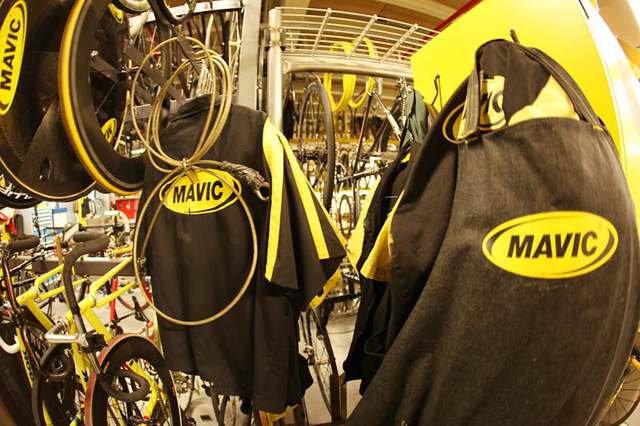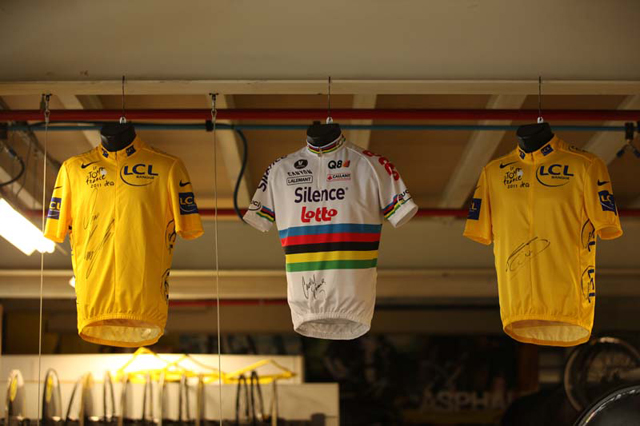 In 1992 Mavic were appointed to supply technical assistance to the Barcelona Olympic Games across all cycling disciplines, which they continued with in Atlanta in 1996 and Sydney in 2000. By 2001 the company was supplying 1200 days worth of race support across the world.


The sign of a yellow Mavic neutral support car tailing a group of riders is instantly recognisable as a mark of opportunity.


The yellow car bridging the gap between a breakaway and the chasers brings hope to escapees. Once that gap goes over a minute then the teams own support vehicles are called into service. Dip under 30 seconds and the neutral vehicles are pulled out, signalling a tense time for the riders.


The average time taken for an SSC mechanic to exit the car and change a rear wheel in the early days was 30 seconds but that was halved within three years of service, and now cuts below 15 seconds in most cases, and 10 for a front wheel change.


The mainframe of the SSC is housed in the Mavic HQ in Annecy, at the rear of the building. Here you'll find rack upon rack of wheels and yellow bikes – both old and new as well as a virtual museum collection of iconic and legendary bikes from the great and colourful Mavic history catalogue, not to mention signed rainbow, yellow, pink and other historic jerseys from many of the greatest champions.


This amazing workshop and storeroom is a virtual "Santa's grotto" to any cycling fan, although they are, of course, not permitted inside – development and product testing is highly secretive here (test samples also pass through this workshop).


Other regional distributors also offer their own Mavic ground support, and there is also a full Mavic SSC center based in the USA.


From their SSC in France, Mavic carry a minimum of 18 road bikes plus a limited number of mountain and track bikes. Manufacturers vary from Look, to Cannondale in more recent years. The bikes are replaced every two years and brands also differ in other countries.


The regular SSC car carries five front wheels, and four rear, each with Shimano and Campagnolo cassettes. A typical pro race requires four cars and one scooter that carries one front and two rear wheels.


Paris-Roubaix is another story, with Mavic supplying around 100 pairs of wheels, five cars, four motorcycles and a service truck. Wheels usually get replaced every two years.


On average Mavic support around 80 events year, numbering 280 racing days.

The Mavic SSC entourage (in Europe) by the numbers


6 yellow cars

4 motorcycles

1 scooter

2 VW Crafter MTB assistance trucks

1 VW Crafter road assistance truck

1 long trailer

2 empty trailers (to carry motos, scooters etc)

1 Mavic "village trailer"

1 VW T5 Transporter truck

1 VW Crafter Mavic "shop in shop"