(Read earlier episodes here)

Episode 10: Adios Titicaca
Ccotos to Juliaca
52km

Today we said farewell to Lake Titicaca but I said hello again to the dreaded stomach upset.

After an evening of thunder and lightening the dirt roads were muddy and slippery as we made our way along the parklands and back onto paved surfaces.

For almost the entire trip the sparkling lake has been in our vision so it was strange to turn our backs on it.
Today's roads were flat and aside from contending with sheep blocking the road every few kilometres or so, for the most part we flew towards our halfway point.

There were hardly any cars on the road which made it a really pleasant ride. For the first time we spent the majority of the day overtaking - our legs are getting stronger after a week of hard graft.

With no lake to capture our attention it was the clouds turn to put on a mesmerizing display. I know we are at the roof of the world when I gaze at these magical floating sculptures.

After a solid few hours in the saddle we touch down in another Casa Cyclista. Our host this time around is Giovanni who is certainly very welcoming - albeit less eccentric than our previous host.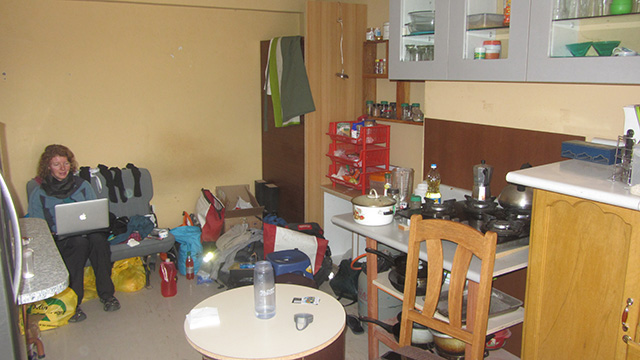 We're going to need a good night sleep on the floor here. This will likely be our last chance for an indoor sleep between now and our finish in Cusco.

Share your support for the pair on Twitter using #2on2doPeru and tune in for tomorrow for the next installment.