The record, of 51.852km, is held by Austria's Matthias Brandle and Bobridge is confident of surpassing that mark.

"I never thought I would break (Chris) Boardman's individual pursuit record, I don't think anyone thought I'd beat it," said Bobridge of his history making ride in 2011.

"At this point I can see myself beating the current hour record but it's how much further I can go that will be decided on the day."

The record has historically been held by the greats of world cycling, including Eddy Merckx, Miguel Indurain and Chris Boardman.

Olympic silver medalist Rohan Dennis has also announced that he will attempt the hour and there has been much speculation about former British time trial champion Alex Dowsett, and Tour de France winner Sir Bradley Wiggins also trying to break the record.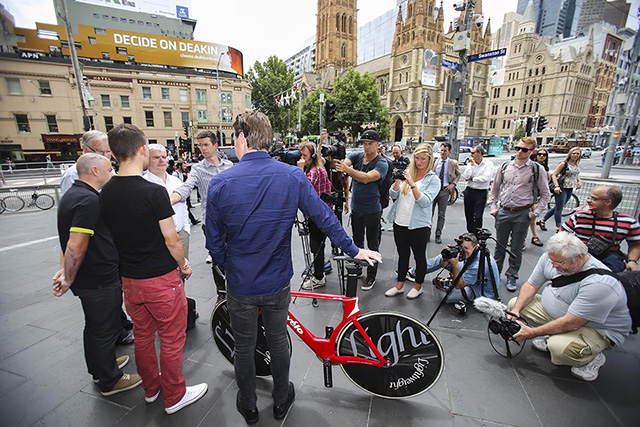 Bobridge speaks to the media (Mark Gunter)

"I think it's great that everyone is starting to put their hand up for it. It makes it more interesting," Bobridge said.

"I'm aiming to set a benchmark that leaves everyone questioning themselves about whether they want to do it or not."

His preparation for the attempt on the hour record will include riding the individual time trial at the 2015 Mars Cycling Australia Road National Championship, on Thursday 8 January, and "hopefully the Tour Down Under, if I get selected for the UniSA team," the 25-year-old said.

"It's been years of preparation with pursuits and team pursuits. I think it's going to come together with all that previous track work."

Dennis, who like Bobridge hails from South Australia, will make an attempt on the hour record in Switzerland on Sunday 8 February.

"When I look at my experience on the track and the numbers I have been doing on the track and on the road, it is within reach," Dennis said.

"As long as I don't get too excited at the start and control my nerves, the pacing will take care of itself."

While Dennis will be guided by his BMC team, the Bobridge tilt at the record will be led by Cycling Australia's men's track endurance coach Tim Decker.

"He's the world individual pursuit record holder so the hour is an obvious choice," said Decker of the rationale behind the Bobridge announcement.

"I have no doubt that he can do it. You look at his four-kilometre time and you look at what is possible over an hour, Jack should be able to well surpass the current record.

"It captures people's imagination to see how far you can go in one hour. People from outside of cycling will look at it and think 'wow, that's a long way in one hour on a bike.'

"Jack is going to tackle this in Jack Bobridge fashion. He's unlimited. He's just going to go for it.

"I think it will be really exciting and you'll definitely see him in a lot of pain, particularly in the last 10-minutes.

"And I think it's great that Rohan is having a go. Plus the two Brits potentially having a go at it. Australia versus Great Britain. The rivalry just carries on."