UCI World Champion Vos (Rabo Liv Women) went one better after a second place at last week's World Cup round in Namur, finishing ahead of teammate Pauline Ferrand-Prevot and Czech champion Katerina Nash (Luna).

Vos dropped the field early and looked on track to take a long range solo win before a twist of fate evened out the race before it headed into the final lap.

After a slow start Nash bridged to Ferrand-Prevot at the beginning of the third lap but the pair trailed Vos by half a minute. Sabine Stultiens (Rabo Liv Women) and World Cup leader Sanne Cant (Belgium) then made it a quartet of chasers.

Second on the World Cup standings before the race, American Katie Compton (USA) was struggling - losing touch with the chasing four before abandoning the race.

During the third lap Cant broke a spoke in her rear wheel, dropping back behind Italian champion Eva Lechner (Rusvelo) and compatriot Ellen Van Loy (Belgium).

Nash then surged with Ferrand-Prevot on her wheel, the effort shedding Stultiens.

Vos then flatted on the penultimate lap allowing the pair to join the world champion at the head of the race.

The trio went into the last lap together with Nash looking the stronger, but she paid for her earlier efforts and slipped off the back of Vos on the final climb with Ferrand-Prevot stuck on her wheel.

Vos then took the opportunity to attack her team mate, riding solo the finish.

Cant was seventh but extends her lead in the World Cup classification to 29 points over Compton. Ellen Van Loy remains in third place overall.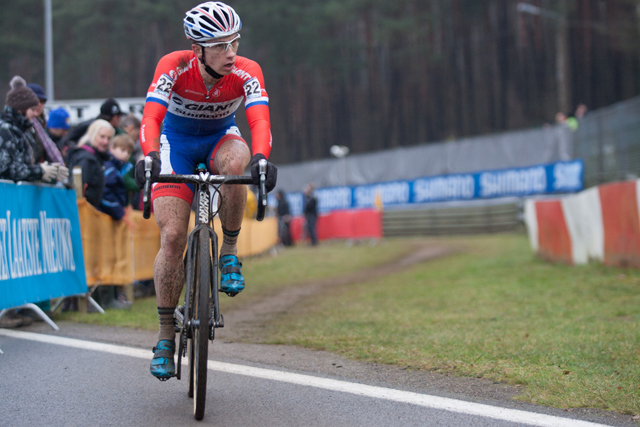 (Lars van der Haar soloed to victory)



For the second year in a row, van der Haar (Giant-Shimano Development) claimed victory in Zolder, this time with a dominating solo ride to the finish.

In the third of nine laps van der Haar dropped the field and was unseen until the finish.

Behind him World Cup leader Kevin Pauwels (Sunweb-Napoleon Games) paced his effort but failed to bridge back to van der Haar before abandoning the chase to ride his own race.

Behind Pauwels a group with Corné van Kessel (Telenet-Fidea), Swiss champion Julien Taramarcaz (Corendon-Kwadro), David van der Poel (BKCP-Powerplus) and German champion Philipp Walsleben (BKCP-Powerplus) battled for third.

With just over two laps to go Van der Haar was nearly a minute ahead of Pauwels when his chain came off, the delay cutting his lead to 23 seconds. But the young Dutchman was never in trouble and he cruised to an easy victory.

Australia's Garry Milburn finished 52nd overall.

The victory moved Van der Haar into second place at 80 points behind Pauwels with Corne Van Kessel (Telenet Fidea) third.

The final World Cup round is held next month in Hoogerheide, Netherlands.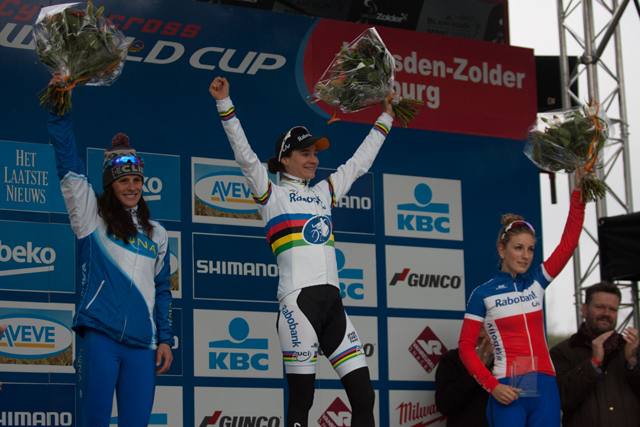 (The elite women's podium)

Elite Women
1 Marianne Vos (NED) Rabo Liv Women 43min 24sec
2 Katerina Nash (CZE) Luna Pro 0:00:04
3 Pauline Ferrand Prevot (FRA) Rabo Liv Women 0:00:05
4 Sabrina Stultiens (NED) Rabo Liv Women 0:00:22
5 Eva Lechner (ITA) Rusvelo 0:00:48
6 Ellen Van Loy (BEL) 0:01:31
7 Sanne Cant (BEL) 0:01:50
8 Sophie De Boer (NED) Parkhotel Valkenburg 0:01:57
9 Lucie Chainel-Lefevre (FRA)
10 Martina Mikulaskova (CZE)0:02:01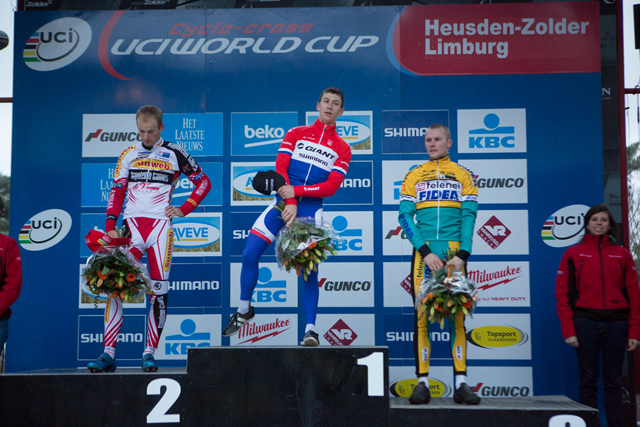 (The elite men's podium)

Elite Men
1 Lars Van Der Haar (NED) Giant-Shimano Development 1hr 8min 10sec
2 Kevin Pauwels (BEL) Sunweb - Napoleon Games 0:00:45
3 Corne Van Kessel (NED) Telenet Fidea 0:01:10
4 Julien Taramarcaz (SUI) Corendon-Kwadro
5 Philipp Walsleben (GER) BKCP-Powerplus 0:01:26
6 David Van Der Poel (NED) BKCP-Powerplus 0:01:31
7 Gianni Vermeersch (BEL) Sunweb-Napoleon Games 0:01:33
8 Sascha Weber (GER) Veranclassic-Doltcini 0:01:34
9 Martin Bina (CZE) Corendon-Kwadro
10 Jens Adams (BEL) Vastgoedservice-Golden Palace 0:01:39