Lobato came late after Cannondale-Garmin's Nathan Haas had opened the sprint with a gutsy effort, and Daryl Impey's late charge proved slightly premature. The Spaniard was too quick by three bike-lengths over Impey who slowed considerably in the final metres, and team-mate Gorka Izagirre, who snuck in for third.
With the front end of the bunch finishing together, Jack Bobridge retained the overall lead, but has seen his advantage slip to just three seconds with Lobato moving into second overall.

"A very difficult finish for me but I managed to come through it towards the end but it's a good victory for the team," said Lobato.

"I am very content to start the season like this and I am grateful for my team. I've had two years of good results, and I couldn't started off 2015 any better.

"The GC? Well, that's more complicated, but we have riders here for the overall. I am not discounting anything. I came here to go well on this finale, and I've raced here the past two years. We did some training here last week."

The 150.5km stage from Unley to Stirling started in earnest with a brutal pace in the opening kilometres fracturing the bunch. Three riders got clear before Summertown; Campbell Flakemore (BMC), Thomas de Gendt (Lotto-Soudal) and Cameron Meyer (Orica-GreenEDGE), and consolidated an early advantage of three minutes.

The trio still held a minute in the final 25km, but a concerted chase from Team Sky and IAM; looking for Richie Porte and Heinrich Haussler, slashed the advantage to a matter of seconds before the final lap around Stirling.

Team Sky, Cannondale-Garmin, and IAM set a tough tempo into the final kilometres that few could follow, a single file main field leaving only a handful of riders in contention for the win. Haas went early but faded in the final hundred as the climbed pinched, with Impey, then Lobato, coming around for the win.

Stage 3 of the Santos Tour Down Under runs from Norwood to Paracombe.

Stage 2: 150.5km, Unley-Stirling
1 Juan Jose Lobato (ESP) Movistar 3hr 42min 24sec
2 Daryl Impey (RSA) Orica-GreenEDGE
3 Gorka Izaguirre (ESP) Movistar
4 Tom Dumoulin (NED) Giant-Alpecin
5 Cadel Evans (AUS) BMC
6 Luis Leon Sanchez (ESP) Astana
7 Richie Porte (AUS) Sky
8 Niccolo Bonifazio (ITA) Lampre-Merida
9 Nathan Haas (AUS) Garmin-Cannondale
10 Samuel Dumoulin (FRA) Ag2R La Mondiale

General Classification after Stage 2
1 Jack Bobridge (AUS) UniSA-Australia 6hr 41min 55sec
2 Juan Jose Lobato (ESP) Movistar 0:00:03
3 Lieuwe Westra (NED) Astana 0:00:04
4 Darly Impey (RSA) Orica-GreenEDGE 0:00:07
5 Gorka Izaguirre (ESP) Movistar 0:00:09
6 Niccolo Bonifazio (ITA) Lampre-Merida 0:00:13
7 Gianni Meersman (BEL) Etixx-Quick Step
8 Samuel Dumoulin (FRA) Ag2R La Mondiale
9 Nathan Haas (AUS) Garmin-Cannondale
10 Cadel Evans (AUS) BMC

All time stamps are AEDT, while local race time in South Australia is 30 minutes behind.

3:26pm: Juan Jose Lobato edges Daryl Impey on the line. Nathan Haas went early but was swamped in the final 100 metres. Impey looked very good, but Lobato kept himself out of the wind until the very last moment. Nice win for the Movistar rider.

3:25pm: Here we go.

3:24pm: Michal Kolar (Tinkoff-Saxo) abandons the race, it's relayed over race radio. Kolar had been off the back all day struggling to keep in touch. Meanwhile less than two kilometres to go. Cannondale looking poised.

3:22pm: Only Kennaugh now there for Porte. Bunch starting to look very ragged. Evans rushes forth up the right side of the bunch. Nathan Haas looking smooth, and well-positioned too.

3:20pm: Nathan Haas talked himself up before today's stage and now the lime green of Cannondale-Garmin come forth. Sky suddenly swarmed by the American team's presence at the front.

3:17pm: 6km to go now and Team Sky looking primed. Richie Porte sitting beside team-mate Peter Kennaugh. Etixx-Quickstep also prominent.

3:16pm: Von Hoff leading the peloton on the base of the climb. Field all strung out.

3:12pm: Watson and Wyss are not far off the front as the peloton closes on the valley floor in Mylor. And now they're caught. Really high tempo from the bunch.

3:10pm: Robert Power has punctured on the descent. He needs to get back if he's going to have any chance of a good GC ride at the Tour. Could lose minutes in the next few kilometres.

3:04pm: Bumpy run now back toward Mylor and it's getting nervous in the bunch. Danilo Wyss (BMC) has counter attacked, continuing BMC's aggressive day out, with Calvin Watson (Trek Factory Racing) joining him and they've gained a handy lead. BMC have thrown everything at today's stage, Cadel Evans will be delighted with how it's playing out.

2:53pm: Thomas de Gendt has surrendered to the chasing bunch. Not long now for Meyer and Flakemore. The race should be all together for the final lap. 24km still to race.

2:46pm: We're fast approaching the final lap of the Stirling circuit. The riders will start the climb shortly for the penultimate time, and the gap has disappeared. Just a minute now between the leaders and the bunch.

2:32pm: The peloton has now passed through Stirling for the first time and has begun its final two loops of the course. The gap has edged out slightly to 2mins 20sec, with the leading trio still looking quite strong. Can they stay away? It'd be a tough ask, but as yesterday shows, anything can happen.

2:24pm: With 46km to go IAM has taken more of an interest in the chase. New Australian champion Heinrich Haussler rides with IAM, and could be thinking of the stage win on Stirling. Haussler has the kind of uphill punch that will put him in the frame to win - he certainly has the form. The current gap is still hovering at just under the two minute mark.

2:12pm: We're just about to his the first of three climbs up to Stirling. Neil van der Ploeg leads the peloton, with the gap to the leading trio down to 1min 55 sec. Thomas de Gendt takes the second sprint prime, looking very smooth.

2:07pm: Could this be the rider that wins the Santos Tour Down Under? Richie Porte certainly has plenty of fans in Adelaide after his Willunga Hill win last year. He could be in contention too, the finish in Stirling is anything but easy. Below, a great photo taken at the start by Kristy Baxter.

1:54pm: The break has extended its lead back to 3min 15sec with 63.6km to go. IAM Cycling and Team Sky are on the front of the peloton, followed by Uni-SA-Australia who is supporting race leader Jack Bobridge.

1:42pm: At the mid-point of the stage the leader's advantage has dipped below three minutes.

1:30pm: With 83km to go, the three riders still hold a 3min 45sec lead.

1:18pm: The chase is being led by Team Sky. UniSA are doing turns too, but look pretty content to let the break dangle. Sky did a good portion of the work yesterday, the team is obviously confident in their main man Richie Porte.

1:01pm: First intermediate sprint at kilometre 52.5 goes to de Gendt. Followed by Meyer and Flakemore.

11:59am: The race has quietened down somewhat in the last 20 minutes. Our leading trio of Campbell Flakemore, Thomas de Gendt, and Cameron Meyer. Two Australians and a Belgian. They have 3min 15 sec over the chasing bunch. Meyer is of course a former winner of the Santos Tour Down Under, taking out the overall crown in 2011, boy that feels like a long time ago now. De Gendt finished third overall at the 2012 Giro d'Italia, and Flakemore is the reigning under 23 time trial world champion. Plenty of horsepower in their to keep the bunch honest!

11:50am: Meanwhile yesterday evening completed the inaugural Santos Women's Tour. It's developed from a single day event that used to run at the People's Choice Classic, to a suburban criterium series, to what it is now - a legitimate international women's stage race. Of course it still can evolve further, but it's a massive step forward for the women's side of the sport here in Australia. Annette Edmondson was pretty happy with how it all went.



11:24am: And in other news Greg LeMond quite likes Australia. Says the Santos Tour Down Under's status as a WorldTour event is wholly deserved. Also he quite likes Kangaroos.


11:21am: Okay so this looks like the escape. We're 20.5km into the stage, and more than a minute for our three leaders. Again, that's Flakemore, de Gendt, and Meyer.

11:18am: Apologies the BMC rider is in fact Campbell Flakemore.

11:14am: Well it's been a frenetic opening half hour. The peloton is fracturing as it works its way to the Stirling circuit, and another group has now formed off the front. Peter Stetina (BMC), Thomas de Gendt (Lotto-Soudal), and Cameron Meyer (Orica-GreenEDGE) are 40 seconds up the road.

10:48am: We are officially underway now. Attacks already flowing, with a group of four 20 seconds clear.

10:43am: Just as we get underway, a couple of great videos produced on the ground by our TDU team. Below, Mark Fenner, who coaches Campbell Flakemore, Jack Haig and Steele Von Hoff among others, gives his insight on how the data he collects from his riders during a race like the People's Choice Classic can help him better understand the types of efforts they're making in a race and what he as a coach can do to optimise their preparation.




10:25am: Racing is about to get underway, today's stage 150.5km from Unley to Stirling one of the iconic stages of the Santos Tour Down Under. Alongside the penultimate stage on Willunga Hill, this in theory is a real chance for the climbers to show their mettle. Last year the stage was won by Diego Ulissi (Lampre-Merida). Ulissi has since got himself in a spot of bother with the UCI after he registered high salbutamol levels at last year's Giro d'Italia. He's currently serving a suspension from racing, but is expected to be back on the road by March. The full story on Ulissi is available here.



9:50am: The UniSA-Australia is a composite team which receives a wildcard invitation each year to compete in the Tour Down Under. The riders are usually selected based on strong performances at the Australian Road Nationals Championships in early January, with young riders also included for development purposes.

Always aggressive at the Tour Down Under, UniSA-Australia works hard to justify its existence at the race - as evident by Jack Bobridge's stage win on Tuesday.

This behind-the-scenes video follows team director Dave Sanders in the team car throughout the race. If you don't have time to watch the whole thing, skip to 3:30 to see the reaction when Bobridge wins the stage.




9:40am: Ever wonder what it would be like to be part of the Tour Down Under peloton?
9:15am: Here's a reminder of the general classification top 10 ahead of today's second stage.

General Classification
1 Jack Bobridge (AUS) UniSA-Australia 2hr 59min 44sec
2 Lieuwe Westra (NED) Astana 0:00:04
3 Luke Durbridge (AUS) Orica-GreenEDGE 0:00:06
4 Maxim Belkov (RUS) Katusha 0:00:10
5 Niccolo Bonifazio (ITA) Lampre-Merida 0:00:13
6 Gianni Meersman (BEL) Etixx-Quick Step
7 Juan Jose Labato (ESP) Movistar
8 Heinrich Haussler (AUS) IAM Cycling
9 Steele von Hoff (AUS) UniSA-Australia
10 Darly Impey (RSA) Orica-GreenEDGE

8:45am: Heinrich Haussler's IAM Cycling team got itself into a spot of bother with the UCI after the design of its 2015 strip was judged by the rule sticklers to be in breach of regulations.


"It's clear in the UCI Regulations that the upper section of any jersey shall be reserved for the team's principal sponsors," the UCI told Cycling Weekly.


"Therefore, the UCI invited IAM Cycling to revise the initial design of its outfit. The new jersey was judged to be in compliance with the regulations and was therefore registered.


"Under these very same regulations, other elements of the outfit, including the helmet, are not subject to similar restrictions, giving teams more freedom in the design of their kit."


Maybe next year.

8:30am: UniSA team manager Dave Sanders said his only priority heading into stage two of the Tour Down Under will be how his team manages Jack Bobridge's overall lead.

Bobridge's attempt on the world hour record in Melbourne on 31 January can wait.

Bobridge and three fellow breakaway riders upstaged the peloton at the end of stage one.

The stage win and the overall lead presents an interesting question - how hard does Bobridge now push himself at the Tour, given the hour ride looms?

"This is his absolutely target - you don't come to the Tour Down Under and think about something else," Sanders told AAP.

"I've said to them all - if you have other agendas, I will call up the reserves.

"We're here to race, it's a fact of life."

UniSA is a one-off composite team for the Tour, made of riders who are either outside the top WorldTour teams or about to sign top-level contracts.

After several years of WorldTour riding, Bobridge is racing in Australia ahead of next year's Rio Olympics.

Every year, Sanders aims high with his team at the Tour and on Tuesday their plans paid off spectacularly.

"The game changes a bit," he said.

"We don't have to attack anyone - they have to attack us."

The race continues with the 150.5 stage from suburban Unley to Stirling in the Adelaide Hills.

The Stirling circuit at the end of the stage will be the first chance for overall favourites such as Cadel Evans and Richie Porte to gauge their form.

Bobridge has a 13-second lead over Evans and Porte.

Sanders is also confident that whatever happens for the rest of the week, Bobridge will be ready for the hour ride.

"The point is, it's two weeks' away and he has a week to recover from this," he said.

"He's a very fit professional bike rider and the Tour leader gets an easy ride - it's the team that does the work.

"He'll have to race when it gets hard, but only for short periods."

8:00am: Mike Tomalaris and former Cannondale professional Cameron Wurf preview the full Santos Tour Down Under.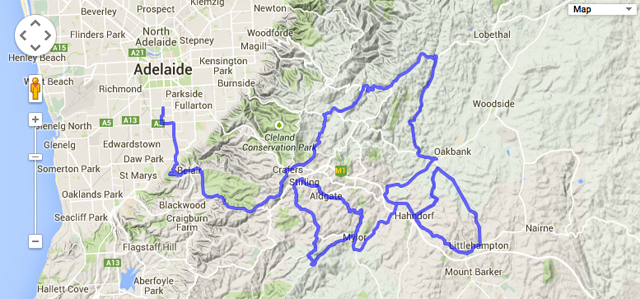 (Stage 2 profile)