The massive cheer he received from a huge crowd at the Tour Down Under post-race presentation was testimony to Evans' unparalleled career.

But a near-disaster during Sunday's last stage reminded him of what he will not miss about the sport.

Evans just managed to avoid a crash on the second-last lap of the Adelaide street race stage.

"I heard the crash and a bike hit me in the backside ... I was lucky not to damage my own bike," he said.

"Anything can and does go wrong in this sport."

While Evans would have loved to do better than third overall in his last Tour Down Under, he is comfortable that he turned himself inside out trying to achieve one last big result.

The only Australian to win the Tour de France was denied a fairytale end to his career at the Tour.

This is the 37-year-old's last top-level race before he retires from professional cycling on 1 February at the inaugural Cadel Evans Great Ocean Rd event.

Compatriot Rohan Dennis turned out to be the strongest rider on their BMC team and he won the Tour.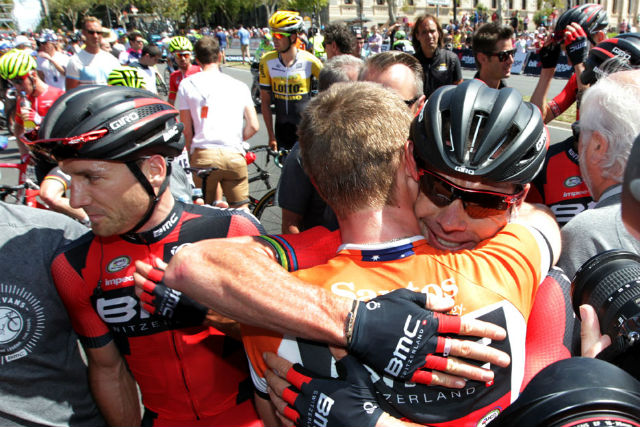 Cadel Evans congratulates team-mate Rohan Dennis on winning the Tour Down Under (Regallo)

While Dennis narrowly retained his overall lead in Saturday's decisive Willunga stage, Evans could not go with the devastating attack from Richie Porte in the last kilometre.

"That's the way I wanted my racing career - to go away knowing that I'd given everything without any regrets," he said.

"I didn't train enough, I didn't concentrate enough, I wasn't disciplined enough - I didn't want to have any of those regrets.

"In the last 500m at Willunga, not that I was thinking of it, but I was absolutely turning myself inside out to follow the moves.

"This competitive spirit, I really wrang it pretty dry."
Evans, Dennis and the BMC team had a fascinating situation this week where the pair were vying for the overall win.

Dennis took the race lead by winning stage three and he went into the Willunga stage with a seven-second lead over his team captain.

And hanging over everything was the enormity and emotion of Evans' imminent retirement.

Evans said Dennis' pivotal attack at the end of stage three was a team plan, but he admitted he did not expect him to stay clear.

Evans said that having Dennis as their top rider in this race would work out better for BMC later in the year with world ranking points.

The Australian sporting legend is proud of how he handled himself, given Dennis became their top rider at the Tour.

"I think I won a lot of respect from my team-mates and colleagues and people within the world of cycling by the way we rode in the last couple of days," he said.