In muddy conditions which tested the riders and their bikes, Ferrand-Prevot (FRA) beat Belgian Sanne Cant in a sprint finish, with Vos (NED) claiming third.

The victory by Ferrand-Prevot, the 2014 road race world champion, ended Vos's six-year reign as UCI Cyclo-cross world champion.

Straight from the start the riders battled hard for position with Eva Lechner (ITA) an early casualty after a crash and mechanical ruled her out of contention.

Lucie Chainel-Lefevre (FRA) took the initiative and creating a gap on a group that contained all top favourites except for Katie Compton (USA) and Lechner.

Halfway into the second lap Ferrand-Prevot closed the gap on her compatriot and was joined by World Cup winner Cant who was marked by Vos, Nikki Harris (GBR) and Czech favourite Katerina Nash.

Ferrand-Prevot attacked again to gap her rivals to the penultimate lap but remained in sight after determined work by Nash.

Cant later launched a successful bridge to Ferrand-Prevot and then hit the front to force the pace.

The pair then rode together into the final lap, and with the finish line in sight, Ferrand-Prevot opened up the sprint with Cant falling short by a single second.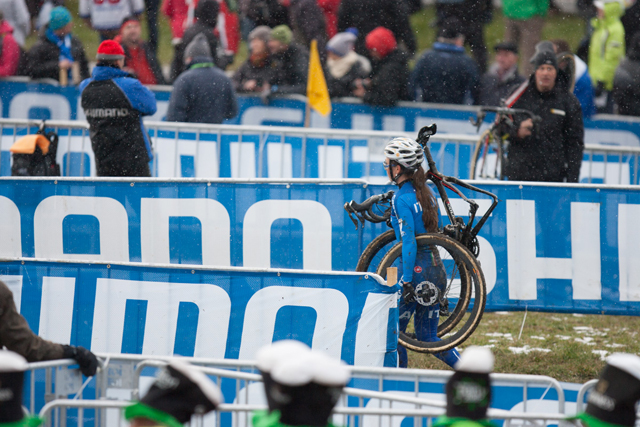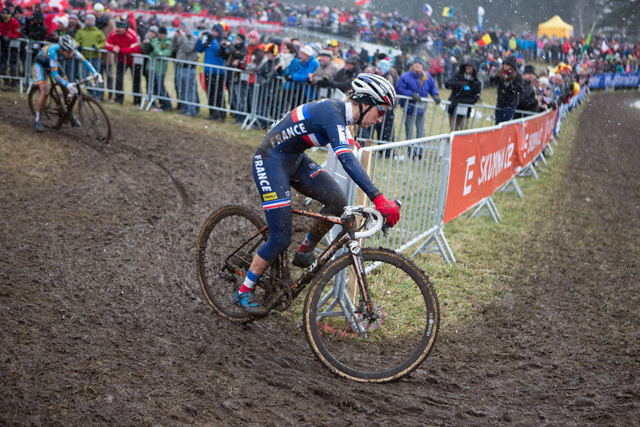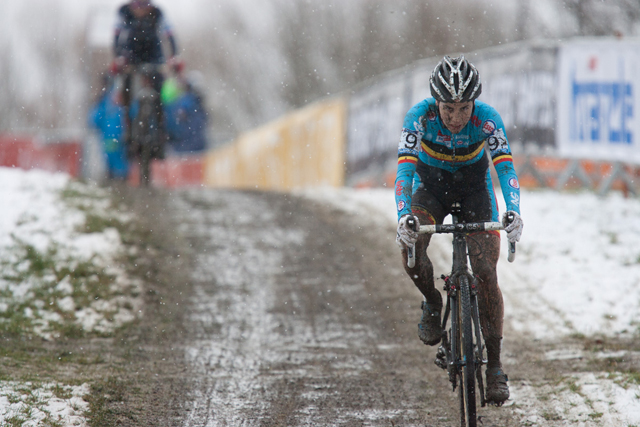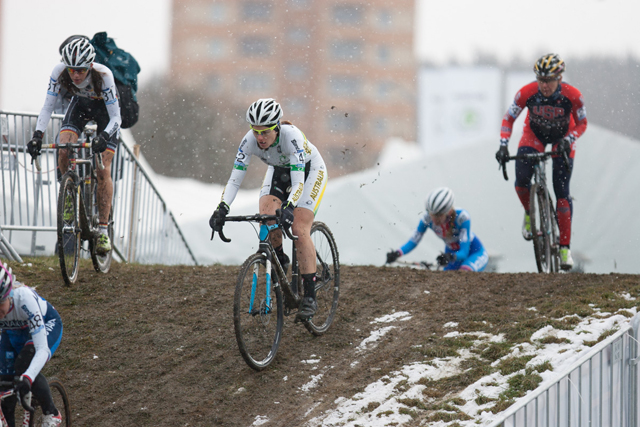 (Lindsay Gorrell of Australia)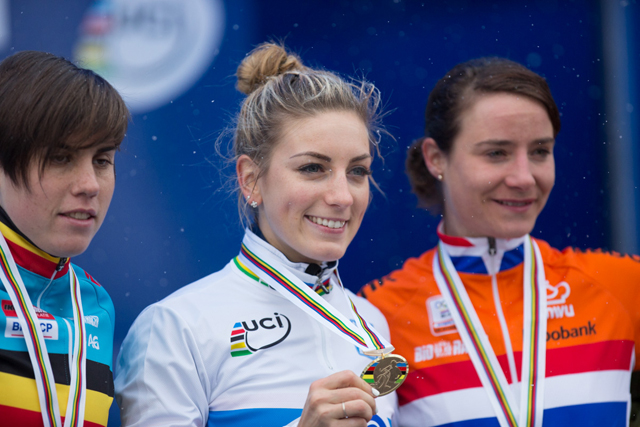 The women's podium)

Elite women's results
1 Pauline Ferrand Prevot (FRA) 49min 10sec
2 Sanne Cant (BEL) 0:00:01
3 Marianne Vos (NED) 0:00:15
4 Nikki Harris (GBR) 0:00:21
5 Katerina Nash (CZE) 0:00:36
6 Lucie Chainel-Lefevre (FRA) 0:00:56
7 Helen Wyman (GBR) 0:01:21
8 Ellen Van Loy (BEL) 0:01:35
9 Christine Majerus (LUX) 0:01:54
10 Sophie De Boer (NED) 0:01:56
44 Lindsay Gorrell (AUS) 0:09:05