"I was not a crazy cycling fan," Kittel told Cycling Central.

"I was not a generation (Jan) Ullrich that followed him at the Tour de France, definitely not. When I started cycling I was just curious about the sport in general. There was nobody in particular, from the professionals, that I had as a role model or something."

Since his 2013 breakthrough at the Tour de France Kittel has been an object of such fandom however, posing for 'selfies', riding through deafening cheers of support at sign-ons and recently at the Tour Down Under in Australia, accepting an oversized stuffed toy rose from one of his many female admirers.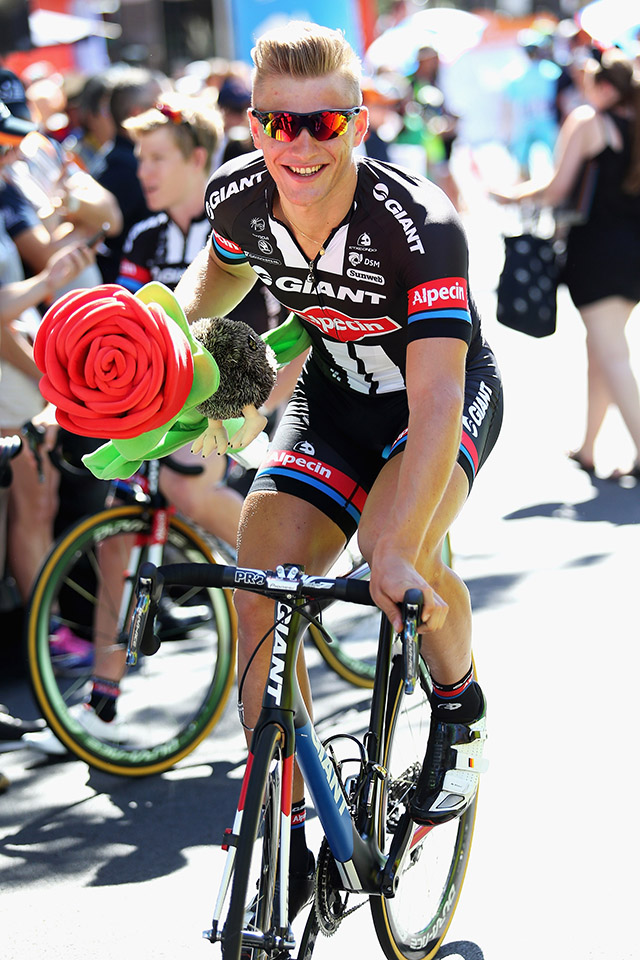 "The last four years as a professional they passed by super fast," the Giant-Alpecin leader said. "So many things happened during that time it's sometimes, really, I have the feeling that my time passes by quicker than from my friends at home."

Kittel has emerged as the WorldTour sprinter of reference, succeeding Mark Cavendish as the dominant fast-man with victories including a record three consecutive Scheldeprijs titles and eight stages at the Tour in which he has also marked stints in the maillot jaune and held court on the Champs Elysees the past two years.

"He reminds me of Cippolini - just big and powerful and then winds into his sprint, doesn't get a big jump," Australian sprint legend Robbie McEwen observed of the 6ft 2in German.

"There's really no surprises with Kittel. The team takes him to the front, he starts his sprint from pretty far out and just rides everyone out of the wheel. I'm kind of glad I don't have to ride against him!"

The 26 year old will be looking for stage wins at the Tour of Qatar from Sunday after a relaxed 2015 season debut at the Tour Down Under where he won the prelude People's Choice Classic by a length.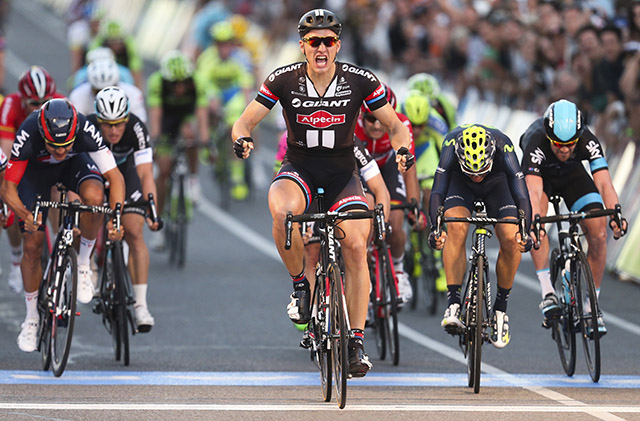 His growing palmares, and that of German compatriots including Andre Greipel, John Degenkolb and Tony Martin, has contributed to public broadcaster ARD's decision to this year resume live Tour de France coverage, which it stopped in 2011 because of damaging doping controversies involving the likes of Ullrich.

"With the wins that the German riders and me had in the last years it's inevitable it became more likely," Kittel said. "It's very cool to be a part of that process."

The process has also seen Kittel's pro team transition from a Dutch to German racing licence with national company Alpecin joining the squad as a co-title sponsor. It all contributed to an welcome, though exhaustive, increased German press presence at the outfit's season launch in Berlin, which International Cycling Union (UCI) president Brian Cookson, as well as Tour de France director Christian Prudhomme attended.

"From now the real work starts because of course we still have to continue to be successful," Kittel said. "The pressure with all the media attention that we get at home now will also be higher."

Such increased business interests could be seen as a stressful distraction ahead of a season in which Kittel is set to embark on new challenges - including a bolstered Spring Classics program - as well as undoubtedly being the hunted in bunch sprints. However, the grounded champion seems as motivated as ever with his January victory in Adelaide a confidence boost ahead of Qatar and the rest of the season.

"Everyone expects a win from you so I would say it's more challenging but it's also nothing which is completely different to what you normally do," he said in reference to his increasing progression and consequent perceived pressure.

Where others idolised Ullrich and company growing up, Kittel looked to his father, also a cyclist, for sprint advice and a main motto he still abides by.

"He always said if you finish a race and you know you gave everything and didn't make any mistake, or you just couldn't go anymore, then it was a good race," Kittel said.

"It was a shit race if it's the opposite, if, you know, I could have been better at that point but I didn't do it. That still is something that I actually always try to do in a race."

If Kittel does have an overarching career goal he hasn't shared it publicly. He shies away from statements like those of 25-time Tour de France stage winner Cavendish, who has noted he wants to leave a legacy.

"That's a big goal!" he said. "I think it's hard to say that before. If you stop your career and look back, then you should start to look if you left a legacy for other riders or if you just won a few nice races."

The anti-doping advocate is surely on his way however to making a significantly good-natured impact on the sport in his homeland as well as honour rolls.

"I think especially with German cycling we've got a big chance now at least to do something in general," he continued. "In cycling a lot of things are going on - very positive things, very negative things - and I think for the riders it's an important time in the history of the sport."