If you're a betting man, then the 2015 edition of the Herald Sun Tour will likely be won by one of two teams: Orica-GreenEDGE or Avanti Racing Team.

If you're to pick a rider from OGE, race leader Cameron Meyer or defending champion Simon Clarke, the latter fourth overall at 19 seconds, will be your best bets.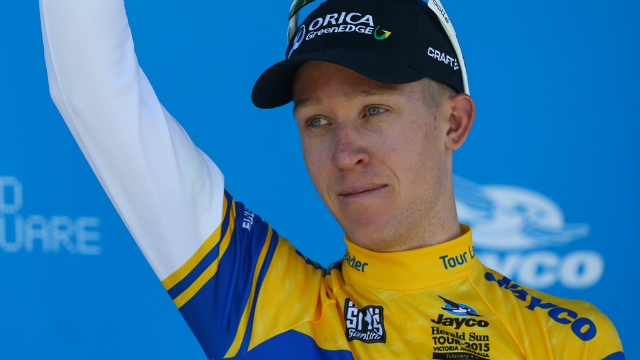 Still two more days to go... (Con Chronis)

Meyer, who's been racing since the Bay Series criteriums, said after Friday's second stage to Nagambie, "It's been a long summer". Till Simon Gerrans broke his collarbone in a mountain-bike crash a few days before Christmas, he wasn't down to race the Tour Down Under - a race he won in 2011 - but having done the first WorldTour race on the calendar, he may well be at the tail end of that summer form, before he returns to Europe.

Barring disaster, though, Meyer, a highly accomplished all-rounder, is in the box seat.




However, OGE should not get overconfident.

In yesterday's break to Bendigo, where Meyer took the stage and race lead to boot, Avanti had four riders in the winning move; one more than OGE and United Healthcare, the next best represented teams.

And, depending on how team manager Andrew Christie-Johnston - a man who's put more National Road Series level riders into the WorldTour than anyone else - chooses to play out the final two days, particularly Sunday on Arthurs Seat, any one of three - Joe Cooper, Patrick Bevin and Mark O'Brien - could triumph overall.

Despite being on the watchlist of a few WorldTour teams and quite likely to graduate to that level by this time next year, Bevin, a 23-year-old from New Zealand and winner of last year's Tour of Tasmania, is probably the most underrated of the trio. If not Meyer or Clarke, he's the one most likely to win Sunday.




As for tomorrow, Stage 3 from Michelton Wines to Nagambie once again (although 146.7km long) is likely to unfold in a similar fashion to today.

While no threat to the 21 successful escapees who defined the race the stage previous, Friday's the break of three - William Clarke (Drapac), Michael Cuming (Condor JLT) and Tyler Farrar (MTN-Qhubeka) - was nonetheless granted little rope, their maximum advantage 2 minutes and 49 seconds.

With the break reeled in 20 kilometres from home, a sprint was guaranteed. Caleb Ewan (Orica-GreenEDGE), still smarting after two second places at the nationals, bided his time perfectly - an easy winner over Steele von Hoff (KordaMentha Australian Team) and Sam Witmitz (Budget Forklifts).

Stage 2: 117.9km, Bendigo - Nagambie
1 Caleb Ewan (AUS) Orica GreenEdge 2:38:51
2 Steele von Hoff (AUS) KordaMentha Australian Team
3 Sam Witmitz (AUS) Team Budget Forklifts
4 John Murphy (USA) UnitedHealthcare Pro Cycling Team
5 Brenton Jones (AUS) Drapac Professional Cycling
6 Massimo Graziato (ITA) African Wildlife Safaris Cycling Team
7 James Mowatt (AUS) Data #3 Symantec Racing Team p/b Scody
8 Graham Briggs (GBR) JLT Condor
9 Michael Rice (AUS) Search2retain-health.com.au Cycling Team
10 Tanner Putt (USA) UnitedHealthcare Pro Cycling Team

General Classification
1 Cameron Meyer (AUS) Orica GreenEdge 6:11:06
2 Joseph Cooper (NZl) Avanti Racing Team 0:00:04
3 Patrick Bevin (NZL) Avanti Racing Team 0:00:15
4 Simon Clarke (AUS) Orica GreenEdge 0:00:19
5 Lachlan Norris (AUS) Drapac Professional Cycling 0:00:23
6 Damien Howson (AUS) Orica GreenEdge
7 Daniel Summerhill (USA) UnitedHealthcare Pro Cycling Team 0:00:24
8 Lachlan Morton (AUS) KordaMentha Australian Team 0:00:27
9 Scott Davies (GBR) Great Britain National Team 0:00:28
10 Mitchell Cooper (AUS) Navitas Satalyst Racing Team

Those tough lessons learned in Ballarat have won 'The Jet', as he's been nicknamed, his first UCI stage win!




But where there are winners there are also losers.


Ewan's polar opposite was Brenton Jones (Drapac), who tangled with Witmitz in the run to the line, and despite no broken bones reported, will dread his shower tonight and for the next week at least.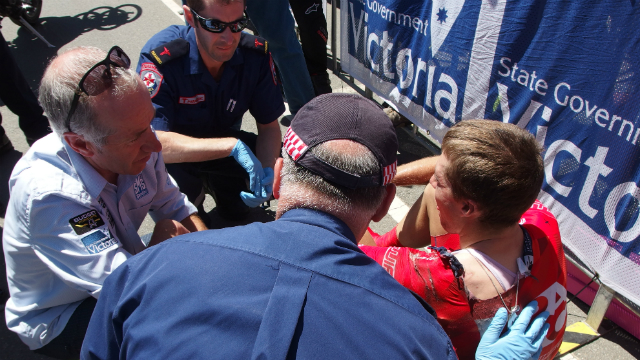 Hands off... (Anthony Tan)

Small consolation he still finished fifth... (Audio courtesy Herald Sun Tour)