Many of the vehicles required to run last year's Herald Sun Tour - among them, the Country Fire Association (CFA), police, and paramedics - had their attention diverted to surrounding areas either in danger of a bushfire, or were called for active duty, which sadly saw the race finish on an anti-climatic note.

This year, with temperatures in the high teens and low 20s, there was no chance of that. A race there would be...

Saturday, at 10:00 p.m. Australian Eastern Standard Time - some eight hours after the second-to-last stage of the Jayco Herald Sun Tour, and with the race on a knife edge - I placed a call to Andrew Christie-Johnston, team manager of Avanti Racing.

Rather than make the trip from Nagambie (where the third stage finished) to the start of the final leg the next day, he had already moved his troops to a nice caravan park in Frankston; 30-odd kilometres from Arthurs Seat, where the Sun Tour would both start and finish, Christie-Johnston wanted to allow his sextet of men the best possible rest before Sunday's stage, which would begin at 2:00 p.m.

Orica-GreenEDGE, the only WorldTour team in this year's race, by contrast, would stay in Nagambie, or 'Gerryville'. The difference being, however, that the OGE riders would fly by helicopter the following morning... Merci beaucoup, Gerry!

Nonetheless, defending champion Simon Clarke's fall Saturday, near the base of the first KOM, had seemingly placed Orica-GreenEDGE's title defence in jeopardy. Cameron Meyer was still leading the race, four and fifteen seconds ahead of Avanti's Joe Cooper and Patrick Bevin, second and third respectively. But Meyer, if he was to win the 62nd edition, needed Clarke to be there for him on Sunday's fourth stage; the race to be decided after 122 kilometres and three ascents of Arthurs'.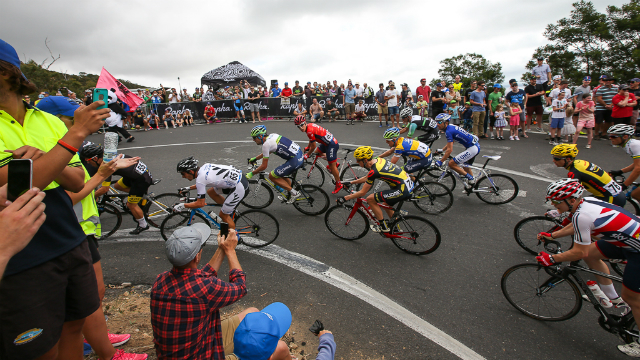 Three times the charm... (Con Chronis)

"For us, we will be trying to isolate Cameron (Meyer) and his team as much as possible. Every ascent, we will be trying to eliminate some of his team-mates. If we can isolate him, then we will have the upper hand," Christie-Johnston told me.

"When we do attack, even if it's after the top of the climb, in between the return to the next time, if we isolate Cameron and have got one rider up the road, that just might take the edge off him and give (us) a bit more of an opportunity up that final climb, if he's actually had to do some work himself.

"The strength of his team will probably determine our tactics. We've got a few ideas about what we're going to try, but at the end of the day, we'll just have to see how the race pans out, and how vulnerable they (Orica-GreenEDGE) are as a group.

"We expect Simon (Clarke) to be very strong by his side (as a domestique), or an option (as co-leader); whether or not he is, I think we'll (be able to) tell by the first time up the climb."

Are you prepared to risk everything - including the virtual podium positions of Cooper and Bevin - to win?

"I've spoken to the guys, and we seem happy to risk all to win this race," he said.

"We're certainly not going to be happy with second or third. We're going to go down swingin'. At the end of the day, if we miss out on the podium, so long as we've had a good crack at (winning), I'll be pretty proud of them.

"I try to encourage our guys, no matter what level it is, to get out there and try and win. And that's what we're going to do. There's 20-odd guys within 30 seconds... Maybe, Robert Power or one of those guys (in the top 21 on GC), (they) are quite capable of slipping into a move, and maybe he's (Power) the eventual winner, if there's too much focus with us and Cameron and Pat Bevin.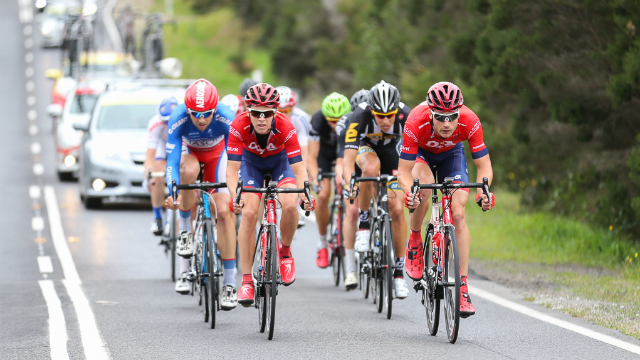 The early break... (Con Chronis)

"I'll be prepared to see someone else win, to give us the chance to win. Whether it's us trying to weaken Orica, or another team, I think that's where we've got to be quite smart. It doesn't really matter who's doing it; it's how we handle each of those situations."

Let me present you with a scenario, I suggested... If someone like Robert Power goes up the road and another rider from that top 21, and you're not in it, you won't chase?

"No. Because, ultimately, if we do chase, then we're in that situation where we're racing for second and third again. And we know that Orica want to win. That's the big risk we take, but that's just the nature of the game."

"We're here to win the Herald Sun Tour," reiterated Christie-Johnston.

"Second would obviously be a great result, and third would be a great result... But that's not the aim when we rock up here. It's a big race for us, and you've got to be prepared to lose to win in these situations."

As things turned out, they didn't manage to get one man in the early break of 13 riders.

Avanti problem number one.




And not one of the 13 escapees was in the first 21 on GC; Orica-GreenEDGE was not threatened by their closest competitors, and were under no obligation to chase.

Avanti problem number two.

On the first ascent of Arthurs, Robert Power (KordaMentha Australian Team), 12th on GC at the start of the day and 29 seconds behind Meyer, tried to get across to the break, now just six men strong, but never made contact. As for Clarke, the tough-as-nails Victorian was showing no sign of weakness, comfortably riding alongside the yellow jersey of Meyer.

Avanti problem number three.




The second time up Arthurs, Cooper was in difficulty. In the peloton, Avanti had three men setting tempo - Patrick Shaw, Mark O'Brien and Bevin - ostensibly to put Orica-GreenEDGE under pressure, but in actuality, it was to nurse 'Coops' over the three kilometre ascent. OGE, meanwhile, was cruising; all six men present and accounted for.

Avanti problem number four.

It would therefore come down to the final ascent, and it would be up to Bevin to do what he could to win, as small a chance that now was. Fifteen seconds off the lead at the start of the day, he would need to go early, even with a 10-second time bonus for the stage win.

The searing pace set by OGE's henchmen, however, nullified the opportunity for the Kiwi to go much sooner than he did, 200 metres from the line.

Creditably, he did enough for a stage win, elevating himself to second overall - but right behind him in second was Meyer, and right behind Meyer was Clarke. All three finished on the same time, excluding time bonuses. Nine seconds later came a ragged-looking Cooper; it was enough to take the final podium place.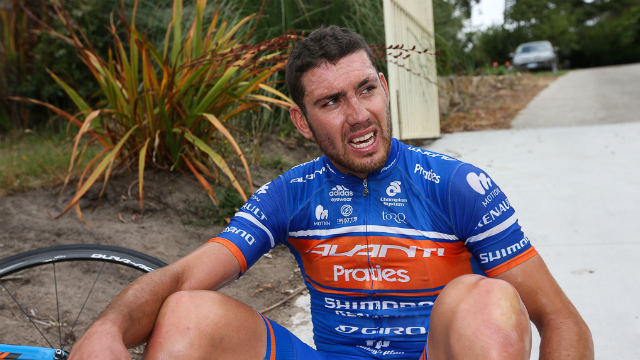 Agony... (Con Chronis)


Cameron Meyer had taken out Australia's oldest stage race. And the best man had won. Chapeau!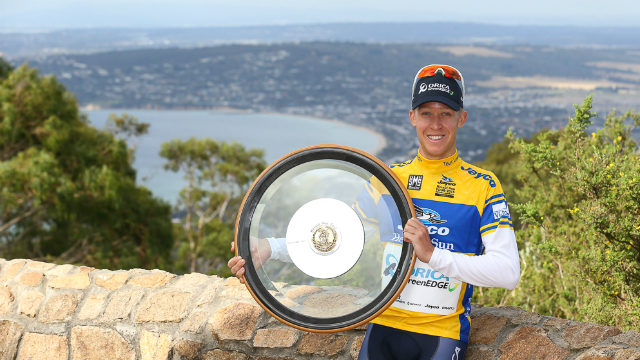 Ecstasy... (Con Chronis)


Stage 4: 122km, Arthurs Seat to Arthurs Seat
1 Patrick Bevin (NZL) Avanti Racing Team 2:54:38
2 Cameron Meyer (AUS) Orica GreenEdge
3 Simon Clarke (AUS) Orica GreenEdge
4 Brendan Canty (AUS) Team Budget Forklifts 0:00:02
5 Robert Power (AUS) Jayco-AIS Under-23 National Team
6 Franco Pellizotti (ITA) Androni Giocattoli 0:00:04
7 Damien Howson (AUS) Orica GreenEdge 0:00:06
8 Scott Davies (GBR) Great Britain National Team 0:00:07
9 Joseph Cooper (NZL) Avanti Racing Team 0:00:09
10 Serge Pauwels (BEL) MTN - Qhubeka 0:00:11

Final Classification
1 Cameron Meyer (AUS) Orica GreenEdge 12:30:55
2 Patrick Bevin (NZL) Avanti Racing Team 0:00:11
3 Joseph Cooper (NZL) Avanti Racing Team 0:00:19
4 Simon Clarke (AUS) Orica GreenEdge 0:00:21
5 Damien Howson (AUS) Orica GreenEdge 0:00:35
6 Robert Power (AUS) Jayco-AIS Under-23 National Team 0:00:37
7 Brendan Canty (AUS) Team Budget Forklifts 0:00:39
8 Lachlan Norris (AUS) Drapac Professional Cycling 0:00:40
9 Franco Pellizotti (ITA) Androni Giocattoli
10 Scott Davies (GBR) Great Britain National Team 0:00:41