SBS will broadcast the final day of competition from midnight Sunday (0000-0315 AEDT) on SBS2 and online here.

Bobridge forced to settle for silver
It was a day of disappointment for Australia's Jack Bobridge with the world record holder unable to win the individual pursuit crown.

Bobridge established nearly a four second advantage over Switzerland's Stefan Kueng in the opening kilometre of the men's individual pursuit final.

However Bobridge would not be able to sustain his blinding pace, with Kueng fighting back over the middle stretch of the four kilometre race.

With just one kilometre left the Swiss rider trailed Bobridge by a second. Kueng timed his effort to perfection to win the rainbow jersey in a time of 4:18.915, with Bobridge finishing just 0.029 seconds later.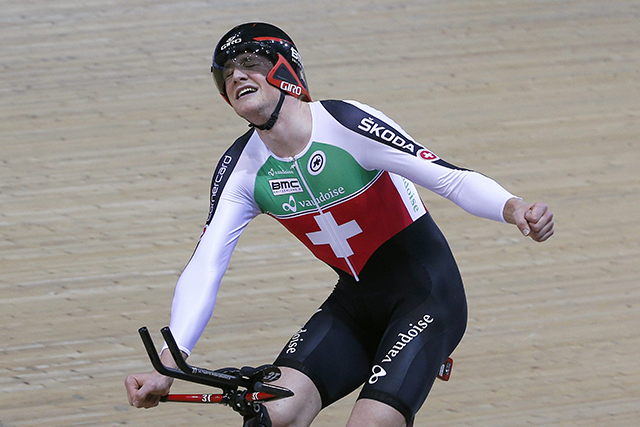 Stefan Kueng estastic after winning the individual pursuit world title (AAP Images)
In a heartbreaking result, 2011 champion and world record holder Jack Bobridge (SA) lead at every time check before being pipped in the finals metres of the men's 4000m individual pursuit by Switzerland's Stefan Kueng.

"I love racing 100 per cent and that's what I did. I went out full throttle and it didn't pay off," said Bobridge after collecting his fifth medal in the event since 2009.

"I just got beaten by a better guy on the night, that's professional sport you've got to take it on the chin.

"I didn't ride to a schedule I just went out and raced. I found a strength of mine obviously in the first kilometre compared to him and full credit to him he kept his cool and didn't budge."

In the ride for bronze, Russia's Alexander Serov lead for the first two kilometres but the crowd spurred on France's Julien Morice to lift the pace in the second half to claim the victory in a time of 4min 21.419.
Defending champion Alex Edmondson who has been battling a head cold all week, finished eighth (4:23.272) and Miles Scotson was ninth (4:23.480).

Women's Sprint Finals
Germany's Kristina Vogel slipped down the track on the first lap of her ride against Elis Ligtlee to force a restart. The race was so tight that a photo finish was needed to determine the winner with Vogel being given the nod.
Vogel led from the start of the second ride to launch her sprint and win by a bike length over Litglee for her sixth world title.
China's Tianshi Zhong struck first in the ride for the bronze medal against Australia's Stephanie Morton. Morton couldn't quite match Zhong with the Chinese rider claiming the bronze medal in the second ride.
"It is bitter sweet, getting fourth means you lost your last races, but it is definitely a step forward for me," said Morton, whose reached the quarter-final stage in her 2013 debut, before falling at the round of 16 stage last year.

"It is heading where I want it to be, I am getting better and still learning and I exceeded my expectations heading into the competition."

Men's Omnium - Final
It was a hectic start to the points race for omnium leader Fernando Gaviria with the Colombian crashing in the early laps.

With so much at stake he was quickly back in the race and off the front, part of a group of four riders which included New Zealand's Aaron Gate, to gain a lap on the peloton to earn an extra 20 points.

Gaviria continued to win sprint points as Australia's Glenn O'Shea gained a lap to move himself up to second overall with 67 laps to go.

Gaviria and O'Shea held onto their positions through the remainder of the race to earn themselves the gold and silver Omnium medals.
Italy's Elia Viviani, who O'Shea leapfrogged in the standings, claimed bronze.

Gate rode an incredible race to gain three laps and a significant boost to put himself in striking distance of a medal, but ultimately had to settle with fifth.

"I sort of gave the Colombian a head start with my fifteenth in the first event," said O'Shea, who now boasts 2012 gold, 2015 silver and 2013 bronze in the event.

"But I was really happy with the remaining five events, he was just too good over the two days and deserved to win."

The Bendigo-native sat in sixth place after the first day of competition after finishing fifteenth in the scratch race, posting a personal best time on the way to winning the individual pursuit round (4:20.807) and a fourth in the elimination race.

He moved to equal second after two personal best times in the time trial (1:02.300/second fastest) and the flying lap (12.926/fourth fastest) saw him move clear into second, 12 points shy of Gaviria Rendon.

"Silver medal is great, sure you always want to win, but it was a good two days for me," he said. "I have a full set in this event now so it's a good sign I am consistent, I am always around the mark, that is just the first step.

"I just want to make the next step and be the winner, particularly in eighteen months time," added O'Shea, who also finished fifth in the omnium at the 2012 London Olympic Games.

Women's Omnium - Half way updates
Australia's Annette Edmondson sits second overall in the women's omnium after three events.

New scratch race world champion Kristen Wild (Netherland) leads on 102 points, Edmondson has 98 and Great Britain's Laura Trott is third on 96 points.
Women's Sprint - Semi Finals
Australia's Stephanie Morton lost her first heat on the line to Elis Ligtlee of the Netherlands. Litgtlee again was too fast for Morton in the second heat, relegating the Australian to ride for bronze.

China's Tianshi Zhong drew first blood over Germany's Kristina Vogel, with Vogel getting even in heat two to ensure a third round decider. Vogel was able to hold off Zhong to confirm her place in the final against Litgtlee.

Women's Scratch Race Final
Australia's Amy Cure has a full set of medals after winning silver in the scratch race.

Cure - who was part of the team pursuit winning squad and won the bronze medal in the individual pursuit yesterday - couldn't quite come past Dutchwoman Kirsten Wild at the conclusion of the 10km race.

New Zealand's Rushlee Buchanan lead a big charge in an attempt to take a lap but the race came back together in the final few laps.

Wild powered home just ahead of Cure with France's Pascale Jeuland crossing the line in third. Jeuland was later relegated for an infringement in the run in to the finish, with Canada's Allison Beveridge being awarded the bronze medal.
"Went in pressure free, went in with a clear mindset wanting to have fun and I am really happy to bring home the silver medal," said Cure.

"I have put everything into training, I put 100 per cent into everything I do, and coming home with eight medal or no medals, I am happy with what I do if I give 100 per cent.

"I was in good position coming into the final position, but Kirsten (Wild) is a great bike rider, probably went a bit early and got ahead of myself, but I don't think it mattered how late I left it I would have struggled to come over her."

Water delay
There was a delay to the beginning of the session as condensation is leaking from the ceiling onto the upper baking of the track.
Australians in action
Australians will feature in four finals in this session:
• Men's Individual Pursuit (approx 700am AEDT) - 2011 champion and world record holder Jack Bobridge (SA) will ride in the gold medal final against Stefan Kueng (SUI). Bobridge posted the fastest qualifying time of 4mins 16.219secs.
• Women's Scratch Race (approx 520 AEDT) - to feature Amy Cure (TAS). Australia has reached the podium on eight occasions but has never won in the history of the Championships.
• Men's Omnium (final event starts at approx 6am AEDT) - 2012 omnium world champion Glenn O'Shea (SA) sits in third place in the men's omnium after five of six events, 12 points off the lead with the points race remaining.
• Women's Sprint (result known by approx 730am AEDT) - Stephanie Morton (SA) lines up in the women's sprint semi-finals.

Today's schedule
The women's sprint champion will be crowned as will be the women's scratch race winner. The men's omnium concludes with the points race with the men's individual pursuit title also up for grabs.