On Tuesday organisers of the 23 March race released a promotional image of the rear of a woman which depicts her skirt raised and with a gloved hand reaching out to squeeze her backside.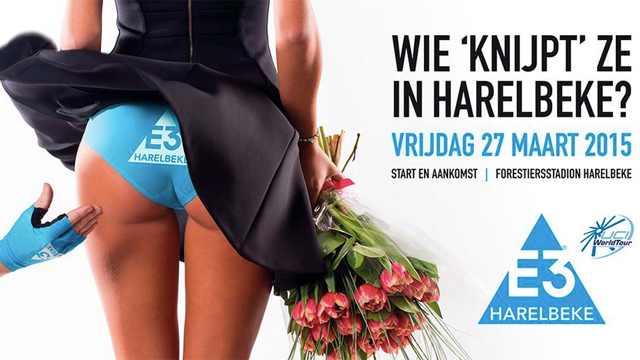 (E3 Harelbeke promotional image)


The offending image prompted fans to protest on social media and generated several strong editorials which condemned the image.

"The Union Cycliste Internationale was extremely unhappy with the promotional poster of the 2015 E3 Harelbeke," the world governing body said in a statement on its website.

"We have reminded the organiser of its responsibility and the UCI regulations and they have agreed to take off the poster from all communication platforms."

In a statement published on their website on Wednesday, the Belgian Insitute for Equality called the advertising campaign "a violation of the anti-discrimination law which prohibits any behaviour which is undesirable, hostile, offensive or humiliating on the grounds of sex."

It added that it had called for the posters to be withdrawn immediately.

Television channel VTM added that seven complaints had already been made about the campaign.

However, despite the UCI's statement the image remains on the race's social media accounts, with organisers saying a final decision is yet to be made.

"After the commotion caused by the launch of the new banner the board will decide tomorrow on the further course of the campaign," they said.