"I'm very happy that Alberto will lead Tinkoff-Saxo in 2016 as well, because I truly believe he is the best cyclist in the world and I am convinced he will continue to be so for a few more years, said team owner Oleg Tinkov.


"Unfortunately, he decided he would retire at the end of next year which means he will race with my team for two full seasons. I would have, obviously, preferred him to stay longer but that was his personal decision.


"However, I am very proud that Alberto's impressive career will conclude in my team and I hope he takes the Tinkoff-Saxo colors to the top step of the Tour de France podium in 2015 and 2016."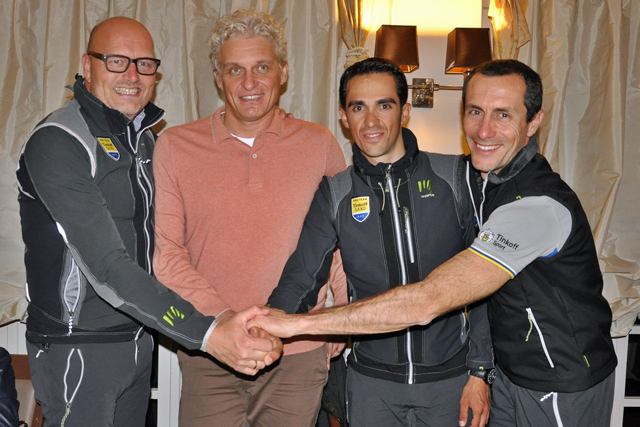 (Bjarne Riis, Tinkoff-Saxo Manager, Oleg Tinkov, Tinkoff-Saxo Owner, Alberto Contador and Stefano Feltrin, Tinkoff-Saxo CEO - TSB)


The 2015 season started on a high note for Contador with a strong performance at the Ruta del Sol and continues at the Tirreno-Adriatico, as he rider focuses on his main goal of the season, to win the Giro d'Italia-Tour de France double.


"For me it was something very important. I knew I could not wait much more because if I had to choose another option it should have been done much in advance, in order to adequately prepare the team. We have been thoroughly assessing all aspects and in Tinkoff-Saxo we have a group that can fully guarantee the challenge of the Grand Tours," Contador said.


"It is true that it was important for 2016 to have these guarantees and for that reason I am very happy to have closed the deal. It is already five years that I have been working with Bjarne Riis and the possibility to continue for another year is satisfying."