"It's important if you want to be good in San Remo to do a good stage race before," Renshaw told Cycling Central prior to the start of Stage 2.

The 32 year old is recovering from the remnants of a debilitating virus that he and his Manx team-mate surrendered to during a sponsor-related trip to Cape Town last week, after what has otherwise been a brilliant start to the 2015 season.

"Everything going straight through you, it was that kind of virus, which is not ideal prep," Renshaw said. "I'm starting to get the strength back, still a little while away from being back to I think where we were before. It might take a couple of days but we're fit and healthy enough to race, which is the main thing.

"Personally my role stays pretty much the same, I have to try and do my best anyway to help Cav and it looks like he's recovered pretty good after being sick," he continued. "The goal will still be to win a stage today or tomorrow (stage two or three), and then the rest of the race is preparation for San Remo."

The Australian has assisted Cavendish to four of six victories this season including two stage wins and the overall at February's Dubai Tour as well as line honours at the Clasica de Almeria, in which the former finished third, both a testament to an improving sprint train. Renshaw has had a year to refamiliarise with his old HTC-Highroad sparring partner and both now seem to be in sync once more with the final stage victory at the Dubai Tour, reminiscent of glorious Highroad days, with the entire team unpassable at the front of the peloton, evidence of such.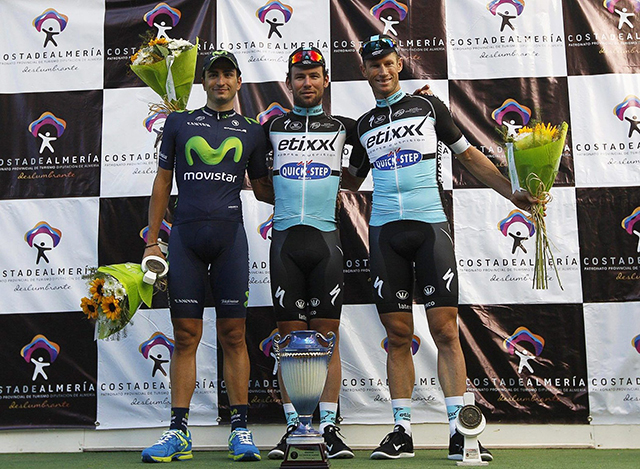 The Etixx-Quick-Step pair on the podium in Spain (AAP Images)

"I think on the day it just went together really well and we had some great guys in the team there," Renshaw recalled. "It looked like the days of former but I'd say, you know, the team has progressed the last two years and we're still working on the lead-out. If your sprinter is in good form and when everyone in the team is in good form it works quite well."

Such a show arguably hasn't been seen since the demise of HTC-Highroad at the end of 2011. Since then the sprint scene has considerably changed with the emergence of eight-time Tour de France stage winner Marcel Kittel (Giant-Alpecin), triple green jersey victor Sagan, 2014 Milan-San Remo champion Alexander Kristoff (Katusha) and Andre Greipel's ever consistent Lotto Soudal unit amongst those contributing to much more even competition. Renshaw stopped short of predicting more stage performances a la Dubai Tour as the season ramps up, but is confident ahead of major team targets throughout spring and beyond.

"This year will be a lot better than last year," he continued. "Last year there were still some teething problems but this year I think we will just get better."

Renshaw and Cavendish both recently participated in a team recon of Milan-San Remo that will this season finish on Via Roma. It's familiar ground for Renshaw whose role could alternate depending on circumstance throughout the 293km race his team-mate won in 2009.

"I live there so I get to train on it all the time but for the other guys it's pretty important to familiarise the last 30-40km together," he said. "It's an important race so you don't want to make any errors in the final, and after 290km it's better to have ridden the road only a few weeks ago rather than a year ago.

"You never know what happens with this race," he continued of the classic. "We will have two or three leaders in the team, with the main one being Cav, so my role can change on the day, but I'd love to get to the final and do a good ride in the final kilometres for Cav."

SBS will broadcast Milan-San Remo live! Join us on SBS ONE or online from 2345 AEDT on 22 March.