Wiggins, along with seven team mates, will ride a bike partly developed by car manufacturer Jaguar and featuring a unique suspension system on the rear of the frame.


"I've never ridden anything like it on cobbles before, which is the most extreme terrain you can ride a bike on," Wiggins, the 2012 Tour champion, said in a statement announcing the new Pinarello DOGMA K8-S.


"The way it feels, its aerodynamics, stiffness, and improved flex in the rear, is game-changing for cycling."




Watch the Tour of Flanders live on SBS from 2230 AEST Sunday 5 April on SBS2.

The 264km Tour of Flanders, starting in Bruges on Sunday, is traditionally one of the most bruising races on the UCI calendar, with numerous sections on bone-shaking cobbles.


Wiggins, along with team mate and cobbles specialist Geraint Thomas, will contend for the title, and the 2012 Olympic time trial gold medal winner says the bike could give them the edge over their rivals.


"This is the first time anyone has gone out there, looked at the demands of the cobbles, and made a bike specifically for that job," he said. "It was really noticeable in testing between the guys on the K8-S to the others that weren't.


"It gives us lots of confidence and a huge advantage."


While Wiggins is understandably excited by his new purpose built machine, suspension has been used on bikes at Flanders, and particularly Paris-Roubaix, on a number of occasions in the past.


The advantage Pinarello and Jaguar have is in combining their substantial up to date knowledge of carbon fibre production and design expertise to deliver a bike that
may bring Britain's greatest ever rider a remarkable career closing victory.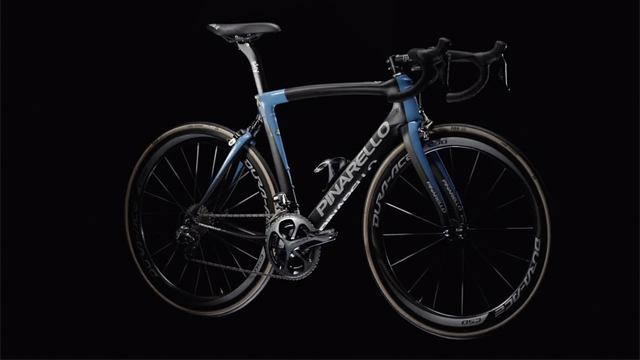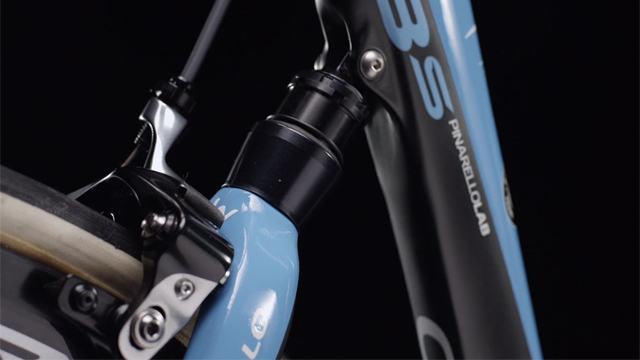 (Images: Pinarello)


The specific design elements seen on the bike are more a refinement on earlier production concepts which have been previously marketed by competing road and mountain bikes brands - usually manufactured in steel or titanium.


This time the suspension design takes advantage of the properties inherent in well thought out carbon composite manufacturing.


The minimal, elastomer controlled float relies on the natural flex that comes with the flattened and curved chain and seat stays - more than enough to take the edge off the cobbled sections seen at the two monuments. All done while keeping the bike light and more importantly, laterally stiff.


The build is relatively untested in real-world conditions, so the real test of its specific utility and efficiency will come early on Monday morning Australian time when Sky hopes that one of its riders will be standing on the top step of Flanders.