And while we may not be fully aware of it, always
in the thinking of the team bosses is the 'sporting value' accumulated
by their squads and how they impact on ProTeam longevity through 2012.

This value is different to the usual UCI ProTour road rankings and is an internal score used by the UCI to determine who is and isn't eligible for ProTeam status.

Sporting
value includes the dry stuff like the financials of a team
(sponsorship), their internal anti-doping efforts and placings in team
classifications of stage races on the various UCI World Calendars.

But for fans
the really interesting aspect is the relative importance of
riders to teams - the value calculated using the results of the 15 best riders on
a squad, taking into account all the events on the various circuits on
the UCI Calendar.

Effectively, when a rider moves to a team his value also moves with him affecting the ranking of that team within the UCI.

If you don't make the top 18 ProTeam cut you're riding at Pro Continental level.

For
example, controversy raged last year when the UCI gave Leopard Trek top
billing without the team having turned a pedal (or stomach) in anger.

But
the team was loaded with talent who carried over a huge number of
points based on their previous winning efforts, largely earned at Saxo Bank-Sungard's expense.

The Schleck brothers, Fabian Cancellara, Jens Voigt and Stuart O'Grady were among them so you could understand why.

With the advent of the GreenEDGE bid for ProTeam status, Australian fan interest lies in this calculation, assuming the team meets all other criteria. So how are GreenEDGE travelling on this ranking?

I
like words not numbers so I have to rely on the good works of others to
give us some insight into where teams currently stand and thankfully Garmin-Cervelo's boss Jonathan Vaughters came through with an interesting link via Twitter.

It's only a snapshot based on what we currently know, calculated by an enterprising Spanish journalist, but it goes a long way towards allying our fears that GreenEDGE may not make the ProTeam grade - as you can see in the right hand column, they are close to sealing the deal.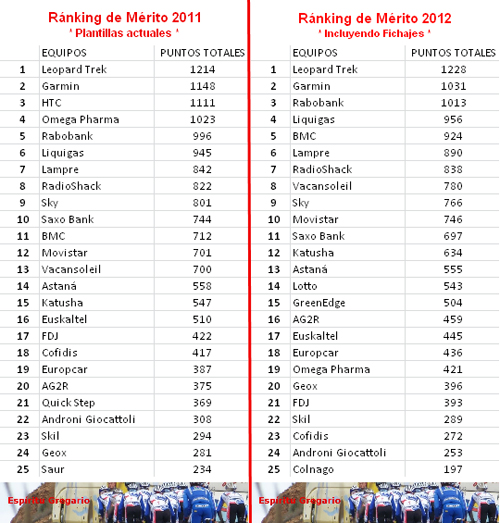 So, with the full GreenEDGE squad still to be announced, hopefully after the World Road Championships, I'm feeling pretty tranquilo about their prospects.

You?

Follow Phil on Twitter: @Lycra_Lout.