In
a race that has the reputation as a bit of a sprinters' paradise most
teams are opting for a two-pronged attack of sprinter and roleur.

The
mountain-top finish at Willunga appears set to decide the race unless
one of the fast men can rack up enough wins and bonus seconds
beforehand.

The race also has another serious edge to it in that
most teams want to start the season successfully by putting some points
on the board.

The UCI ProTeam ranking system is a beast that
needs to be continually fed, and teams risk not making the top grade for
the next season.

Jobs are on the line so the racing will be intense for what in the past would be a leg freshener for the season to come.

But what about GreenEDGE you ask? Unsurprisingly it dominates the off road conversation. Everyone wants a piece of the team. Word on the street is that Simon Gerrans is the man. I reckon he'll do it too, unless Movistar's Alejandro Valverde comes out to play.

While the riders fine tune their preparations the SBS
team is on its game shooting, writing and photographing anything that
moves ahead of the race to come, for online and Cycling Central on SBS ONE on
Sunday at 5pm.

The highlight for me so far is a chat with Team Sky sports director Sean Yates, whom I always admired for his sartorial style
on the bike in his heyday.

Who doesn't like the rolled up shorts look?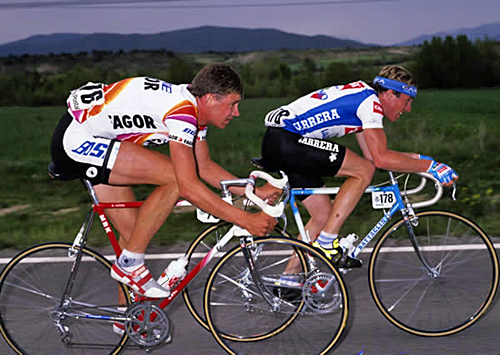 I
also spent some time talking to Drapac Cycling rider Tom Palmer, who
will be riding the Tour Down Under for the composite Uni-SA squad. To
say he's jumping out of his skin is an understatement.

But Palmer
is also wary of the speed and power of the ProTeam riders in what is
his first WorldTour outing. A steep learning curve awaits one of our
talented locals.

And of course there is a bit of schwag for the
media reptiles including, wait for it, booze. No media centre runs
without a bit of lubrication.

But for me the best item in the
swag bag is a humble green spotted musette sporting the Skoda logo. This
one will definately be added to my collection.

So that's it from
me for now, keep hitting the refresh button on you browser for updates
throughout the day from Cycling Central. We'll be pumping it out.

Twitter: @Philip_Gomes