With just under 36 hours to go before the 103rd edition of Milan-San
Remo gets underway, I thought I'd review the major contenders and their
odds to aid you in your quest to buy that €30 million (A$37M) home on
the Côte d'Azur, which happens to be the cheapest waterfront villa
listed for sale on the French Riviera at present.

I've taken
these odds from Unibet's betting site as of midnight Thursday – similar
odds are displayed elsewhere, including TAB's Sportsbet*.

The Favourites…

Mark Cavendish (Sky) – currently paying €4.00 for the win

It
is more his fear of failure and less his desire to win that makes
Cavendish as good as he is. Of course there's also his incredible leg
speed; what he calls a "double kick"; his ultra-aero sprinting position;
and a crack coterie of henchmen.

Clearly, the change of teams
and the rainbow jersey earned in Copenhagen have done the Manx Missile
no harm at all. In actual fact, it's probably motivated him further
still. He came into this season with a similar winter to what he had in
2008 and 2009 – "and I'm even leaner than I was then," he said at the
Tour of Qatar, where at his first race of the year, was just three kilos
off his end-of-Tour weight.

Four wins already; will it be five after Saturday?

Strategy: "Me, it doesn't matter how the others go. I've just got to hang on as best I can," he told Cycling Central this week.

Peter Sagan (Liquigas-Cannondale) – currently paying €8.00 for the win

Your
next best bet is this Slovakian wunderkind who, aside from his captain
Vincenzo Nibali and American Chris Horner (RadioShack-Nissan-Trek), was
the strongest rider at Tirreno-Adriatico.

He is in the mould of a
Philippe Gilbert only seven-and-a-half years younger and with a faster
finish – so fast, in fact, that on his day, he can win a bunch sprint
among the world's best, as he demonstrated at last year's Vuelta and on
the fifth stage of the 2011 Tour of California. Just to make those
envious of his precociousness greener still, he can also win summit
finishes, as he did on the fourth stage at T-A (even if it irked his
leader who needed the bonus seconds; regardless, Nibali won the overall
anyway).

Strategy: Expect him to go with any moves on the final
climbs of the Cipressa and Poggio along with Nibali; as quick as he is,
Liquigas-Cannondale will want to ensure a finale sans Cavendish.

Oscar Freire (Rabobank) – currently paying €10.00 for the win

Despite him being a three-time winner of 'La Classicissima', I reckon Oscarito's odds are slightly generous.

At
36, the versatility Freire showed as a three-time world road champ
(1999, 2001, 2004) is no longer there (if it is there, it's been lying
dormant). The good-natured Cantabrian doesn't enjoy the finishing speed
he once had or the climbing prowess he once possessed. Don't get me
wrong, he's still good, but his last big win was Paris-Tours on 10
October, 2010.

Still, stranger things have happened, but M-SR's history suggests rarely does a rider come out of the big blue to win.

Strategy: Hang on and hope for a group of around 15-20 at the finish. Then hope for a few in front of him to crash.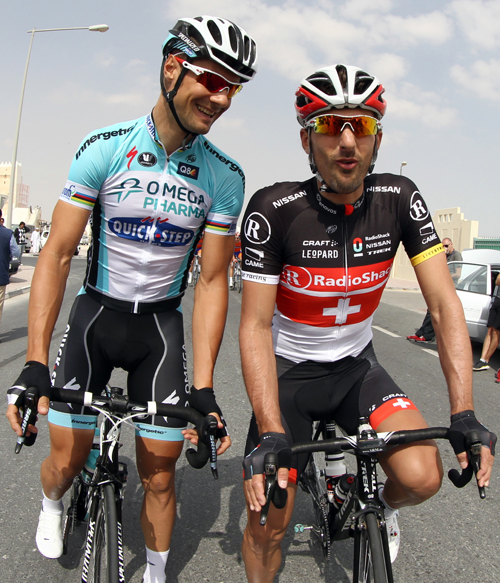 Fabian Cancellara (RadioShack-Nissan-Trek) – currently paying €12.00 for the win

For
95 percent of the peloton, Cancellara's 2011 season would be regarded
as a success; for him and his sky-high standards it would have been
viewed as a failure.

Second in last year's Primavera, Fabian is back. Back to the level of 2010, 2008 or 2006, we still don't know. But he's back.

Current
form suggests he's aiming to explode in the week from April 1-8, when
the Tour of Flanders is followed by Paris-Roubaix the following Sunday.
To win Sanremo again would be a bonus for 'Fabullara', but I'd say he's
aiming to do most damage on the pavé of Belgium and northern France.

Strategy:
As he did in 2008, descend the Poggio like a maniac then attack from a
few kilometres out. The move surprises no-one; just that few, if any,
can do anything about it.

Tom Boonen (Omega Pharma-Quick Step) – currently paying €15.00 for the win

Another
back to his best following two lacklustre years. It's hard not to like
Boonen, who has never won M-SR though has come awfully close, when he
ran second to Freire in 2010.

'Tommeke' has been on song since
February when he won two stages and the overall at the Tour of Qatar;
most pundits suggest a window of top form lasts no more than six weeks
and in exceptional years a maximum eight, so depending on who you ask,
Boonen is either in the middle or nearing the tail-end of his peak
condition.

Strategy: Do as Cavendish will do – only hope that Cav' is not there in the end.

Matthew Goss (GreenEdge) – currently paying €16.00 for the win

It'll
be a two-pronged strategy at GreenEdge with Goss and Simon Gerrans the
protected riders but neither has shown signs of being in super-dooper
shape of late.

Okay, Goss and the boys won the team time trial at
Tirreno-Adriatico and kudos to them for doing so but in the race's two
sprint stages he did not figure in the finale. Meanwhile at Paris-Nice,
Gerrans was looking good, encountering a case of déjÃ-vu with my
favourite rider Alejandro Valverde (NOT!) on Stage 3, but since his
crash the following day things haven't been the same for Simon. The
Dimpled One is looking to be at his best in the Ardennes week so I
wouldn't be expecting Gerro all guns blazing come Saturday.

Gossy's
says he's on target to hit his best at San Remo and Flanders/Roubaix
but so far I'm yet to see it. Let's hope he pulls out another Copenhagen
Special, surprises us all again, and does what no-one has done since
2001, when Erik Zabel won the last back-to-back titles in Sanremo.

Strategy: Repeat what he did last year. Then drink copious amounts of lager.

The Outsiders…

Edvald Boasson Hagen (Sky) – currently paying €17.00 for the win

Sky's Plan B. Expect him to initiate proceedings on the Cipressa/Poggio along with Sagan.

Philippe Gilbert (BMC) – currently paying €17.00 for the win

Out of touch. Must go to nearest supermercato in Milano and buy form, preferably in bulk.

André Greipel (Lotto-Belisol) – currently paying €20.00 for the win

Seems to have gone AWOL since his pair of stage wins at Oman. Must accompany Gilbert to supermercato.

And The Rest…

Outside bets: Heinrich Haussler (Garmin-Barracuda, €23.00), Daniele Bennati (RadioShack-Nissan-Trek, €35.00)

5-dollar dazzlers:
Alessandro Petacchi (Lampre-ISD, €35.00), Tyler Farrar
(Garmin-Barracuda, €40.00), Matti Breschel (Rabobank, €65.00), Mark
Renshaw (Rabobank, €70.00)

Money to burn: Filippo Pozzato (Farnese Vini-Selle Italia, €150.00)

*
Disclaimer: No responsibility taken for reckless/lost wagers, arguments
with your missus, blues at the water cooler/coffee shop, or inability
to afford down payment on Côte d'Azur holiday home.

Twitter: @anthony_tan