Away from the European race scene, how closely have you been following the Subaru National Road Series (NRS) here in Australia?

Last year the Genesys Wealth Advisers team won all bar one of the 12 events on the calendar, the exception being Mark Jamieson's victory in the Grafton to Inverell, riding for Jayco-2XU at the time. It was Genesys's star rider Nathan Haas that won six of those 11 events overall, and between Patrick Shaw, Steele Von Hoff, Joel Pearson and Anthony Giacoppo, the Tassie-based outfit won the other five events including a metric shedload of stages.

Unsurprisingly, Haas won the individual NRS classification by a metaphoric mile; his tally of 1045 points 345 clear of Von Hoff with another team-mate, Shaw, third on 429 points. And, surprise surprise, Genesys topped the teams' leaderboard, amassing 1714 points across the series, with Bikebug.com and Budget Forklifts finishing with 1045 points and 1008 points, respectively.

The contest this year, both in terms of individual and team rankings, has so far been markedly different, defined by a tale of three teams rather than one.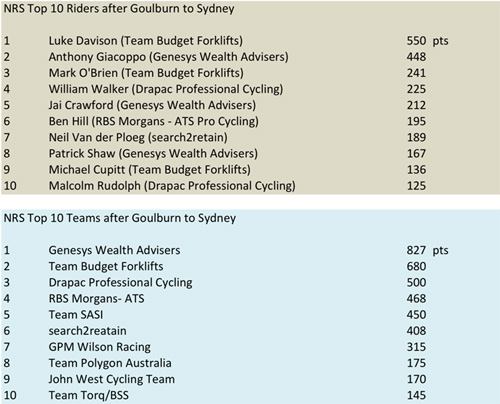 After seven rounds (once again, there are 12 races) up-and-coming sprinter Luke Davison of Budget Forklifts holds a 102-point advantage over Genesys' Giacoppo, who, along with team-mate Mark O'Brien and Will Walker (Drapac Professional Cycling), enjoyed a stint in the NRS leader's jersey.

Between Genesys, Budget Forklifts and Drapac it has also been a ding-dong battle in the teams' classification. Undoubtedly, the latter would be doing much better in the individual and team rankings if they didn't send two troupes abroad to race in Asia and Europe and forgo some of the earlier events on the NRS calendar.

There's also Walker's recent health scare. On August 16, the former Rabobank rider suffered a mild recurrence of tachycardia (irregular heartbeat or abnormal heart rhythm) during the second stage of the Tour of the Great South Coast. Walker, the incumbent NRS leader at the time, chose to withdraw for precautionary reasons.

Ten days ago at the Goulburn to Sydney, on September 16, the seventh and most recent NRS event, Drapac team manager Jonathan Breekveldt told Cycling Central Walker has since been issued with a clean bill of health and will make a return at the upcoming Launceston to New Norfolk Classic (slated for Sep 30) and Caterpillar Underground Mining Tour of Tasmania (Oct 2-7). Clearly, with the sad passing of former Drapac rider Robbie Williams last month, just 27 years young, an autopsy revealing death as a result of sudden fatal cardiac arrhythmia, there's reason to be extra careful and even more meticulous than necessary. Breekveldt guaranteed this has indeed been the case, and says Walker, once fully fit, is likely to be even stronger than he was before.

So, with five events remaining, the NRS of 2012 is set to come down to the wire.

Though you'd be hard-pressed picking a winner. Less so because of the teams/riders per se, more because the 12 events have been categorised into three tiers (Category 1-3) with different ranking points depending on category.

In the teams classification, for example, out of the remaining events, the Launceston to New Norfolk and Shipwreck Coast Classic, both Cat. 3, have a maximum 75 ranking points on offer (75-10 points for 1st-10th place). By contrast, the Tour of Tasmania, Melbourne to Warrnambool and Grafton to Inverell, all Cat. 1, have anywhere from 220 to 20 points up for grabs. Teams can also earn bonus points by virtue of individual GC podium results in each event, which again varies according to race category: 20 bonus points for finishing first on GC at the Tour of Tassie, and 1 bonus point for third place at the Shipwreck Coast Classic, for example.

The individual classification is equally elaborate. Like the teams system, the allocation of points for individuals differs by category or event tier (from 180 to 80 to 50 points for a win), with additional points awarded for stage wins in the seven stage races on the NRS calendar (anywhere from 25 to 3 points).

To further confuse the participant or follower it seems the event category rating, and thus the awarding of points, is not dependent on difficulty or length but some other arbitrary, unspecified and therefore unknown, measure.

As an example, in terms of toil, rider feedback will tell you the Cat. 3-rated Mersey Valley Tour is on par with the Tour of Gippsland, a Cat. 1 event; and that the Tour of Toowoomba or Tour of Murray, both Cat. 2-classified, are no less difficult than the upcoming Tour of Tasmania, a Cat. 1 race.

To me, it seems odd, and a touch unfair, that the winner of the first three NRS races, O'Brien of Budget Forklifts, finds himself third on the individual rankings, and at 241 points to NRS leader Davison's 550 points or second-placed Giacoppo's 448 points, out of contention, because aside from Tassie, the remaining events favour riders like Davison and Giacoppo far more than O'Brien.

Time and time again, WorldTour riders tell me it is the riders who make the race. A race is nothing without them, they attest.

For the NRS, then, perhaps it's time for a rethink, and before the 2013 NRS season is upon us, a rejig.

We all want to see the best overall rider and best overall team at the top of the leaderboard. As intriguing as the racing's been this year, we may not get that.

Follow @anthony_tan