Next best was Budget Forklifts, which rode 3.64 per cent slower, and the AIS/VIS combined squad in third was 4.06 per cent off the mark. When results are often decided by fractions of a percentile, as a contest this wasn't even close. But why?

It helped that the team is based in Tasmania with its best three climbers, Jai Crawford, Nathan Earle and Campbell Flakemore able to ride up Mount Wellington at their leisure on a regular basis. Crawford for example used to do multiple ascents of the climb daily when he has prepared for the Tour de Langkawi in the past. The familiarity is certainly there.

But it's not just at an individual level. Before today Genesys had done five full gas efforts up the climb testing combinations, pace, target power, and marking down competitive times for key sections. It had several unofficial time checkpoints along the route which it used to gauge its ride up the climb. Staff were set down to pass on the checks of other teams and Genesys as it came through, and riders got instant feedback on where they sat in relation to not only rivals, but the team's personal best. It was never more than a few kilometres between checks, so feedback was more or less instantaneous.

Too slow, team manager Andrew Christie-Johnston could shout through on a loudspeaker affixed to the car to tell the guys to up the pace with the full confidence that the guys had the ability to produce - and hold - a higher tempo. Just as importantly, Christie-Johnston was careful to keep the team disciplined and never overexerting. Four riders need to finish, and when the team passed the first few intermediate checks well ahead of the target times, the guys were told to back it off. Too fast is just as problematic as too slow.

Christie-Johnston had also explained rider's roles in detail to each and every one of them in the days and weeks before the race. Brenton Jones would bury himself in the first five kilometres, Giacoppo would then expend himself. After that Sam Davis and Jonathan Lovelock would try their best to hang on, while the stronger climbers in Campbell Flakemore and Jai Crawford took turns swapping off.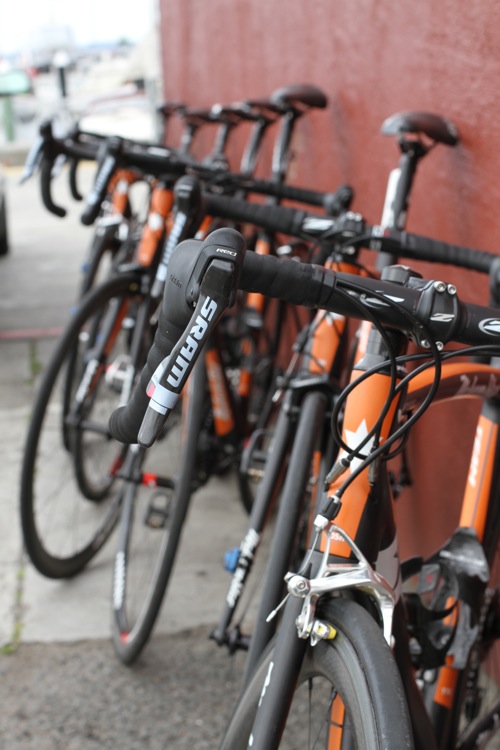 Nathan Earle would not in any circumstance touch the front. That was how it was meant to be, and it worked just like that. Like clockwork. It helped that the team had arguably the strongest group of climbers, and they still had to perform on the day, but everything else was in place to make the realisation of a winning performance all but a formality.

Contrast that to the AIS/VIS (3rd) which for the most part only arrived yesterday, and many of which had never done the climb before at all. Drapac (5th) saw it once yesterday, the same as FeltNZ (4th). Neither team was able to do a proper race effort however before today.

When I asked teams about how they'd be approaching the team time trial the answers varied, but few teams had any real plan. Cameron Watt (Budget Forklifts) had a fairly scientific approach in programming every rider's Garmin computers to read out fourth best climber; Jason Spencer's power, which was never to exceed a certain number ~380 Watts. But that hit a snag when Mark O'Brien didn't link his computer up to Spencer's and Michael Cupitt was dropped unexpectedly very early in the climb.

For most teams it was a simple communicate, keep things together, and look after the fourth best guy on the road. That worked, to an extent, but it was prone to uncertainty and hardly favours peak performance. What could teams do though? Most had to arrive at the last minute, and did the best with the tools they had.

Genesys had an absolute advantage in being the strongest team going in, and banked that with an envious preparation. There is little any other team could have done to stop them in such a circumstance. Genesys did everything right and now has a stranglehold on the general classification.

Whether that's a good thing or not for the race as an ongoing spectacle (a matter for another time), what the orange army showed today was a masterclass, and it was a pleasure to behold.

Follow @al_hinds