The scuttlebutt was that for the International Cycling Union (UCI) the decision would be an either/or decision, with a possibility the Saxo-Tinkoff team of Alberto Contador would be relegated to Pro Continental status.

But the UCI pulled a rabbit out of its hat and awarded both teams WorldTour licences for 2013 and beyond, and surprisingly demoted the Russian Katusha team to the Pro Continental second division.

The Katusha organisation only learned of its demotion through the same press release we all received in our email inboxes.

"The request from the team Katusha for registration in the first division has been rejected," the UCI said in the statement.

"In accordance with UCI regulations, this team's application has been forwarded to the UCI administration, so that the latter may assess the possibility of registering this team as a UCI Professional Continental Team."

The lack of communication was confirmed as fact when the UCI told Cyclingnews, "In fact they don't know exactly why they don't have a licence. They will know the rough details but they will formally find out in the next few days."

Coldhearted.

Now you could argue the merits of any single team's ethical, financial, administrative and sporting suitability to ride the WorldTour, but figuring out exactly how the UCI process works can be a near impossible task, as this handy explainer from Velowire shows. Even the explainer needs an explainer - but lets stick to the three teams mentioned here.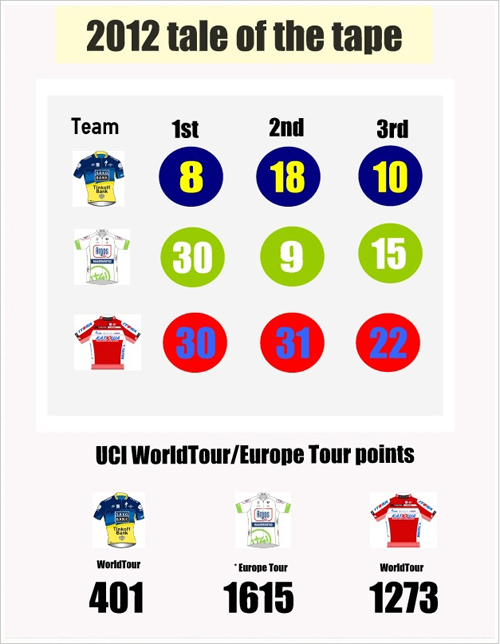 Saxo-Tinkoff has had a poor season by most standards finishing 15th on the WorldTour without the addition of any of Alberto Contador's race winning points. But without Contador and some recent signings it is highly likely it would have missed the cut. The team also carries a lot of historical doping baggage with boss Bjarne Riis and are GrandTour focused. But to have a rider like Contador outside the WorldTour would not be a good look.

Argos-Shimano is the plucky new kid on the block after just missing out on a 2012 WorldTour license. This season the Dutch outfit dominated the competitive Europe Tour with John Degenkolb and Marcel Kittel and finished as the number two team. Kittel was particularly effective in the WorldTour events Argos-Shimano received invites to. This fresh faced band of sprinters and classics riders performed well throughout the season and accumulated a strong collective palmares deserving of a place in the WorldTour. Along the way this engaging group of riders became fan favourites, but they are a bit of a one-trick pony with a top general classification performance in a Grand Tour still years away.

Katusha on the other hand has Joaquim 'Purito' Rodriguez, buckets of money, wins a lot of races and is competitive throughout the season in classics and Grand Tours. Purito is the world number one rider and Katusha is the number two team. Looking through the pictures of their season performances you can see red tunics on a lot of podiums. However they too carry some doping and ethical baggage in the form of Denis Menchov (Padua investigation), Denis Galimzyanov (suspended for EPO use) and Alexandr Kolobnev (cutting deals with Alexandre Vinokourov).

But this is pro cycling today. Is there a WorldTour team with a squeaky clean roster of riders and managers? Maybe next season with Argos-Shimano. If you had left it to me Katusha and Argos-Shimano would both be WorldTour teams with Saxo-Tinkoff the odd one out.

All is not lost for Katusha. Armed with a newly-signed Cadel Evans, BMC rode its 2010 season as a Pro Continental team on invitation and subsequently snared a ride in the Tour de France.

Similarly Katusha as a Pro Continental team will have the invite system to navigate but Purito and many of its riders would be a strong draw for the Giro d'Italia and Vuelta a Espana if not the Tour de France. He is also a dynamic classics performer who knows how to animate a race so many big one-day race directors are likely to extend the team an invite.

Follow @Philip_Gomes