After making the 15 hour trip from Sydney to Malaysia, I spent a total of five hours on the island.

I swooped into Langkawi on Wednesday morning, just in time for the team's presentation.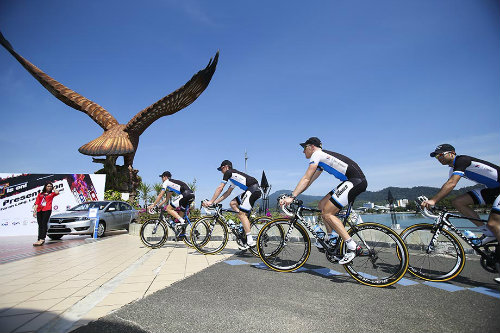 (Team Blanco at the Tour de Langkawi teams presentation - Mark Gunter)

Barely did I have time to strew the contents of my carefully packed suitcase across the hotel room allocated to me before it was packed again and we were loading our luggage into buses, making our way to the ferry terminal to be escorted to the mainland, where the race begins Thursday in Kangar, in the northwest.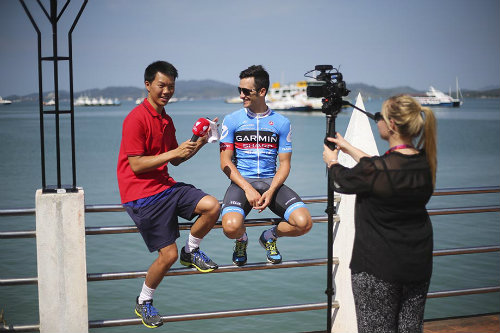 (A few words with Garmin-Sharp's Nathan Haas - Mark Gunter)

Picture an entire cycling tour - riders, managers, officials, media, commissaires - on a pilgrimage through a ferry terminal. Many of us flocked to Starbucks (forgive us) while the Orica-GreenEDGE riders occupied themselves with a football to pass (get it?) the waiting time.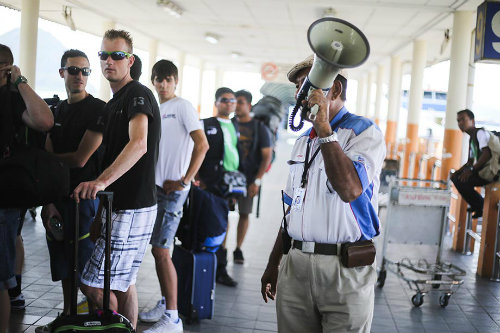 (Waiting at the terminal - Mark Gunter)

We piled into the ferry, luggage and all, and began the slow cruise to the mainland.

An hour later the ferry docked on the mainland; it was a kamikaze manoeuvre to get off the boat, hauling our suitcases over the rails as we ourselves climbed over behind them.

A guard of school children greeted us with flags and cheers, maybe not realising that by the time the media and officials trudged through with suitcases in tow the riders were long gone.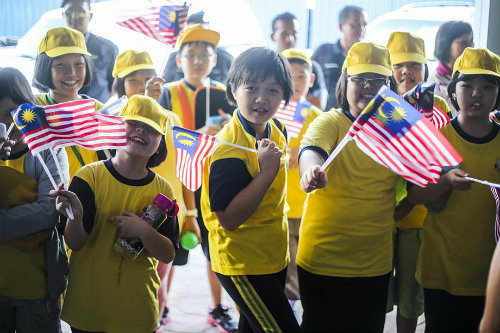 (Making the riders and media feel welcome - Mark Gunter)

To make us feel really welcome, a local kindly brought along a giant snake to join the welcoming party.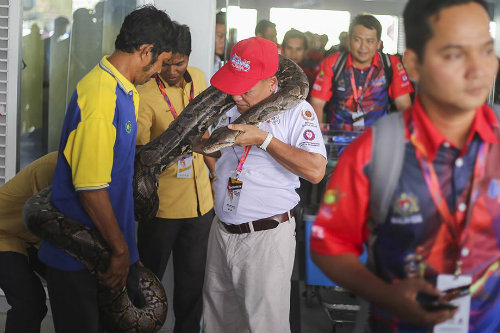 (You don't see these in New Zealand - Mark Gunter)

We then piled into mini-buses for another transfer; 60km of erratic driving later we reached our destination in Alor Setar.

If that was not enough of a mammoth trek for the night before a race, Thursday's first stage requires another 60km transfer before the riders even mount their bikes.

While Malaysia is one of Australia's close neighbours, a bucketload of travel has worn me out before the race has even started.

It's called Le Tour de Langkawi (LDTL), and like so many other events began as a way to promote tourism, I understand the need to set foot on the island, but logistically, it is a challenge.

It's a bit like the Giro d'Italia starting in Denmark, or the Tour de France starting in Britain. Money and promotion are factors behind such Grand Departs, but here, it's all about the picturesque photo-ops and upholding the tour's name.

While the Tour of Malaysia doesn't sound quite as exotic, you have to question the time and expenses needed to keep the L in the LTDL.

If this first day is anything to go by, I can expect a few surprises over the coming 10 days...

Sarah Van Boheemen is in Malaysia courtesy of Tour de Langkawi/ Pulse Media

Follow @SarahvanBo