With the two past champions in its ranks, Matt Goss (2011) and Simon Gerrans (2012), Orica-GreenEDGE will be hoping to add another with one hoping to win and the other talking down his chances after struggling with illness.

The 2011 champion, Goss, who is bullish about his chances, described the race this way to Cycling Central.

"Since the inclusion of the Manie climb, which they put in about three to four years ago, the race has really changed. It's quite a hard climb, long enough and there's a technical descent off it, which makes it hard to get back on if you're dropped. It's made the race a little bit more selective. Not in my time have we seen 150 guys getting to the bottom of the Cipressa and sprinting for position.

"I think these days it's a race more suited to a fast, strong, all rounder. It's the perfect balance. We've seen bunches of 30 or 40 guys, we've seen someone like (Fabian) Cancellara win solo a few years ago. I think keeping the element of not knowing what the race is going to be, how it's going to play out. Not knowing what you're going to see in the final 10km. It's great for the excitement, it's great for the fans, and it's great for the riders because everyone believes they have a chance of winning the race."

Of course history tells us it's a race that suits Goss's talents as a stayer with finishing speed, but It's also true that this years race remains wide open with possibilities.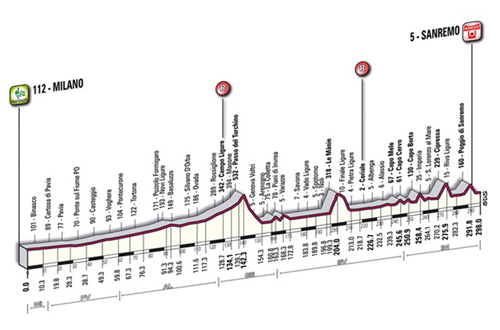 As its name describes, the race starts in Milan and finishes in San Remo but it's what happens between those two points that tells the story.

At 298km, the winning time will be somewhere around the seven-hour mark - defending champion Gerrans won his race in a time of 6hr 59min 24sec - and along the way the peloton will have to navigate two storied climbs, the Cipressa, which comes at the 275km mark, and the Poggio, with less than 10km left to race.

While coastal winds, length, weather and the Cipressa will serve to thin the ranks of the peloton, it is the Poggio that defines the race, where the true sprinters live or die and the strongest on the day make their move, as Gerrans did in 2012.

However, the defending champion heads into the race while attempting to recover from a heavy cold, which caused him to abandon the Paris-Nice stage race.

"I came down with a really heavy cold in Paris-Nice, we were riding in atrocious conditions and that's when I tend to get bad asthma as well," Gerrans told the Adelaide Advertiser.

"So after four stages we made the decision for me to go home and get healthy for San Remo rather than risk getting worse."It was the right decision, I was never bed-ridden but I had a couple of easy days on the couch and have been easing back into training.

"I'm a definite starter for Milan-San Remo unless something drastic happens."

While Gerrans may not be able to repeat his 2012 performance, there is a host of big names looking to take his place on the podium.

Along with Goss there is the red hot Peter Sagan (Cannondale), Thor Hushovd (BMC), who is showing a return to form, his team-mate and world road champion Philippe Gilbert, the rising strongman John Degenkolb of Argos-Shimano and of course the Swiss powerhouse, Cancellara, to name a few.

There is also room for a smokey or two, but after 298km the class riders of the peloton usually prevail, so I'm going with Sagan to take the victory with Goss, Gilbert and Hushovd in the mix.

Who do you think will win at Milan San Remo? Take the poll.
Milan-San Remo is LIVE from 12:35am Monday 18 March on SBS ONE,
with live streaming online here at Cycling Central. It will be hosted by
Michael Tomalaris with David McKenzie and commentary from Matt Keenan.

Follow @Philip_Gomes