I wasn't expecting an A380, but Skytrans flight Q617 from Sydney to Toowoomba was rather, well, exclusive. There couldn't have been much more than two dozen of us on board.

Bit disappointed I didn't have a flat-bed, though. It was a one-hour and forty-five minute haul, after all, and I knew that if I didn't get a good sleep, I'd have trouble waking up the next morning, which was pretty important, since the race started today.

Turned out the twin-prop number made it too noisy to nod off, anyway. Plus I was sitting next to Terry; a pretty interesting guy who breeds champion Boer goats, which look like a cross between a goat and a horse, they're that big. He was also a mortgage broker, which I don't find particularly remarkable, so I asked what seemed like a thousand questions about these goat-horses that originate from South Africa.

Terry was really polite and answered all my questions. But I think he was pretty happy to see his wife waiting for him at the airport, like he'd been away for a good six months or so, because once Q617 touched down in our country's most populous non-capital inland city, a.k.a. Toowoomba, he pretty much ran to her, as if he was trying to get away from someone who had asked too many questions.

Perched on the crest of the Great Dividing Range (most of the city is west of the divide), around 700 metres above sea level, Toowoomba can get a little breezy during the day and nippy at night.

It's also known as 'the Garden City', probably because there's a fair bit of green stuff spread across its 550-odd square kilometres. In fact the Park Motor Inn, my abode till week's end, is opposite Queens Park; a lovely place to stop oneself and ponder the vicissitudes of life, also the scene for the tour's final stage this Sunday. (In case you're asking, the lady who served me breakfast this morning was Raylene – make sure you emphasise the 'Ray' and elongate the 'lene' when you call for her.)

Being the sadist I am, now that I've hung up my race wheels, I'm looking forward to seeing the peloton split to pieces over the next four days – particularly on Friday, when the 123-kilometre stage finishes atop Bunya Mountain.

More than likely, it's where this fourth edition of the Tour of Toowoomba will be decided. The next day comprises two stages: first up, a 27km team time trial, followed by a 113km road race in the afternoon.

Judging by the time trial prowess of Huon Salmon-Genesys Wealth Advisers in the opening two National Road Series events, with overall wins from Joe Cooper and Jack Haig respectively, those from other teams will need a good half-minute buffer after Bunya to stand a chance of making the top step of the podium come Sunday's Queens Park criterium.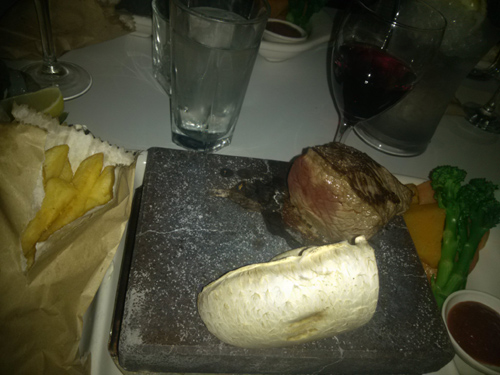 Last night we (that being me, photographer Mark Gunter and his missus, and Cycling Australia's Lucy Hinchey) had a really nice meal at this restaurant where, if you're a carnivore, they bring out your meat on a hot stone slab and you cook it yourself. The manager said the stone comes out at a rather summery 400 degrees centigrade. I'm a curious creature, but didn't think it necessary to touch the surface with my pinky to see if he was fair dinkum.

Two hours later, when we got up to pay and leave, it was still sizzling away. I could just imagine a villainous member of the Yakuza crime syndicate chopping off a traitor's finger, cooking it on the slab in front of him, and making his victim eat it.

Or maybe the UCI should do that to anyone caught doping. Fear and Loathing in Aigle. Catchy title for a film, don't you think?