When the winner of the 14th stage of this year's Giro d'Italia, Mauro Santambrogio of Vini Fantini-Selle Italia, was asked what it felt like to drop his former leader Cadel Evans on the climb to Bardonecchia-Jafferau, he responded thus:

"It gives me great confidence, although I have to thank Cadel because I learned a lot when I rode alongside him. With Cadel I learned how to prepare for a three-week tour. Now, as a captain on a team, I can really make the most of what I have learned."

It's never a nice feeling, when the apprentice becomes the master, at least for the latter, that is. Even more so when the unspoken changing of the guard happens prematurely.

Some, like Bernard Hinault at the 1986 Tour de France, say one thing (that he would ride in service of his team-mate and designated frontrunner Greg LeMond) but do another. Same went for Lance Armstrong and Alberto Contador at the 2009 Tour, the Texan riding his own race like he was The Boss, despite indicating otherwise for months prior. And, on occasion, Chris Froome and Bradley Wiggins at the 2012 Grande Boucle, Sky's own documentary Bradley Wiggins – A Year In Yellow proving it to be so (I can still hear Sean Yates's agitated voice over race radio on the eleventh stage to La Toussuire: "Froomey, I hope you know what you're f***ing doing...")

No doubt it makes for enthralling viewing and reading. The Tour Director's delight, really, because the free publicity begins almost as soon as the current race ends, or at least the first contradictory remark aired, the first contradictory result posted.

Interestingly, on the aforementioned three occasions, the rivalry was not internecine but instead propelled both to new heights. LeMond and Hinault, as well as Wiggins and Froome, finished one-two in Paris, while Contador and Armstrong went one-three (although LA's podium finish has since been extricated from the history books, as have the rest of his results from August 1998 onwards).

At least in the case of Santambrogio, into whose arms Evans famously cried the stage after he took the maillot jaune in Morzine-Avoriaz at the 2010 Tour after a GC skyfall, the Italian chose to leave rather than mount a leadership tilt from within. But that was only because he wasn't afforded the opportunity.

"You don't get many opportunities to show yourself when you ride beside great champions like Evans, Gilbert, Hushovd and Ballan," said the 28 year old from Lombardy, currently fourth overall, 2min 47sec behind maglia rosa Vincenzo Nibali. "To ride well, I need people close to me who encourage me and make me the centre of their focus."

Me. Me. Me. For all the talk about cycling being a team sport, Santambrogio used the word 'me' three times in one sentence. That's not to disparage him; if you want to be a team leader, then it must be about you, all about you.

Good thing there's a 'me' in Froome, too, because as far as he's concerned, come July, it's all about the Kenyan-born grimpeur at the Tour de France.

As recently as this month, Team Sky reiterated as such. "We will go to the Tour with one leader (…) given Chris's (Froome) step up in performances this year, our plan, as it has been since January, is to have him lead the Tour de France team."

But just when the tit-for-tat looked sorted and their respective WAGs banished from Twitter, Wiggins's illness and early exit from the Giro has thrown a spanner in the works. "Brad is the defending champion and if he can get himself in a position (to win) form wise, who is anyone to deny him? Given his performance, or lack of, at the Giro, I'm sure he will have more motivation for the Tour," former British pro Rob Hayles told BBC Radio last Friday.

And now, after his first professional stage-race victory at the Tour of California, Tejay van Garderen has sent a none-too-subtle hint over the Altantic, destination Italy. "I think I've finally shown I have the full package. To win you need strength, patience and maturity," said the 24 year old after his BMC team gave him an armchair ride up Mount Diablo, effectively sealing the deal in a week where he didn't put a foot wrong.

Ever since turning professional for HTC-Columbia in 2010, van Garderen's progression has been both noteworthy and rousing. America desperately needs to forget about Lance and embrace its Next Big Thing.

Still, I'm uncertain as to whether he's ready for outright leadership in a Grand Tour, especially The Big Daddy, because racing against Froome, Contador and Joaquim Rodríguez is a completely different ball game. He'll be in the ballpark, but home runs won't come as easy as they did in Cali. For another year, perhaps two, they may not come at all.

Nevertheless BMC Racing team manager John Lelangue chose to follow van Garderen, not Evans; an implicit show of support for last year's best young rider at Le Tour, and again raises doubts about the team's belief the 2011 Tour champ can repeat his feat of two years ago. By virtue of what he's just achieved, Tejay will no longer be subservient to Cadel at the Tour. The only question is whether he is No.1 or No.2.

"We (will) come to the Tour with the one-two punch, and we're going to need all the horsepower we have to beat Sky and Contador," van Garderen said after his victory in California.

In any case, by the time the Giro reaches its conclusion in Brescia at week's end, Evans must finish on the podium, as much for himself as his team. Given he received a month's notice before undertaking what has been a Grand Tour in extremis (then again, isn't the Giro always like that?), any place on the podium should be regarded as a victory for the 36 year old.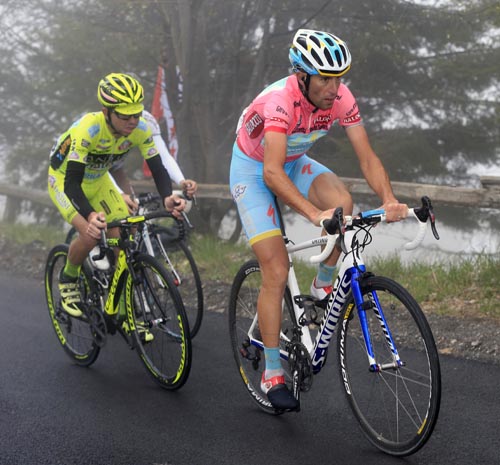 Now, a week ago in my blog Rough Edges, and before it was announced Wiggins was crook (though after the first mountain stage to Altopiano del Montasio), I wrote: "Sky must switch gears now and place their faith in Rigoberto Urán," adding, "If properly supported, the Colombian, not Cadel, is the greatest threat to Nibali's quest to the throne."

Judging by some of the comments on Cycling Central and around the Twitterverse, some of you didn't like that very much.

Well, here's what Nibali said when asked who he perceives to be the greater danger, Evans or Urán: "Both have shown they are very strong on the climbs. Urán has a team behind him that, taking all things into consideration, could represent the greatest threat."

Don't believe me for a second when I say I take not a skerrick of satisfaction in saying, "I told you so".

Then again, Nibali and I could both be wrong. Though unlike Vincenzo, I'd have no problems being proven so. Sunday in France, on the climb of the Col du Galibier, there were definitely shades of the Evans of 2011 – he looked good, a little dangerous, even.

The final week of the 96th Giro d'Italia is set to be a spettacolo fantastico.

Follow @anthony_tan