Cavendish had been reportedly suffering from bronchitis over the last fortnight, and had been taking a course of antibiotics leading into the Tour to hasten his recovery. Jerome Pineau told L'Equipe yesterday, perhaps as a deflection, perhaps not, that Cavendish was still not at his best. Even so, the Brit had little trouble winning in Marseille.

Though denied the opportunity to contest the finish on Stage 1 by one of the series of mass crashes, it's true that Cavendish hasn't been at his best - and probably still isn't. In recent years, the formerly one-dimensional speedster has developed a handy ability to stay with the field on hillier parcours - something he put to good use when he recently picked up the British National Road championships from a break, and before that at the Giro d'Italia where he finally conquered the maglia rossa.

No longer is Cav' the man that simply trails off on the smallest of rises, a reputation made in his first few years in the peloton, being dragged tooth and nail by Bernard Eisel through the montagneux massifs, or being forgotten in the foothills of Cantebury as he was in his debut Tour back in 2007. He's no Peter Sagan, but he's certainly become a far more versatile rider, and his performances so far have yet to live up to that 'modern Cavendish' which means he's only likely to improve as the Tour rails on. That should scare his opposition.

Last night's win was vintage Cavendish and promises much more for the rest of the Tour. There are six more stages that are realistic chances of a bunch sprint, and more than 300 points, between here and the Champs Elysees. Is that enough to claw back his 44 point deficit on Peter Sagan? Maybe, maybe not.

Sagan is without doubt the favourite to take home green. He was even before the Tour set out. His ability to pick up points where Cavendish can't, characteristics not unlike Irish legend Sean Kelly, will always give him an edge where consistency is key, as in the maillot vert.

But the Slovak is a shadow of the rider that he was at last year's Tour when he seemed like he was winning for fun, and has been notably bereft of team-mates in the stage finales - Daniel Oss's departure to BMC has clearly hurt him. Meanwhile in the Cavendish camp, Gert Steegmans looks more impressive then ever.

Tonight will be interesting, a single misstep by Sagan is all Cavendish needs to put himself back in the fold.

What's on the menu for Stage 6
The run to Marseille looks about as complex a task as filling in a colouring-in book, but as with yesterday if the Mistral blows, it may not be so easy to stay within the lines. The distance (176.6km) and the absence of anything above a Category 4 climb (of which there is one), makes this stage pure bunch sprint material assuming things go according to plan.

The final 10km is littered with road furniture as the race heads through central Marseille before looping out to finish on the outskirts, but with no tight turns, and hopefully a bus free finish, this is a 'train' paradise.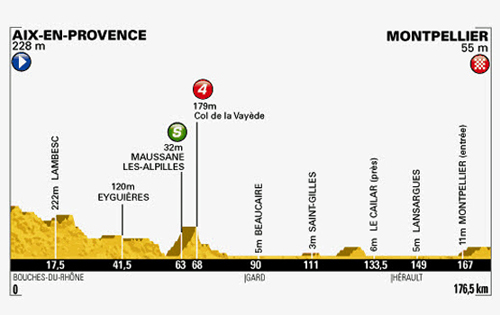 What to expect
No day at the Tour de France is easy, but there's little incentive today for the peloton to push more than it needs to. The winds are expected to be up which will require concentration from the heads of state of the peloton, but when's that not the case?

Again, Cavendish has to be considered the outright favourite for the run into Montpellier, his win yesterday makes him 1/1 in sprints he's actually managed to contest, and he won at a canter. The usual suspects will all be up there, Alexander Kristoff (Katusha) has never been far off and could spring a surprise if he gets a good jump as could Frenchman Nacer Bouhanni (FDJ).

That said, and it's just a hunch, I've got a funny feeling Andre Greipel (Lotto-Belisol) might sneak one out today. He's been unlucky so far, but with the today's finish almost custom-designed for his Lotto train he could just edge Cavendish. Without Jurgen van den Broeck, who abandoned overnight, the team now only has one focus, and that's stage wins. Why not today?

History & The Tour in numbers
Montpellier - Nothing is written, but the last time the Tour finished here, guess who won? It was 2011, and the Manxman stormed home to take one of five stages and the maillot vert.

On offer for the riders on Stage 5
Green Jersey - 45 points for the first rider over the line, and 20 points at the intermediate sprint in Maussane-Les-Alpilles. 65 points in total.
Polka Dot Jersey - 1 point for one solitary Category 4 climb, the Col de la Vayede (108.5km from the finish).
Yellow Jersey - Simon Gerrans should hang on to yellow again, barring incident and injury.

Stage 6 will be streaming live through the SKODA SBS Tour Tracker from 2200 AEST. Live broadcast on SBS ONE and SBS HD also begins at 2200 AEST.

Follow @al_hinds