Look I get it. We've all been there. You haven't had the time. You had to pick up your great uncle on the way to his second biopsy this month and you couldn't see Peter Sagan's Stage 7 win.

You came back from work late and you were just too tired for Orica-GreenEDGE's heroics in the Nice team time trial. Too many coffees, you failed to pace yourself, and you thought "I'll just give it a miss". I hear ya.

Maybe you've had the commitment, you've been doing your best, but you've just found yourself drifting into Z-land as the clock ticks further and further past midnight. Phil and Paul's dulcet tones can be like a lullaby sometimes. You're certain it's some sort of hypnosis. One second there's 50km to go, the next, Tomo and McGrory are wrapping up. Nobody can fault your effort.

But listen. It's Saturday. You don't have anything to do. Trust me, there's nothing you think you should or could be doing that will beat tonight's viewing. Nothing. That friend you've known since childhood who's hosting his/her 40th on the banks of Lake Como and has offered to fly you over gratis. Maybe. But anything less than that, I'm sorry, it does not qualify.

Why? One word SBSeratti: mountains. Have you seen Tommy Voeckler's face once the road tilts up? Bloody fantastic. Do you know what suffering looks like? Keep your eyes peeled for Cadel Evans when he's doing his thang on the switchbacks to Ax-3-Domaines. Or for that matter any point in the stage. That guy can hang tough. That guy always hangs tough. It's awesome. Aren't you just salivating at seeing Cavendish waving away the camera in the autobus and looking utterly disgusted for the ummteenth time this Tour? Don't you want to see if the Froome-dog's bite is as bad as his bark? You do. You do.

So here's what I suggest. You can have your vino by your side, but just make sure, you've also got a case of Red Bull or some other rocket fuel at hand. Your eyes need to be wider than the Champs Elysees if your going to take in tonight's magic in full. Even SBS HD won't help that.

Your going to need a backup as well. Even with the best of intentions you could still find the allures of bed too tempting. Set the alarm for 0000AEST, 0030AEST, and then every 10 or so minutes thereafter. You can't take chances.

Open up your second screen. Start spamming #TDF #SagWagon #keeno #sbstdf.

Then put the feet up, get the form book out, and bear witness to vintage Pyreneean fun.

What's on the menu for Stage 8
The Pyrenees. Well, eventually. Stage 8 of the Tour de France starts well north of the Franco-Spanish mountain range in the town of Castres, before it works its way south through Limoux and onto the foothills of the Pyrenees at Quillan. The small hamlet set to the backdrop of the menacing mountains behind hosts the intermediate sprint, the only carrot for the fast men before their day's work is over.

Then it's all uphill, starting with the hors-categorie Col de Paiheres, 15.3km at an average grade of 8 per cent which tops out at 2001m. The Paiheres is among the most scenic of the Tour, far removed from the uninhabitable lunar-esque terrain that haunts the peak of Mont Ventoux, the Paiheres is a feast for the eyes. A steep forested prelude begins the climb before the road opens to a steady drip of leg-ripping switchbacks as the road snakes toward the summit.

The descent off the Paiheres summit is also steep, though not overly technical, making it a fast run with little physical relief before the final climb to Ax-3.

Ax-3-Domaines, a ski station for much of the year, is short, less than 8km, but it makes up for that with its agonising gradients. The key segment to make a difference will be the first 6km, the final two, including a flat finale is far gentler than the majority of the climb.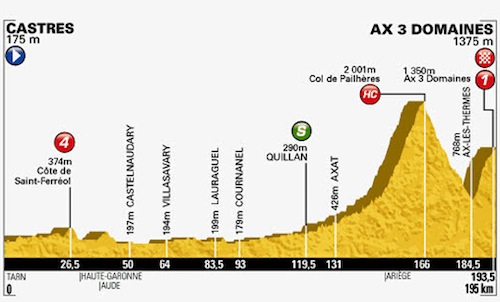 What to expect
It's taken a week of scintillating action to get us to where we are today, but finally we get our first preview to the form of the big favourites, and what a preview it is. Both the Paiheres and Ax-3 are difficult climbs and today's winner will have earned every bit of praise he gets. There's no hiding in the Pyrenees.

The focus may be on the final ascent to Ax-3, where Tour winner Carlos Sastre has triumphed before, but the Paiheres cannot be ignored. Some commentators are rating it as one of the hardest mountains featuring in this year's Tour and they're not far wrong. It rivals Ventoux, but for its placement as the penultimate, rather than final climb of the day, it might have caused more carnage.

But that's not to say it won't prove pivotal to both today, and the Tour's winner. Sitting and waiting is a recipe for disaster for Team Sky's rivals. That playbook fell flat on the opening mountain stage to La Planche des Belles Filles when the British squad blew the field to pieces and essentially walked away with the Tour in a single day. It's not the recommended course of action this year.

A challenge to the Team Sky's hegemony needs to happen on the Paiheres, but it'll be hard to manufacture. Sky's 2013 Tour squad is arguably stronger in the mountains, Bradley Wiggins and Michael Rogers are losses, but Kiriyenka, a returned Siutsou and David Lopez provide plenty of extra ammunition.

Even so, the Tour won't be won by apprehension. Alberto Contador's Saxo-Tinkoff with Rogers, Nicolas Roche and Romain Kreuziger, and Alejandro Valverde's Movistar with Nairo Quintana and Rui Costa look imposing, and they've got cards to play. This is a stage they need to play them. They'll find an ally in compatriot Joaquim Rodriguez (Katusha) and with the Tour getting as close to Spain as it's going to get, this is a prime opportunity to put Sky on the backfoot with Spanish fans in their greatest number.

Garmin is a wildcard, but has been wounded by Hesjedal's rib-fracture, while BMC, both Evans and van Garderen need to gain time after the team's underwhelming team time trial.

My pick? The Froome-Porte one-two could be devastating, but I'm going for Nairo Quintana. He loves these sort of steep climbs, and he might just be a given a little bit of time due to his Tour debutant status.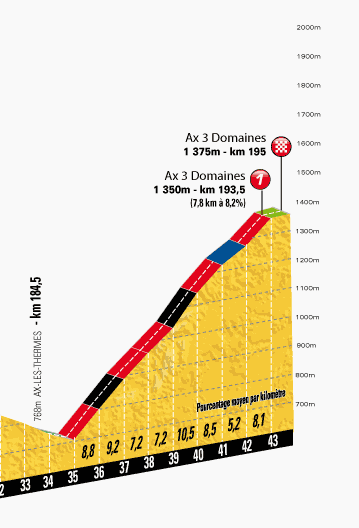 History & The Tour in numbers
Ax-3-Domaines - The ski station is a relatively new addition to the Tour, its first inclusion was only 12 years back, in 2001, but it's appeared in three Tours since.

On offer for the riders on Stage 8
Green Jersey - 20 points for the first rider over the line, and 20 points at the intermediate sprint in Quillan. 40 points in total.
Polka Dot Jersey - In order as they appear: 1 points for the Category 4 Côte de Saint-Ferréol, 20 for the HC Col de Paiheres, and 20 points (double) for the Category 1 summit finish at Ax-3-Domaines. 41 points in total.
Yellow Jersey - One thing is guaranteed; Daryl Impey will lose the yellow jersey. The stage winner will likely assume yellow, though Sky's job has been made easier after the gains Froome and Porte made in the team time trial on Stage 4.

Stage 8 will be streaming live through the SKODA SBS Tour Tracker from 2200 AEST. Live broadcast on SBS ONE and SBS HD also begins at 2200 AEST.

Follow @al_hinds