"I want to do you slowly.. I want to see you squirm," former Australian Prime Minister Paul Keating famously told John Hewson in one of the more witty retorts ever to go on Hansard. Hewson held the lead in the polls and wanted a snap election after Keating had deposed Bob Hawke, but Keating took control of the Australian parliament, and proceeded to completely dismantle Hewson and the Liberal Party leading into the 1993 election.

Nearly two decades on and there were echoes of Keating in Movistar's tactics on Stage 9 of the Tour de France, and Alejandro Valverde's comments after the stage. Movistar dominated the final day in Pyrenees, inducing a Team Sky implosion, and ending the chances of Richie Porte to challenge for a high overall place in Paris.

Valverde was the instigator; forcing the pace over the first two climbs of the day to put Sky and Froome on the back foot, and eventually, giving the British team a dose of its own medicine as Vasil Kiriyenka failed to make the time cut, and Peter Kennaugh crashed, and then cracked.

Over the next three ascents Movistar rode not to take time from Chris Froome, but to put the first nail in the Sky coffin; to kill of the Porte threat, and to this end they succeeded. Sky's morale went from pushing the ceiling, to through the floor in 24 hours.

"I'll be honest," Richie Porte wrote in a blog for Fairfax. "What was going through my mind at the time wasn't pleasant."

Channeling his inner sadist, Valverde mirrored Keating's delight in the slow, but steady execution of Sky.

"We dismembered them," he said, "we had him (Froome) up against the ropes, but we didn't finish him off. In any case, we did some damage to his team. and there'll be more of that once we hit the Alps."

Did Movistar miss a beat in failing to assault Chris Froome in his most isolated moment, or was this just day one, in a calculated and ruthless destruction of Team Sky? I tend to think it was the latter, a job begun, but not finished. This was a pretty epic reality check for Sky's imperious and authoritative grasp on the race, and will force the team to have a serious strategic rethink before the Alps.

Last year, Froome was always there, shadowing Bradley Wiggins, and marking out the best moves from Vincenzo Nibali and Jurgen van den Broeck. This year, Porte was meant to step into that role, but that's no longer to be. Porte is out of the picture, and suddenly the impetus to attack Sky is far greater.

Froome's team has been exposed to be far more fragile than that of 2012, and there willl be more chances, I guarantee you, of the same scenario as Stage 9 arising again later in the race.

"Sky ramped it up, trying to keep things under control," said former Sky rider, Michael Rogers, one of the peloton's elder statesman of Stage 9's early sorties. "They put themselves right into the red and that left them open to attack. Everyone saw straight away that Richie (Porte) was the only one who could do anything, and then the bunch went bananas."

Sky clearly miss Rogers's cool head in battle, but the Australian's assessment also implies he's not overly impressed with the British team's 2013 stable. It was noted before the Tour that the lack of experience on the road may be one of Sky's biggest weaknesses, a youthful squad, tied together by its unbreakable strength.

Now the worry for Sky is both that it's wounded, with injuries to three important riders in Ian Stannard, Geraint Thomas and Peter Kennaugh, down a rider in Kiryenka, and with at least six days, Stages 14, 15, 16, 18, 19, 20 not dissimilar to Stage 9 to navigate.

The next two days will provide welcome relief for Sky and for Froome, but the maillot jaune should be concerned with his plight on the Alpine horizon. Every day will be a battle, and his team will only get more ragged as the race goes on. Excited much?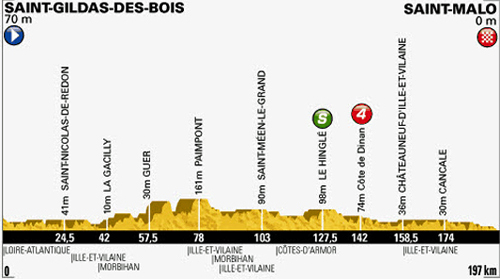 What's on the menu
A long drive, a good sleep, some interviews with the press, and a flat day of racing. Stage 10 is the welcome relief that riders will have been so passionately yearning for after two epic days in the mountains, a gift from the otherwise sadistic race organisers to lull the senses before a ridiculous third week.

Somehow, the Tour has now found itself on the northern tip of France after only 48 hours ago being neck deep in the Pyrenees. It's a complete change of character for the race, a turnaround for the style of racing and the intensity. For the GC men a moment to catch the breath, to reset the legs, and look toward tomorrow's time trial and after the monument that protrudes so awkwardly from the southern French countryside that is Mont Ventoux.

But before all that it's a chance for the sprinters to shine, a stage that Andre Greipel and Mark Cavendish will have circled with the red marker - "must win here".

Starting in Saint-Gildas-des-Bois we head north, making a beeline for the coast along largely unthreatening terrain, gliding as close to Paris as the peloton will get for another two weeks, almost taunting, before the finish in Saint-Malo, 197km down the road.

What to expect
Strange things can happen after rest days, but the gentle parcours will forgive even the strangest of physiological reactions to the return to racing. After a day of rest day re-grouping, Team Sky will want to present a united front at the tip of the peloton for Chris Froome, but if the team is smart will try and pass as much responsibility for the chase as possible to the sprinters.

Omega Pharma-Quickstep, Lotto-Belisol and Cannondale won't enjoy that, but with the risk of a break staying away so high in the second week, they'll have little choice. Sagan has an insurmountable lead in the points classification, making green an unreachable target for his rivals, shifting their focus entirely to stage wins.

Cavendish's tally is light by his standards, and with only a couple more definite sprint chances before Paris he'll want to reassert himself as the world's number one. The tally is even between the big three, bragging rights on the line are up for grabs. And don't forget Marcel Kittel, the Argos-Shimano man has been anonymous after his perfect opening. He can't climb - at all - but he's a rocket on days like these.

History & The Tour in numbers
When the Tour visited Saint Malo back in 1967 the last rider to finish the stage was Johny Schleck. The Luxembourger had a solid career as a professional, but it's his two sons, Frank and Andy that have set new heights for the family name. Andy of course won the Tour in 2010.

On offer for the riders on Stage 10
Green Jersey - 45 points for the first rider over the line, and 20 points at the intermediate sprint in Le Hingle. 65 points in total.
Polka Dot Jersey - Only 1 point available, the Category 4 Cote de Dinan.
Yellow Jersey - After yesterday, if Froome doesn't keep yellow I'll be stunned.

Stage 10 will be streaming live through the SKODA SBS Tour Tracker from 2200 AEST. Live broadcast on SBS ONE and SBS HD also begins at 2200 AEST.

Follow @al_hinds