Badgered and besieged by media after the Tour's 10th stage to Saint-Malo, Mark Cavendish lost it. Grabbing an American reporter's dictaphone from his hand and infuriated by the question, nay the accusations being leveled at him, he turned and entered the Omega Pharma-QuickStep bus. The melodrama was short-lived as he was quickly ushered back out by the team press officer.

But Cavendish was exasperated. He'd explained it again, and again. It was not his fault, and he'd had enough.

'It', of course, was Cavendish's accidental collision with Dutchman Tom Veelers in the Stage 9 bunch dash, which brought the Argos-Shimano rider to the ground at high speed, and very nearly a handful of other fast men with him.

The replay looked bad. Like a bowling ball taking out that final pin, Cavendish appeared to torpedo Veelers, unprovoked, and out of nowhere just moments before Marcel Kittel won the sprint home.

After some remonstration from Argos, the race jury found no problem with Cavendish's actions, only adding that "Veelers had done his job for Kittel, he was tired and he was looking down. If we have to blame anyone, it is Veelers".

For the casual viewer, that was an unjust call. The overtaking rider surely should give way to the slower, that's common sense, right? Veelers had moved off his line, if ever so slightly, but so did Cavendish.

"Either I follow the road, or I hit the barriers," said Cavendish, pointing out, rightly, that the road had swung to the left late, and he was running out of road. Veelers wasn't so sure. "I think it's clear to see on the video that he (Cavendish) is riding me into the ground", he said.

Certainly, there was no malice in Cavendish's manoeuvre, only a blinkered focus on the finish line, and self preservation to avoid crashing himself. But is that in itself an excuse for a manoeuvre that could have ended Veelers's Tour, something that was fundamentally dangerous? Could it have been executed differently? Perhaps, perhaps not.

The varying interpretations of these incidents is what irks me most. How was what Cavendish's collision with Veelers, and his defence, any less legitimate than Mark Renshaw's explanation of headbutting Julian Dean to stay upright in 2010?

"I needed to use my head to retain balance or there would have been a crash," said Renshaw. "If I had used my elbows when Julian brought his elbow on top of mine we also would have crashed. The object was to hold my line and stay upright."

There was no crash, and no injuries, and yet, the latter ended Renshaw's Tour. Cavendish, meanwhile, escapes scot-free. I'm okay with the Manxman staying in the race, I tend to see eye-to-eye with the jury on this one. Both riders were at fault. Let's just have a more consistent precedent going forward s'il vous plait!

What's on the menu
Time trials are great for one thing. The bling. There's no disputing the Tour de France is a race, first, second, and third, but with the Tour caravan, there is a sideshow, a travelling entourage of technical experts, sales teams, industrial designers, bike manufactures flogging their best products in front of the world eye.

Bike manufacturers bring out their best new rigs in time for the Tour, component manufactures espouse their latest drivetrain improvements, and we talk about things getting aero. Really aero.

The time trial is perhaps the discipline that typifies the technological obsession. Absurd at times, innovations designed to make odd, futuristic bikes go fast in a straight line. There are no tactics, other than to pace one's effort appropriately, and according to one current rider, "This is a race where you start fast, come home fast, with a fast bit in between". Profound.

This is the domain of the professors of the sport. The guys who make the chrono effort their own, who wring every dollop of effort out of their machines, and make every ounce of energy, every pedal stroke, as efficient as it can be.

We'll see all the latest and greatest in bike tech on display, UCI legal, of course, skinsuits en masse (though these are becoming curiously overused on road races these days as well) and some really quick times. But I'll be honest. The viewing itself won't be scintillating. A mid-Tour time trial is for Australian fans an unofficial third rest day, with the result really the only concern.

I say that with a slight caveat as, this year, the 33km flat time trial finishes at Mont Sant Michel, the second biggest tourist attraction in France after the Eiffel Tower for a reason: it's spectacular. Make sure you catch at least one of the expected bazillion panning chopper shots of the island in all its afternoon glory, before thinking seriously about taking an early one. You'll need the rest for what's to come.

What to expect
This is a fast course, and though I wouldn't class it as technical, the first 9.5km before Ducey will need to be taken with some care. After that, it's a matter of flicking the front shifter, hitting the 56-11, or maybe 57, and riding hard to the finish on Mont-Sant-Michel.

Powerful riders will thrive on the Stage 11 parcours, and without chrono king Fabian Cancellara or Olympic champion Bradley Wiggins in this year's Tour peloton, Tony Martin must go in as favourite for the 33km test. I had him already pencilled in for this stage in the week leading into the Tour, but after the German's Stage 1 crash, the odds on Martin will have slipped, ever so slightly. A fighting chance, at least, for the rest.

Of the challengers, team-mate and French champion Sylvain Chavanel is hard to ignore, and might be the home country's best chance of a stage win after the absence of Thomas Voeckler from the opening week breaks, Thibaut Pinot's admitted descending phobia and Nacer Bouhanni's abandonment.

Thomas de Gendt, Adam Hansen, and David Millar will all post quick times, but as so often in time trials it's not the necessarily the stage winner that matters, but the gaps between the guys at the top of the classement.

For maillot jaune Chris Froome this stage is as important as Ventoux on Sunday, Alpe d'Huez or Annecy. Imposing himself as the Tour's best, making a good hard swing to knock his rivals back to the ring floor, as he did once already on Ax-3-Domaines, will quiet and once again dishearten the likes of Alberto Contador and Alejandro Valverde.

If the Criterium du Dauphine is any indicator, the gaps could be a minute plus between Froome and his closest GC challenger, but Valverde and Contador have been buoyed by their at least moral victory on Stage 9. A good ride will see both concede no more than a minute, keeping them well-placed before the Alps.

And what of 2011 champion Cadel Evans? BMC sorely needs the Australian to right the ship. A stage win would be ace, but climbing into the top 10 would at least bring the team back into a position in which it would have a material effect on the race.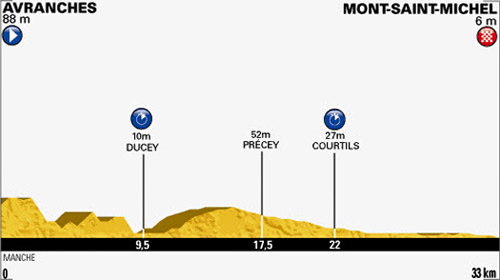 History & The Tour in numbers
Though regularly passing through and around Normandy in which Mont St Michel is perched, the race has only once, as it will this year, finished there. The year was 1990, and the winner of Stage 4 that year was classics man Johan Museeuw.

On offer for the riders on Stage 11
Green Jersey - 20 points for the first rider over the line
Polka Dot Jersey - No points on offer
Yellow Jersey - Today is a key battle in the race for yellow, as much for Froome to distance his lankier rivals before the Alps, as to regain morale.

Stage 11 will be streaming live through the SKODA SBS Tour Tracker from 2200 AEST. Live broadcast on SBS ONE and SBS HD also begins at 2200 AEST.

Follow @al_hinds