Where did it all go wrong? It's hard to say, but things have certainly degraded quickly. So much promise beamed from the team at its pre-Tour press conference, with so little yield in the nearly two weeks since.

Cadel Evans is the team's best-placed rider. That at least is according to plan. His 14th overall, not so much. But then, Evans isn't the same rider of yesteryear. An impeccable palmares, capped by the 2009 Worlds and 2011 Tour, a thoroughbred physique matched by a do-or-die attitude. There's no doubting he's still a good rider as his third at the Giro will attest - but at 36 - he's in his twilight.

Evans's blushes were meant to be covered by a BMC squad more formidable than ever. And on names alone, it's hard to argue against the selection Jim Ochowicz arrived on. A handful of national titles in June, and some good runs on the board in the Criterium du Dauphine and Tour de Suisse augured well.

Mathias Frank's absence was worth noting, but BMC, and Evans, had stated that it wanted the bones of the 2011 Tour winning team in Corsica. Chemistry, and the bond between a team are integral to an optimum performance. Particularly at the Tour de France. Evans got his wish.

If the story went awry BMC always had an enticing fallback plan in Amgen Tour of California winner, Tejay van Garderen.

But oh how things have crumbled. In Nice, the team time trial gave an early glimpse that things were amiss. Evans was among the strongest, but Tejay van Garderen lacklustre, and the team lost ground to all of its key rivals.

Then the Pyrenees and BMC unravelled further. Evans's best asset was Swiss all-rounder Steve Morabito, while van Garderen suffered in the heat. The American had no impact on the race, but for a speculative attack early on Stage 9, and as a whole the team was shredded by Sky, Movistar and Saxo-Tinkoff over the two gruelling days in the mountains.

So again, Evans is left to pick up the slack. Only the Australian isn't the superhuman he once was. Only dyed-in-the-wool BMC fans will argue against that. He lost more than four minutes to Chris Froome on Ax-3-Domaines, before bouncing back with a creditable ride on Stage 9.

The Mont-Sant-Michel time trial showed he isn't bereft of form. He'll need to climb better in the Alps than he did in the Pyrenees if he wants to challenge for a top-10 finish, but it's certainly possible. Some small hope left for BMC.

It's almost inexplicable, but quite foreseeable that the team walks away from this year's Tour without a win, or even a respectable overall result. And I wonder, for a team so financially blessed, will that be an adequate return on investment? Soul-searching to come.

What's on the menu
A long day in the saddle. The peloton is taking the quickest possible three-stage route to Lyon, and that means, very little hills, hot-mix roads, high speeds, and a lot of kilometres. Between today and the start of the climb to Ventoux, the peloton is set for 803km. With good weather forecast that'll be great for the already obnoxious tan-lines, but not so good for the racing.

Stage 12 heads south-east from just inside the Channel coast, the town of Fougeres. Through the Laval, past Le Mans, known for the 24-hour marathon grand prix it hosts, and then on to Tours. The good news, there'll be plenty of chateaux. The bad, not much else. Not a single hill Tour organisers even felt compelled to categorise, and by pro cycling standards nothing that will even begin to dent the legs.

Canny riders will take Stages 12, 13 and 14 as easy they can because after that, there's little respite till the Champs. Easier said than done.

What to expect
Fast forward to kilometre 210, and allow the sprint teams to get themselves organised. Flat as a tack and with only three remaining stages to make an impression before Paris, the fast men will put a premium on featuring once more.

Well, they should. Time trials are funny stages in that they provide, for the 150 guys not riding for GC or chasing the stage win, a rare and welcome chance to ride within themselves. To freshen the legs ever so slightly, and fuel up for the final third of the Tour. With three straight flat days ahead, and today's, on the long end at 218km, a break with the right composition of opportunistic riders could definitely stay away.

Team Sky will have no incentive to chase, leaving a long day at the front of the peloton for the likes of Argos-Shimano, OPQS, Lotto Belisol and Cannondale. They'll still have a stage win in sight, but none will be sure that such a scenario is guaranteed. In the Highroad days of old, Cavendish's team could always be counted on to bring the bunch together inside the final 10km because of Cav's bankable ability to complete the job. Cavendish has however been far from a guaranteed proposition at this year's Tour. Nor for that matter has any of the top-five fast men. So which team gambles, and which lets its rivals chase?

There are plenty of guys in the peloton who will be given carte blance on stages like today, tomorrow, and Saturday, making for a series of intriguing pursuits ahead.

If the sprint does eventuate I'm at pains to select a winner. Cavendish will be angry, and when he's angry he often wins. Marcel Kittel will be full of confidence after beating the world's best on Stage 10, but, that said, Stage 12 is going to be Andre Greipel's. A slick finish in Tours, a wide straight, and plenty of road to wind up the leadout. Vintage 'Gorilla'.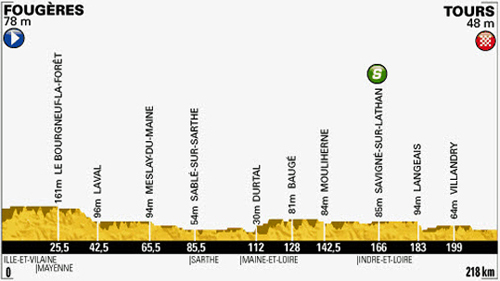 History & The Tour in numbers
Stage 3, 2005. Tom Boonen wins in Tours, further building his lead in the maillot vert, but it's behind him that eyes are focused. Australian rivals Robbie McEwen and Stuart O'Grady, both candidates for green, duel not with their shoulders, but their heads as they sprint for second. Well, it's at least McEwen's head that gets involved in the 70km/h melee. Unsurprisingly, the race jury didn't like it. "Rockin'" Robbie was relegated for his cranium crusade on O'Grady, an incident that would prove a critical blow to his bid for green.

On offer for the riders on Stage 12
Green Jersey - 45 points for the first rider over the line, and 20 for the winner of the intermediate sprint in Savigne-sur-Lathan. 65 in total.
Polka Dot Jersey - No points on offer
Yellow Jersey - No troubles for the yellow jersey contenders today. Just don't crash.

Stage 12 will be streaming live through the SKODA SBS Tour Tracker from 2100 AEST. Live broadcast on SBS ONE and SBS HD also begins at 2200 AEST.

Follow @al_hinds