So sure of this fact, so familiar the position, that veteran commentator Phil Liggett called it early, "you'll never catch Cavendish from here". Then someone did. I'm not laying into Liggett, but pointing out how remarkable Kittel has been this year. Though already with two stages to his name, the German had until that moment, yet to come around Cavendish in a Tour bunch dash. Very few riders can, or have. When 'Cav' gets ahead, he's usually nigh on impossible to peg back.

Three-time maillot vert Robbie McEwen rates Cavendish as one of the hardest riders to overtake because of is almost unnaturally low position on the bike when he sprints, making any advantage from drafting behind negligible. "There's very little advantage even if you're right on his wheel, you barely get sucked along at all", says McEwen, who fought his fair share of battles with the Manxman.

Coupled with that is Cavendish's ability to seemingly accelerate a second time after his initial jump. He's got a 'seventh gear' which few other riders possess, and more often than not keeps even his best rivals at bay even as they appear to close.

So despite Kittel's two stage tally, there was still doubt that the Argos-Shimano man had the running over Cav. On Stage 1, Cav, was caught up in crashes. Kittel claimed yellow, but there was a sense of hollowness to the win. Marseille brought Cavendish his first win, but Kittel was dropped, so no comparison there.

And then there was the controversial finish to Stage 10, in which, depending on who you believe, Cavendish was impeded by Kittel's team-mate Tom Veelers and prevented a chance at victory, or, he'd been desperate and out of position and had made a miscalculation that had resulted in the Dutch rider going down.

Tempers flared, but again no questions were answered. By the roll-out in Tours last night, Kittel had the momentum, and Cavendish was no longer the overwhelming favourite. Even as Gert Steegmans wound up the leadout and Cavendish held the prime position heading into the final 400, Kittel lurked, ominously.

Cavendish jumped, totally committed, but Kittel didn't miss a beat. Was there a skerrick of self-doubt or disbelief from Cavendish as he glanced to his left to see Marcel Kittel edge him by half a wheel on the line. Perhaps. His eyes seemed to linger, looking not once, but twice, and then it was over. A changing of the guard, no, not yet, but a shock.

"I was just beaten today, yeah, that was it," Cavendish said. "It was a duel between my team and Argos, but, yeah eventually he (Kittel) was just faster than me, simple as. You can sit and analyse it but if someone's just simply faster, there's nothing you can do."

Kittel's arrival on the scene has not come overnight, nor has his speed been so overwhelming as it has in this year's Tour for long. It's been a steady progression, chipping away in smaller races, gaining confidence, strength, and that killer instinct, all while Argos-Shimano has been carefully building a team around him.

Kittel has been called a lot of things in the short years we've known him. Blisteringly fast, devilishly handsome, but until 2013, Kittel has never been called a Tour stage winner. It's the branding saved for the very top-echelon of the sport, the men that really are, like lightning. For two seasons, Kittel's name was mentioned only occasionally in the same breath as Cavendish or Andre Greipel. Now it's a regular occurrence. Kittel has delivered on the world stage against the world's best. A bona fide contender for fastest man in the world.

All sprinters must one day come to accept a challenger. For Mario Cipollini that man was Alessandro Petacchi. For Robbie McEwen, it was Mark Cavendish. And for the Manxman, Kittel could well be it. The mantle has still yet to pass. Do not forget Cav won ruthlessly at the Giro before taking out the maglia rossa, while Kittel prepared all-out for the Tour.

However there's truth in Kittel's comment of his Stage 12 performance, "today," he said "I was the fastest man in the peloton". And indeed he was. How long has it been since we've been able to hear that sentence from someone other than Mark Cavendish? To quote Bob Dylan, "the times, they are a-changin."

What's on the menu
The sprints march on. The central French plains again the venue as the race continues its progression south toward Mont Ventoux. As with yesterday, Stage 13 lacks any major obstacles for the Tour peloton, but inevitably a break will roll the dice. If you love agricultural postcards, fields of sunflowers, and les vaches, you'll love today's stage.

Ploughing through the centre of the country before an uncomplicated finale in Saint-Armand-Montrond, there is one minor chance of a late attack succeeding, a ramp with 10km to race in Bruere-Allichamps, but it lacks any sort of real gradient, and should be but a blip for most of the peloton.

At 173km it's a brief day in the saddle, expect a race time under four hours. The craziest part is the finish which after the red kite, makes a 90-degree right hand turn, then a hairpin left-hander, through a roundabout and on to a 150 metre finishing straight. Should be carnage.

What to expect
With tomorrow a harder, lumpier run to Lyon this might be the last chance for a Greipel or Kittel to make their mark before Paris. The maillot vert competition is all but over. Barring Sagan being forced to step off the bike through illness or injury, there are simply too many days suited to him taking points, and his rivals not in the week ahead.

Most intriguing will be whether Cavendish can reassert himself, or whether the Kittel show rolls on. Greipel missed out on contesting the Stage 12 finish and can't be forgotten, and ever-consistent Sagan has never strayed from the top four in bunch finishes so far this Tour.

I went with Greipel yesterday, and I'm sticking by my man. Six German Tour stage wins? Why on earth not?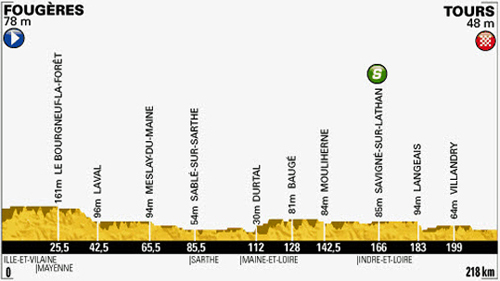 History & The Tour in numbers
Saint-Amand-Montrond. For Australian fans, this otherwise out of the way French town, is a site that will forever live in infamy. 2011 Tour champion, Cadel Evans, then the heir apparent to inherit the maillot jaune after finishing second in 2007, started the penultimate day time trial here needing a 1min 34sec to overhaul Tour de France. History and form suggested the Australian was even money to bring back Sastre, but the race was not one on paper. Conceding just 29 seconds over 53 kilometres Sastre did enough to deny Evans, and hold on for his first, and only Tour title.

On offer for the riders on Stage 13

Green Jersey - 45 points for the first rider over the line, and 20 for the winner of the intermediate sprint in Saint-Aoustrille. 65 in total.

Polka Dot Jersey - A solitary point for the Category 4 Cote de Crotz. Prize money and pride, but little impact on Pierre Rolland's lead.

Yellow Jersey - As with yesterday there should be no trouble for the yellow jersey contenders today as long as they can stay upright.

Stage 13 will be streaming live through the SKODA SBS Tour Tracker from 2200 AEST. Live broadcast on SBS ONE and SBS HD also begins at 2200 AEST.

Follow @al_hinds