1. Try and wipe the smile off their faces, Argos-Shimano
Top and tailing the Tour, victory on the Champs Elysees, four stage wins and a day in the yellow jersey - it's fair to say it's been a remarkable Tour for Argos-Shimano. Marcel Kittel may be heading for cycling super star status after he overshadowed the likes of Mark Cavendish and Andre Greipel in their own playground, but this was less about the dashing German, and more about every piece of the Argos puzzle clicking together. A bond that's been forged between the core of its squad over several years and is now bearing more and more success on the world stage. There's only the faintest hint of ego among them, the most approachable and affable in the bunch. A champion team, not a team of champions, they've more than earned their WorldTour meal ticket, and have been entertaining to boot. Chapeau.

2. In the face of adversity, Team Sky
Starting the Tour as favourites came with pressure, expectations, and a bulging British press corp asking inane questions. Every mistake the team made seemed magnified, every injury, crash, or bad day a sign of crisis. Edvald Boasson Hagen and Vasili Kiriyenka were losses but the team soldiered on. Even for its success it faced a battery. Chris Froome was vilified for his 'come-from-nowhere' domination of the Tour's top mountains despite a well-trodden path behind him. Team principal Dave Brailsford was exasperated he couldn't prove his team's extraordinary performance were just that, extraordinary.

However, to their credit in the face of all the slop they copped, they just got on with the job. There was no team infighting, no implosions, just discipline. But for a hiccup on Stage 9 Sky delivered where it counted; guiding Froome to yellow in Paris. Richie Porte may have been able to do a good GC, Peter Kennaugh may have been able to take a stage, but the objective was to win the Tour de France, and Sky succeeded. Box ticked. KPI met. It's now up to its rivals to again go back to the drawing boards and figure out how in 12 months they'll avoid a repeat of the last two years.

3. Bouncing Back, OPQS
The final stage tally tells little of Omega Pharma-Quickstep's Tour. Four wins is perhaps on par with expectation, but not from expected sources. Mark Cavendish snagged two wins, but only one in a bunch dash, in Marseille, his lowest total since he started winning at the Tour in 2008. The team missed out on the team time trial where it started favourites, albeit narrowly, and after the first week you began to think this was a team wasn't going to live up to its high profile roster's promise. Then came week two.

After recovering from his crash in Corsica, Tony Martin opened proceedings with a blistering time trial around Mont Saint Michel crunching a massive gear. The wind tore the race to pieces thanks to the big German and his classics companions on the road to Saint-Amand-Montrond two days later, and Cavendish picked up his second stage, one of the most thrilling of the Tour and capping it off, debutant Matteo Trentin topped some hardy names in Lyon to make three wins for the week. Hardly a bad return, but Cavendish seems all the more justified in bolstering his sprint support next year after Argos and Lotto's superior control in the final kilometres of the sprints. OPQS will be happy enough, Cavendish not.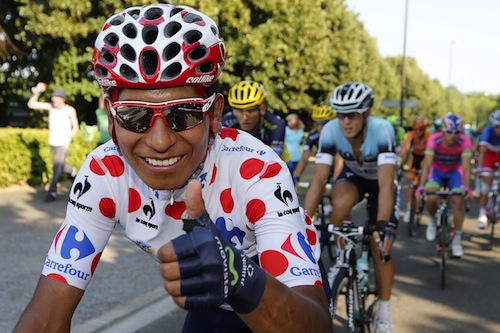 Happy man... Movistar's Nairo Quintana follows in the footsteps of some of Colombia's greats to take the polka dot jersey to Paris. (Getty Images)

4. Alejandro who? Movistar's youngsters star
A Spanish team understandably had to nominally support a Spaniard's chances of Tour success from the start, but Alejandro Valverde was only ever one of three possible options for the team's overall ambitions. Rui Costa and Nairo Quintana, are not riders of the future, they're very much of the present. The Portuguese, who won the Tour de Suisse in June, made up for his GC hopes falling to pieces in the crosswinds of Stage 13, with a two stage haul, while Quintana, well what's there left to say? The Colombian walks away from his first Tour, with two jerseys, a stage win, and second overall. But his legacy has been so much more. He has delivered on Colombia's growing resurgence in the sport, he's won the hearts and minds of the public and he's one of the few overall contenders that allowed his legs, not his words, do the talking. It's hard not to look forward to what this guy will do in the years to come.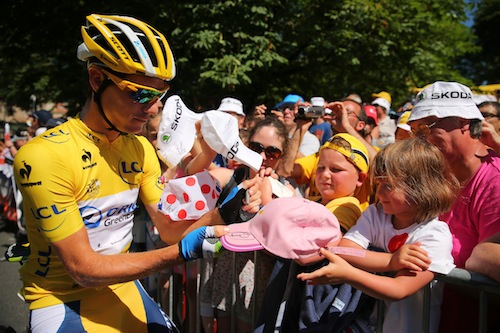 Daryl Impey enjoys his final day in the yellow jersey on Ax-3-Domaines. (Getty Images)

5. Orica-GreenEDGE, a Tour of two halves
Before the Tour Shayne Bannan said a stage win would satisfy the team's ambitions in its second Tour. After Stage 3 in Corsica, it had already done that much through the talismanic Simon Gerrans. Pressure off, and two weeks to enjoy the rest of the race. But the team didn't rest on its laurels. Buoyed by the yellow jersey, OGE rode the quickest team time trial in Tour history to take win number two in Nice. And finally giving Daryl Impey the opportunity to be the first African to wear yellow, well, the first week of the Tour de France belonged to the Australian WorldTour team. An impressive turnaround from its debut Tour, and a new bar set, but the team was not without its issues. Matt Goss was underwhelming throughout the race and the team lacked an impact in the final two weeks thanks to the absence of a bona fide GC contender. Holes to plug in the future, but a fantastic Tour nonetheless.

6. Mollema, the Netherlands next great hope?
There was a point after Mont Ventoux that Belkin looked set to take a place on the final podium in Paris. Bauke Mollema has been there or thereabouts for a few years now but he's never been able to do a really good Grand Tour. Here he was climbing better than Alberto Contador and Alejandro Valverde. He faded into the final week as the Alps and a minor illness took a toll on his chances, but sixth is far beyond expectation. For the Netherlands, a nation that has such a rich Tour history, Mollema's performance is encouraging, particularly in the light of Robert Gesink's inconsistency over three weeks. Is Mollema the next Joop Zoetemelk?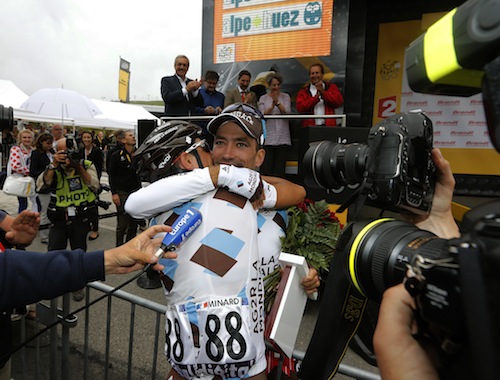 Christophe Riblon made amends for France's till then dismal Tour showing by winning the queen stage on Alp d'Huez. He spared the home country's blushes in taking his second Tour victory. (Getty Images)

7. Welcome back Andy Schleck
Okay so the 2010 Tour de France rider isn't back to his best, but the signs are there that by season end he'll be again featuring at the pointy end of races. 20th overall at the Tour isn't worth harping on about, but it's a long way from where he was, or many would even have predicted he'd finish 12, or even six months ago. It's good to see the younger Schleck enjoying his racing again. The Vuelta may well be a possibility for the former wunderkind.

8. Solid Saxo, but is Contador on the decline?
A five time Grand Tour winner Alberto Contador remains. The Spaniard came to win the Tour de France and he will walk away with fourth overall. His Saxo-Tinkoff team took out the team's prize and also placed Romain Kreuziger and Michael Rogers in the top-20, but this was a team chasing yellow, and stages and it got neither. To its credit, Saxo did throw its best at Sky. Its Stage 13 shenanigans in the wind was one of the more memorable moments of the Tour, but Contador's attacks on the descents off the Manse and Sarenne seemed more desperate than tactically sound. The Spaniard wasn't the explosive climber we've seen in the past, and simply was unable to stay with the best in the Alps. Hard to see him now not thinking about a Vuelta defence to salvage a big win for his season, but the bigger question is are his best days now behind him?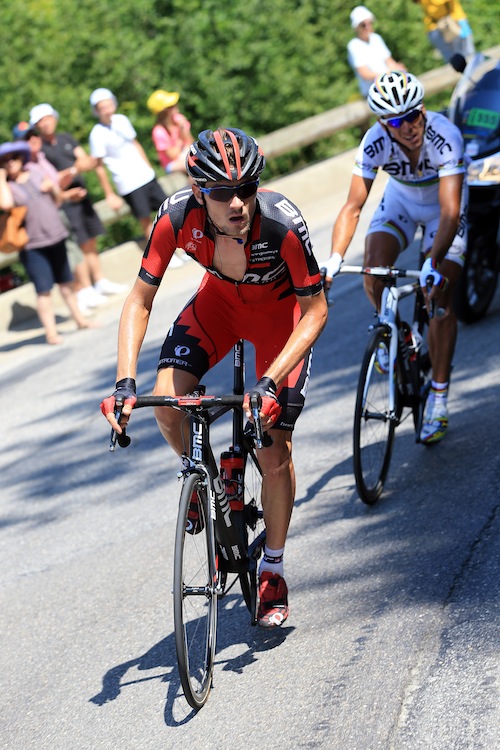 Though he tried, Tejay van Garderen was unable to convert. The American is still however young, and he'll come back stronger next year armed with a tough experience behind him. (Getty Images)

9. BMC walks away empty-handed
It's been a difficult Tour for BMC on many levels. Internally, there's been disharmony between staff, and on the road it's been far from smooth sailing. Cadel Evans struggled to back up after an impressive Giro d'Italia, but in truth the team was underwhelming from its first big test in the Nice team time trial to the conclusion on the Champs Elysees. Tejay van Garderen had a terrible couple of days through the Pyrenees which meant the team lacked any sort of viable back up plan, but the American did at least try to make amends and raise morale with some animated performances in the Alps. Had van Garderen won on Alpe d'Huez, BMC's Tour de France would have looked very different. But oh what a difference a single place makes. 2011 winners, and two top-10 finishers in 2012, this really hasn't been BMC's Tour. Already John Lelangue, the architect of Evans's 2011 Tour win has been shown the door. It'll be interesting to see what else the team will do to shake things up ahead of 2014, and whether Evans is still thinking of one more serious crack at the Tour.

10. Wildcards need an overhaul
If it wasn't already abundantly clear, the performances of the Tour wildcards at this year's race again begs the question that the race needs to overhaul the invite 'system'. Europcar at least had its moments, but Sojasun's invite was highly questionable. IAM, Colombia or MTN-Qhubeka would have been far better choices and tapped into different markets. Of the three wildcards Cofidis walks away with the best result with Daniel Navarro scraping into the top-10. But I wonder how much anyone will remember any of the three wildcards or their impact on this year's race after the 100th Tour packs up. Let's pick the teams that we can expect will have a meaningful effect on the race, or simply pick fewer teams.



Tell me what I missed in the comments below!