Two minutes and twenty two seconds after Chris Horner celebrated his second win of this year's Vuelta on the summit of Alto Hazallanas, propelling himself into the race lead, the man who he'd usurped, Dani Moreno, crossed the line. Elation on Valdapenas had turned to bitter disappointment in just 24 hours as the Spaniard struggled to go with the pace of the leaders in the finale.

Some solace came in the ride of his team-mate, Joaquim Rodriguez, who finished among the other race favourites. But for Moreno, a day that began with so much promise ended in with an agonising capitulation.

"To tell you the truth I had good feelings today," said a broken Moreno after the Stage 10 finish. "But in the end I must have suffered too much with the length of the course and the hot temperature, even if usually I like warm weather. In fact, on the last climb I had hunger-flat and I felt empty. I'm disappointed but the Vuelta is still very long and both Joaquim and me are in a good position."

This is the same Moreno who had been without peer in Valdepenas. Alejandro Valverde described him on Stage 9 as being "impossible to follow" while his mentor, and close friend Joaquim Rodriguez echoed the Movistar leader's comments with his own unrestrained praise. "I was meant to follow Dani, but the truth is I couldn't: in fact, nobody could."

Moreno has always had a blistering finish, his physique packing a not so delicate punch that allows him to rocket up the steepest of finishing ramps untroubled, leaving shattered riders in his wake. This year's La Fleche Wallone was a perfect example; he timed his effort superbly, allowing Carlos Betancur to expend himself before sprinting up the final metres of the Mur de Huy to take the win. Before Sunday's win on Valdapenas, this was his greatest victory, but according to Moreno, picking up the red jersey made his Stage 9 success his sweetest.

Despite his form in Valdapenas and the praise of his peers, Moreno was less than oozing with confidence after the stage; "though I'm in the jersey, I'm just the theoretical leader," Moreno said to Cyclingnews. "That final week will likely be very hard for me, and it's guys like Purito (Rodriguez), Nibali and Alejandro (Valverde) who've shown they can go the distance. They're real endurance riders when it comes to a three-week Tour."

In the wake of such self-deprecation it's easy to think that Moreno was setting himself up for a sub-par ride on Stage 10 without even turning a pedal. And that's been an ongoing theme in Moreno's career for quite some time; playing down expectations. Perhaps there's truth to the fact that Rodriguez, Nibali and Valverde are more accomplished riders over three weeks, but Moreno doesn't exactly have a poor record. At last year's Vuelta he was fifth overall, and he's finished in the top-12 on four other occasions. 2012 is particularly notable as he shelled himself entirely on Stage 17 in Rodriguez's defence conceding time, and any slim hopes of the podium in the process.

Nor is he one-dimensional. Though billed as a classics star, he's handy on the longer climbs Grand Tours inevitably throw up - just look at his ride on Stage 8 to Alto Peñas Blancas where he was second behind Leopold Konig who'd taken a flyer. So why the lack of self-belief when the physical ability is so clearly evident? Part of the reason may stem from his dogged loyalty to his leaders. Moreno is nothing of not loyal. But loyalty, while laudable, needs to be tempered by ambition in an athlete capable of more. At some point, a rider must step out from the shadow of others and forge his own path. While compatriots Alberto Contador and Alejandro Valverde flourished from their mid-20s as they embraced leadership at their respective teams, Moreno has stagnated, and it's only at 31 that we're beginning to see glimpses of his full potential.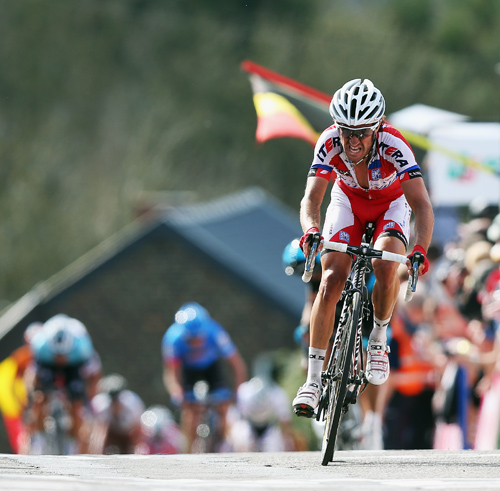 Dani Moreno at his best at this year's Fleche Wallone. (Getty Images)


This has as much been Moreno's own problem, as it has the teams' he's ridden for opting for other riders. At Caisse d'Epargne, he was an important player in Valverde's success, and though given some freedom, never pushed his own agenda. He left for Lotto in 2010, again in the service of more senior riders, including Philippe Gilbert, and in 2011 made the switch to Katusha where he's remained ever since. In every one of his career moves to date he's distanced himself from pressure and responsibility, preferring the quieter life of the super-domestique.

As Alasdair Fotheringham wrote poignantly on Cyclingnews Sunday, "with lower expectations, paradoxically, the Madrileño climber has produced better results", but that outlook is like a cocoon. Though comfortable, it has ultimately been a hindrance to him producing truly impressive performances. He needs to outgrow that comfort and take on a more ambitious agenda if he to realise his potential. With low expectations, the odd result may be considered a bonus, but Moreno is doing a disservice to himself if he honestly believes a handful of stages at La Vuelta is all he's capable of. Why isn't he thinking about winning?

While Katusha has provided a more fertile ground for Moreno to grow and he's been given top-billing on numerous occasions this year, highlighted by his ride at La Flèche Wallone, he's still been (too) happy to return himself to servitude when Rodriguez has been present, seemingly an unwilling leader. It's this idiosyncrasy that continues to bridle Moreno even with the Spaniard a more than realistic chance of reprising a position on the final podium in Madrid at this year's Vuelta.

Spanish newspaper AS described the situation perfectly in an article published after the Spaniard took red on Stage 9, Sunday. According to AS, Moreno must assume the "devil of ambition and shed the angel of obedience if he is to win La Vuelta", before adding that it is unlikely because of his "disciplined, kind, friendly character". Though poetic, I tend to agree.

Into the race's first rest day he sits sixth overall. The race for red is far from over, and if Stage 10 is anomalous to his three week performance, Moreno still more than stands a chance. The question that now remains, and that only Moreno can answer is this; will he resign himself to servitude once more, as he has in the past, or dust himself off and make the most of the race's gruelling finale? Depending on how addresses this question may well dictate the rest of his career.

Follow @al_hinds