I've been asking myself this question of the Vuelta a Espana for the past two weeks: does professional cycling even need a third Grand Tour?

My thinking has been prompted by the large number of abandons at this year's race with a combination of bad weather taking its toll on riders' health, the need for UCI Road World Championships favourites to rest and fine tune their form and the professional swing through North America.

The Vuelta has seen 46 of the 189 riders pull the pin so far this year, almost a quarter of the field, though in the past it has had a rising finishing rate, as is demonstrated nicely in this handy chart created by Cillian Kelly of Irish Peloton.


The real the problem for the Vuelta is as always, the upcoming world championships.

According to analysis of the Vuelta to worlds transition by Pro Cycling Stats, "over the last 16 years, 14 riders (88 per cent) that have won the worlds did ride the Vuelta. Since 2001 it is an even 12 out of 12. Another interesting fact is that only two of these last 12 winners actually finished the Vuelta".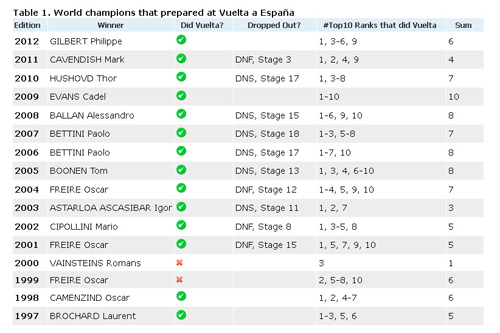 Yes, the position of the Vuelta has always been an issue, seemingly a 'training race' for another event, and more so now with the increasing prominence of several North American races, which comprise a micro season of sorts.

The Vuelta used to have this time of year pretty much all to itself, but races in Utah, Colorado, Alberta and Quebec are eating into this exclusivity, siphoning off riders who in the past would have chosen to race the three-week tour (even for two weeks), deepening its field. Now we have a Grand Tour which seems to me a shadow if its former self.

So what to do with the Vuelta? Allow its continued decline or re-purpose it to a new relevance?

I suppose the first question to ask is does the WorldTour even need a third Grand Tour? I don't think so. The way the sport is evolving, a rider only needs two weeks of race preparation for the world championships, so the North American "season" seems to fit that schedule.

I think the Vuelta needs to make itself relevant to a different level of the sport and repurpose itself as the prestigious race at the ProContinental level, allowing those teams to enjoy their own three-week celebration.

It would give teams and riders that many may not be familiar with some global exposure, and in the process unearth new talent and stars while growing professional road cycling at another level.

What do you think of the Vuelta a Espana?

Follow @Philip_Gomes