The Vuelta is proven ground when it comes to fine tuning a rider with world championship aspirations, but Costa (Movistar) became the first in 13 years to win without first going through the final Grand Tour of the season.

Slovakia's Peter Sagan (Cannondale) was the only other rider inside the top-ten to give the Vuelta a miss.

However, as world championship outliers it may pay to look deeper at Costa and Sagan's run up to the worlds.

After July's Tour de France, where he won stages 16 and 19, Costa took the following month off before again turning the pedals with intent, while Sagan detoured to a full suite of North American races, which like Costa, included the Canadian WorldCup races in Quebec City and Montreal.

Rui Costa
(No racing in Aug)
GP Ouest-Franceâ€Å—â€ÅPlouay Sept 1
Brussels Cycling Classic Sept 7
GP Fourmies Sept 8
GP Québec Sept 13
GP Montreal Sept 15
TTT Worlds Sept 22

Peter Sagan
(USA Pro Cycling Challenge Aug 19-25)
Tour of Alberta Sept 3-8
GP Quebec Sept 13
GP Montreal Sept 15
TTT Worlds Sept 22

As you can see, their packed schedules may have made up for missing the Vuelta, even though Costa's return was as winless as Sagan's was victorious.

Interestingly, ProCycling Stats dug deeper into the world championship field to find that 17 of the top-30 finishers did the Vuelta including Australia's Simon Clarke (Orica-GreenEDGE) who finished 7th.
Furthermore, eight out of 10 riders in the top-10 did the Vuelta as a preparation on the Worlds, compared to an 60 per cent average over the last 15 years. Only two riders took the Canada route, besides Costa this was Sagan. Of the top-30, 17 riders did the Vuelta against seven that did Canada.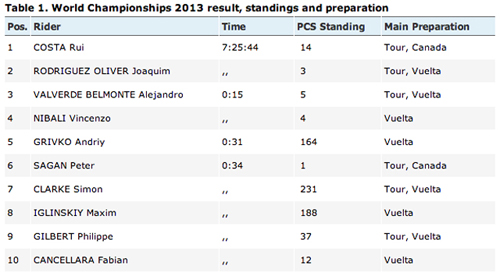 (The Vuelta remains an important build-up for world championship success)

The increasing percentage of Vuelta entrants finishing inside the top-ten at the world championships make it hard to say Costa's win has much meaning, but it may be that he and Sagan are signalling a new trend, with a growing collection of races in the Vuelta calendar slot creating a solid alternative pathway to the world championships.

Some fun trivia to watch out for in the run up to next year's race in Ponferrada, Spain.

Follow @Philip_Gomes