It's not often I write a blogpost which is praiseworthy, let alone having something nice to say about cycling's administrators, but this is one such column.

Cycling Australia has just about got it right with the National Road Series.
Gone are the days when we saw one team dominate with aplomb, demonstrated by Genesys Wealth Advisers in 2010, when the carrot coloured army won all but one of a dozen races in that year's calendar and Nathan Haas ran away with six event wins as well as the Herald Sun Tour, ensuring his place in the 2011 WorldTour.

"The NRS level has come up. The gap's closed," Drapac sport director Agostino Giramondo said to me a few weeks back, when his team – and others – thought they'd be racing the Goulburn to Sydney one-day race, only for the event to be cancelled a fortnight out because Cycling Australia and the race organiser were unable to guarantee a full road closure, or rolling road closure, on the Hume Highway (comprising the first 75 kilometres), and offered no alternative.

"People have learned how to train; people have learned how to race. People have learned the concept of teams' racing. Whereas seven years ago, it was like, what? So, everybody's learning. The level of racing is so close – you (just need to) have a look at the results this year."

Yes, Huon Salmon-GWA are still up there, albeit with a slight name change, and by the time this year's 13-race series is over, they'll almost certainly take out the teams' classification for a fourth year running.

But it has been a much less lopsided, much more exciting, contest the last two seasons.

In 2012 it was Budget Forklifts and Drapac who, together, won eleven of the twelve rounds; Genesys had just the one win at the Tour of the Great South Coast. However the points system was unfair and about as convoluted as the UCI electoral process – in my mind Budget and Mark O'Brien should have won the teams and individual NRS classifications, respectively.

"Last year Mark O'Brien was heavily disadvantaged by the different weightings (for different events). But I think it's a good system this year," Cameron Watt, team manager and DS for Budget Forklifts, told me the Friday before the start of the Tour of Tasmania.

This year, regardless of event, with equal points awarded to stage winners (3 points for the win), one-day winners (7 points) and tour winners (12 points) in each of the 13 rounds (there were 14 but the cancellation of the Goulburn to Sydney made it so), the NRS standings to date portray a fairer and far more accurate representation of the series' top teams and riders: Huon Genesys, having won 5/9 rounds, has been the best-performing team, and the Sky Procycling-bound Nathan Earle, with three wins to his name, has been the best-performing rider.

I haven't spoken to a team manager or fellow NRS rider who disputes that.

When researching the chapter of a book I wrote for the (insert shameless plug) soon-to-be released third edition of the Cycling Anthology, where I took an in-depth look at the five riders Huon-Genesys team manager Andrew Christie-Johnston managed to elevate to WorldTour level, asked why Richie Porte never really shone in his time in the NRS in 2008-09 – but then had a blinder of a neo-pro season in 2010, Christie-Johnston said: "We had a rider in Richie in Australia that couldn't necessarily perform at his best, because the type of racing he had back then was really limited to sprinter, punchy-type riders. So he looked good, but not brilliant. As soon as he got the opportunity to go to Italy to do races that did suit him, you could see straight away that he was going to get there."

Does the NRS now provide a suitable cross-section of events that lends itself to different types of riders? "Yeah, I think so. And I thought it did last year as well," Watt said. "You only have to look at who's winning the tours. There's a pretty good cross-section of winners. And on the podium, you've got almost three different styles of riders; I think that proves there's something in it for everyone.

"Say, (for example the Tour of) Gippsland: we had Jack (Anderson) winning it, who's not a pure climber – and then you had Earle, who is a climber, second (overall), just one second behind. And then you had Alex Edmondson, who's completely different from those two, in third. So, when you have tours like that, you know there's something in it for everyone. South Coast last year, you had (Genesys rider) Anthony Giacoppo win, and then five seconds behind on GC was Darren Lapthorne (Drapac). Even Tour of Murray – Tom Palmer (Drapac) won it – but we had Michael Vink, who's like a GC-climber, in fourth. And you've got your TT/hilltop tours as well, so there's something in it for them. I think (the NRS) has got a pretty good mix on the calendar."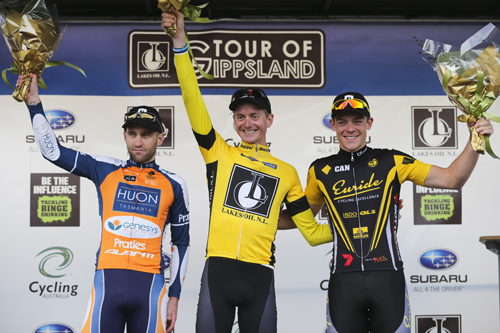 2013 Tour of Gippsland podium (l-r) Nathan Earle (Huon-Genesys), Jack Anderson (Budget Forklifts), Alex Edmondson (Euride) (Mark Gunter).

Apart from coming up with a viable alternative rather than cancelling a race altogether, as happened to the Goulburn to Sydney, where Watt and Giramondo feel the NRS can be improved is in keeping entry costs uniform and reducing the team rosters to six riders across all events on the calendar, allowing crews other than Huon-Genesys, Budget Forklifts and Drapac to have a chance of winning a multi-stage race. It would also make costs of entry significantly more affordable (other than the Tour of Perth, where expenses were subsidised, all travel and accommodation costs comes from the teams' back pockets), permitting more teams to race more events, and with six per team, field a full squad.

"If we reduced the NRS team size to six, that's going to encourage more of those second-tier teams, if you could call them that – that would help them enormously. Eight is just too many, and it's too easy to control a race. We want more even competition; if we dropped it to six, that's what would happen. I think (Cycling Australia) is looking into that. Genesys has benefitted from it, hugely. Because once you've got a lead, and you've got a strong team of eight, it's so easy to control a race. We've benefitted from it too, in Gippsland and South Coast; you get a slender lead… so long as you've got eight, strong, healthy guys, it's very difficult to get back on par," said Watt.

"It's going to level the financial playing field a little bit, too. The NRS is growing, there's more rounds then there used to be, so that's pretty much saying that all the team budgets have to grow as well."

Added Giramondo: "You don't want one team dominating, because people either get pissed off with it and walk away from it, or they just hate that team because they're winning all the time, and it just really doesn't provide that spark. To get that balance of winners every tour is exactly what racing needs in Australia."