Rodriguez finished season 2013 with 607 points, leapfrogging Chris Froome (second) in the final fortnight of competition, while Alejandro Valverde completed the top-three. A worthy podium in anyone's book, with a Tour de France winner, and two relatively versatile riders right at the pointy end of the standings. Since 2005 however it's worth nothing that the rankings have only once been taken by a non-Grand Tour rider and that was 2011 when Philippe Gilbert won pretty much everything.

So are Grand Tour riders simply more consistent throughout the year, or are the scales of the current system balanced unfairly in their favour?

Take this year for example. Peter Sagan (fourth) took 21 wins from the Tour of Oman in February, to the Grand Prix de Montreal in September. He won the points jersey at the Tour de France, after a four stage haul, and was second at both Milan-San Remo and the Tour of Flanders. On the whole an impressive year and one that would be hard to better. Still, he would've needed to win a Monument (100 points) to even get close to Rodriguez, who was 116 points clear of the Slovak.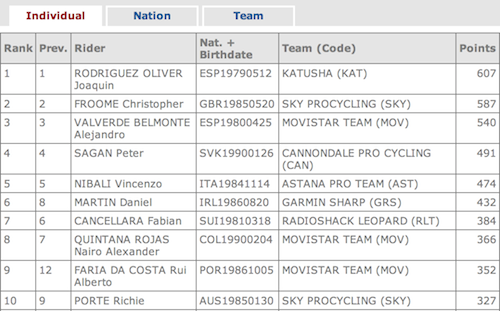 The final UCI Rankings for 2013.

Fabian Cancellara (seventh) took out E3 Prijs, Flanders and Paris-Roubaix and was third in Milan-San Remo. For the Swiss, that's not far off a perfect campaign, and yet he's a Tour de France win plus change short of pegging back Rodriguez. And for the next purely one-day specific rider you've got to go all the way down to 18th with Belgian Greg van Avermaet, who for mine was BMC's rider of the year. Even Tom Boonen's history-making 2012 wasn't enough to give him a WorldTour title.

With 17 GC riders in the top-20 it wouldn't be too controversial to say that the current rankings are weighted fairly heavily toward stage race oriented riders. The points system as it stands reflects that.

Here are some of the oddities under the current system:

To record the same number of WT points as a Tour de France win, a rider would need to win 10 stages (and that assumes the overall winner took none) - the number is 11 for the Giro and the Vuelta.

Winning the Tour Down Under, Tour of Beijing or Tour of Poland is equivalent to taking out Milan-San Remo, Paris Roubaix or the Tour of Flanders. So Tom-Jelte Slagter and Fabian Cancellara should get paid the same, right?

Winning the Tour of Beijing and the Tour Down Under is equivalent to winning the Tour de France

To take nothing away from Joaquim Rodriguez, who is a very complete rider, the WorldTour rankings should more accurately reflect the way we perceive the relative merits of riders the way rankings like the ProCycling Stats system works or CQ Ranking.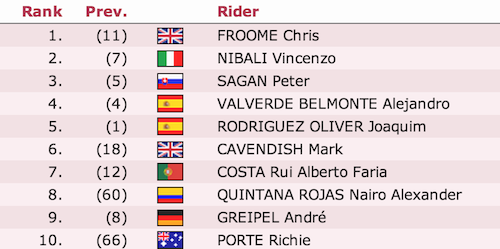 CQ Ranking is one of the more popular ranking systems out there.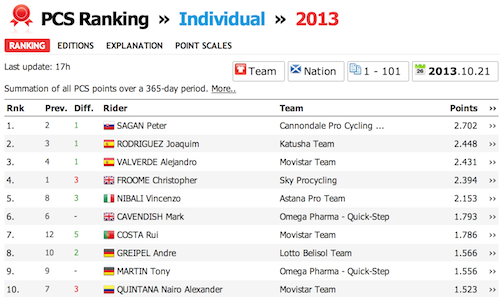 ProCycling Stats's season rankings offer another alternative.

Both systems use weighting algorithms to give a better picture of rider performance such that the likes of Mark Cavendish, Cancellara and Sagan can go head to head with Chris Froome, Vincenzo Nibali and Joaquim Rodriguez in a fairer fight. CQ's rankings gives the top spot to Tour de France winner Froome, in a far more balanced top-10, while PCS gives the year to Sagan.

Personally I think these are far better tools for understanding and analysing rider's seasons, and are probably closer to the way fans rank riders in their minds.

At some level though even comparing a Sagan with a Froome is fraught. Is it really possible to stack a Paris-Roubaix win against a Grand Tour? It was interesting to see in the latest UCI Technical Commission newsletter that there was some suggestion of recognising broader categories, like best sprinter, best time trial rider, best climber, in addition to the existing WorldTour rankings.

That might go some way to giving the uninitiated a better appreciation of the different dynamics of the sport, but at the moment the proposal is light on the detail. Personally, I believe the current system needs to be reformed significantly, overvalues riders of certain characteristics, while undervaluing others.

The beauty of cycling is not just in a one-dimensional appreciation of GC-type stars, but in the battles of the hard men on the cobblestone in Spring, the all-rounders in the Ardennes, the sprint contests, the mountain goats, and the chrono specialists. Recognising that should be a key part of any future points system.

Who do you think deserves the year's top gong?

Follow @al_hinds