Firstly, let me say there is no honour among thieves.

Differentiating, your Ryder Hesjedal's from your Lance Armstrong's, your Riccardo Ricco's from your Matt White's is like splitting hairs. Where there was intention to cheat, rationalising one person's justifications versus another is a fool's errand.

Where we can find at least some point of difference is in the way riders, team managers, stakeholders address their pasts. Where the ultimate interest is in full and total transparency, where the lies are laid to rest, where we can close a case and move on. Whether these people stay in the sport or not is another matter, but transparency is a minimum requirement for cycling's current and future health.

Garmin-Sharp boss Jonathan Vaughters would disagree with none of this. He, and his team, have prided themselves on their transparency, their co-operation with authorities in the lead-up to the Reasoned Decision, and their commitment to being part of the process of cleaning up the sport. All very laudable.

But there's a degree of opaqueness in this transparency that sits uncomfortably with those that follow the team, and particularly where it comes to Hesjedal, who admitted to doping in a brief statement Wednesday after revelations surfaced in an extract of Michael Rasmussen's book that he'd showed the Canadian how to dope in 2003.

It emerged later that Hesjedal had already spoken to the USADA and the CEC and admitted as much in a series of interviews earlier this year. Vaughters has gone further, admitting that he was aware of Hesjedal's past even before that. Hesjedal, like Stuart O'Grady, has now gone to ground. We haven't heard a peep from him since last week. Isn't that, as my colleague Philip Gomes wrote, its own sort of omerta?

"... but from a team policy standpoint, our policy has always been that people are open, honest, and truthful to anti-doping authorities," Jonathan Vaughters told VeloNews last week. "And Ryder accomplished that a long time ago to the satisfaction of us."

Sure JV, but what about the rest of us? Anonymous confessions, redacted names, and bridled sanctions. Did any of that really, as it was intended open up cycling's omerta - or was it simply a means to bring down Lance Armstrong and others? Garmin-Sharp has led the way in reforming cycling's pervasive doping culture, and yet the key issue that's stilted our progression forward, transparency, isn't addressed. To bastardise George Orwell in Animal Farm, it seems not all transparency is equal.

Compare Hesjedal to the man who outed him, Michael Rasmussen. The Dane is a pariah, and made a mockery of the 2007 Tour de France, but in the last 12 months, you really can't fault him for his no-BS dealings with the public. He came forward in January (albeit after years of denying as much), took questions in a public press conference, gave a full and total confession to the Danish Federation and has now published a book in which he doesn't hold back.


Hesjedal was last week's bombshell, but Rasmussen even before his book has hit public outlets has unleashed a few more loads of shrapnel today. All of his 2007 Tour de France team was on the juice. For those that don't have encyclopaedic memories that means the now-retired Oscar Freire, Juan Antonio Flecha and Denis Menchov were all allegedly doping in 2007, as was Pieter Weening.

Impossible of course, because we all know that all doping stopped in 2006, after Puerto.



Weening is the only rider to still be an active member of the professional peloton with Orica-GreenEDGE, and is now in a very difficult situation considering the allegation, if true, would be sanctionable as it stands within the WADA's eight year statute of limitations. Like Garmin, Orica-GreenEDGE also prides itself on transparency and its anti-doping stance. Over the summer of 2012-2013 the team conducted its now shelved Vance Review in a bid to pre-empt another Matt White landmine being stepped on.

Among the most important recommendations was for the team to address the pasts of several of its current riders and staff with its own reconciliation process. That didn't go ahead.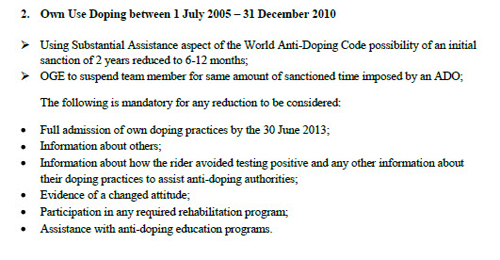 An extract from the Vance Review.

Which made it rather awkward for the team when Stuart O'Grady fell to the French Senate. And even more awkward now with Pieter Weening, who unlike O'Grady, hasn't "retired", and has recently re-signed with the team for two more years. How will Orica-GreenEDGE handle Rasmussen's allegations? Deny, or go on the front foot, and be pro-active? Transparency is the gold standard.

I'm not singling out Garmin-Sharp and Orica-GreenEDGE because I have some sort of vendetta against them, but rather, because I hold both teams to a higher standard. Both teams have espoused themselves as crusaders in the anti-doping fight, and yet in so many ways they continue to disappoint.

The cycling public don't like to be treated like goldfish. We're aware of the sport's history, and of the depth of its problems in the last decade. If stuff happened, own it, don't pretend it never happened. Be consistent. Be transparent. Be willing to face up to the hard questions and hard truths. It shouldn't take a Michael Rasmussen to bring this sort of stuff to the surface.

Follow @al_hinds