With budgets and roster spots tighter than ever it's not at all surprising that there's been very little team hopping from the world's top riders this year, but with plenty of value on the market it's still been a very busy window. So who's done the best? Al Hinds takes a look at some of the key movements of the 2013-2014 transfer period.

Biggest transfers: Rigoberto Uran (Team Sky to OPQS), Rui Costa (Movistar to Lampre-Merida)

Rigoberto Uran's time at Sky has been formative, but the Colombian was never going to rise further in the pecking order in a team that has a bottleneck of talent at the top. Sky couldn't offer him more, and Uran's further development was contingent on a move to a team willing to give him Grand Tour leadership. Omega Pharma-Quickstep had both the money and the appetite to strengthen its stage race team. Michal Kwiatkowski is a massive talent for the future, but Uran offers OPQS the here and now. A good move for both Uran and OPQS, it'll be interesting to see whether he makes the Giro or Tour the major objective of his 2014.

Finishing the season with a flourish, Rui Costa won the rainbow jersey, and settled himself firmly among the sport's elite. Like Uran, his narrative was overshadowed by more senior riders, in his case Alejandro Valverde, but he's come a long way in the last few years and now looks more than ready for a Grand Tour tilt.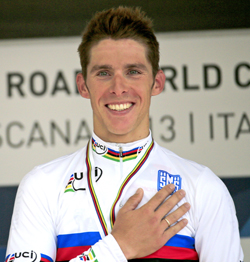 From Lampre's perspective this is a coup. Costa is one of the hottest talents out there and Lampre has been bereft of a major success for quite some time now. The big question is how much support Costa can rely on at the Italian outfit, the depth of the squad isn't huge and that may prove pivotal to the World Champ's success next year.

Value for money: Thomas de Gendt (Vacansoleil-DCM to OPQS)

While Uran and Rui Costa are both in for big pay increases, one man that's taken a huge pay cut is Thomas de Gendt. The Belgian was very nearly left teamless after Vacansoleil's collapse but found a lifeline with OPQS. That however came at a cost. De Gendt, who finished third in the 2012 Giro d'Italia, is reportedly riding for a fifth of his 2013 salary. Currently pursuing his former employers for compensation, his loss, is OPQS's gain. Bargain basement prices. (To be quite honest the approx 220K Euros he's on for next year isn't exactly chump change, but you know.)

Brotherly love: Sebastian Henao (Colombia to Team Sky), Dayer Quintana (amateur to Movistar)

The names Quintana (Nairo) and Henao (Sergio) are no doubt familiar, and the hope for Movistar and Sky is that talent flows within the family with respect to their younger siblings Sebastian and Dayer. There's a degree of nepotistic hook-ups going on here of course. A quiet word from Nairo, and Sergio, both now with enough star power to command at least a little sway over team recruitment policy, would've been enough to bring both of these guys in. For Sky and Movistar Dayer and Sebastian are inexpensive ways to placate their stars, but it'll be worth following to see how good these two guys are, and how far they go. Reports are varied. On the whole the experiences of brothers in the professional peloton has been mixed. From Sagans to the Schlecks. Watch this space.

View for the future: Garmin-Sharp

Jonathan Vaughters has always had an eye for developing young talents, picking them up cheap, getting a few good years out of them and then seeing them drift off to bigger and better squads. This year is no exception. With a host of old riders leaving the team or retiring, Vaughters has gambled, perhaps bigger than ever, with a who's who of young talents. T-J Slagter, Janier Acevedo, Andre Cardoso, Dylan van Baarle, Nathan Brown and Lasse Norman Hansen all carry 'next big thing' tags but how long will it take for them to bear fruit? Next year? 2015? There's not a lot of value in teams looking too far ahead, development doesn't bring results, but If Garmin can nurture and hold on to these guys in the years to come, they'll certainly be in good stead.

Best youngster: Caleb Ewan (WorldTour Academy to Orica-GreenEDGE)

Speaking of young talent, the hottest property coming out of the espoirs ranks, Caleb Ewan, turned down offers from several other teams to side with Orica-GreenEDGE on a pre-contract for 2014.

Staying put

It's not a revelation in itself but it is the
hallmark of 2013-2014. The sport's biggest names aren't moving anywhere,
Cavendish, Kittel, Greipel, Sagan, Gilbert - Evans, Nibali, Contador,
Valverde, Quintana, Froome and Porte. They're all where they were in 2013. Many
have even signed new contracts taking them through 2015. So if you're a
fan of any of the above, fear not, you won't be buying new team kit for
2014.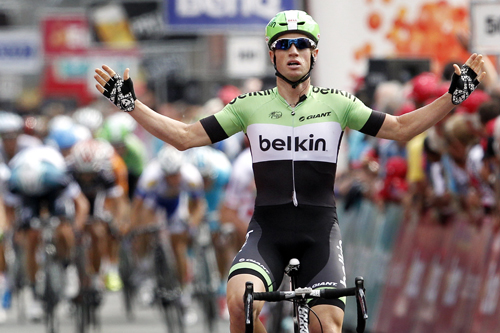 Mark Renshaw is just one of a handful of top names heading to OPQS. (Getty)

Strategically sound: OPQS

The ideal scenario for a WorldTour team is identifying where it's lacking, and addressing that weakness with a targeted transfer. Need a sprinter? Pick one up. Need a climber? Pick one up. Need a domestique? You get the point. Most of the time you don't get exactly who you want - you plug one hole, only to see another open up as a rider leaves. OPQS appear to have come as close to nailing it as one would think possible. Jan Bakelants is a star, Uran, as already mentioned adds a new dimension, Wout Poels is versatile, while Alessandro Petacchi and Mark Renshaw solve the team's leadout problems. It helps that OPQS are rolling in Czech cash, but putting it to good use still takes sound strategy. Chapeau Mr. Lefevre.

Most controversial: Franco Pellizotti and Michele Scarponi (Both to Astana)

Pellizotti's return to the WorldTour doesn't sit well with a lot of cycling fans, nor does it with the Movement for a Credible Cycling (MPCC) which has begrudgingly okayed the Italian's transfer only after Astana agreed to delay the start of his season to May. Astana then went further and signed Michele Scarponi from Lampre-Merida as well. Scarponi is only leaving Lampre after a mutual termination to his contract was forced on him from the team's management - why? - because of his links to the ongoing Mantova investigation. When so many riders are struggling for jobs, it appears odd to opt for guys like Scarponi and Pellizotti, but then when has cycling ever made sense. They're free to race, and good luck to them.

Gutsiest call: Chris Horner (Trek to ??)

The guy that so far has been passed over for the 2014 season, American Chris Horner. How a reigning Grand Tour champion won't ride in 2014 when he wants to beggars belief, but here we are. Whether Horner is demanding too much, or teams are unconvinced the 42 year old can keep performing remains to be seen, but it would be a sad thing indeed for the American to walk away in the current circumstance. Speaking of Vuelta winners, Juan Jose Cobo is also still hunting a contract. Anyone?

No love in a tough climate

Finally it's worth reflecting on the number of riders retiring prematurely, or being forced to downgrade from WorldTour to ProConti, from ProConti to Conti, and from Conti to well a part time job. The numbers are nothing short of staggering. Vacansoleil-DCM, Sojasun and Euskaltel's losses have been felt by riders, staff and fans alike, but it's the knock on effects of the big teams failing that hit hardest.

Follow @al_hinds