The field is legendary. The course, fast developing it's own folklore, and the green and gold jersey, an honour that even some of Australia's best have never worn. The Mars Cycling Australia Road National Championships brings together the country's best professionals from far-flung overseas bases for a one off battle royale on the slopes of Mount Buninyong.
It's a festival of sorts with a competitive flavour. One hundred and thirty riders will line up for the men's road race on Sunday, broadcast live on SBS ONE, but a fraction of those are in it to win it. Here are my super seven, the riders, and teams with different characteristics but each with a realistic chance to take green and gold.
1. Mr. Consistent - Simon Gerrans & Orica-GreenEDGE
He'll be 34 in May but Simon Gerrans is showing no signs of slowing down the longer his career endures. Australia's golden boy has enjoyed a golden era since linking up with Orica-GreenEDGE in 2012, finding consistency, and career-best results. Milan-San Remo, San Sebastian, the Grand Prix Plouay, the Tour de France's yellow jersey, Gerrans has gone to another level in the last few years and is undeniably one of the top one-day riders in the world, let alone Australia. Rarely a rider who doesn't perform when he needs to, Gerrans has to be considered the rider to beat on Sunday, particularly with the strength of O-GE behind him. Another tick in the box for Australia's Mr. Consistent?
Why he'll win...
Gerrans has the runs on the board having won before had had an un-interrupted pre-season and has the best team behind him. Gerrans isn't the outright best climber in the field, but he doesn't need to be. It's his finish, a kick that's held off Slovak speedster Peter Sagan at the Tour de France that makes him difficult to beat.
Why he won't win...
There are two reasons Simon Gerrans won't deliver on Sunday. One is that the someone else in his team; perhaps a Simon Clarke will be up the road and Gerrans is left to mark out his other rivals to nullify the chase. GreenEDGE has cards to play and will play them. The second is that Gerrans could be out-muscled on the road. An in-form climber on his day, could ride away, particularly on this year's course which is more gruelling than ever.
2. The armada - Drapac Cycling
For all intents and purposes Drapac is a new team for 2014. Transformed and with a significantly increased war-chest this year the red and white squad lines up in Ballarat full to the brim with talent. Travis Meyer, Will Clarke, Wes Sulzberger and Jonathan Cantwell are all stepping into the ProConti squad fresh out of the WorldTour giving the team a top-tier feel without a top-tier budget. Then there's the string of returning riders; Lachlan Norris among them, and Drapac fixtures like former national champion Darren Lapthorne. With limited international racing Drapac have a put a premium on success in the triumvirate of races over the Australian summer; the Nationals, the Santos Tour Down Under, and the Jayco Herald Sun Tour. Sharpened by a camp at altitude in Bright, Victoria the team is in form, and ready. But can it deliver?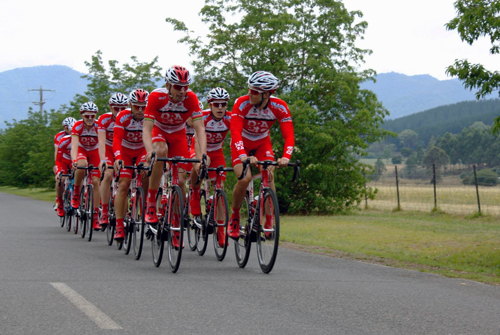 Why they will win…
Sunday's road race will be very much about the whole being stronger than sum of its individual parts. No rider at Drapac is an absolute standout for the win; Clarke, Meyer, the Sulzberger brothers, Jack Anderson, Norris, Lapthorne; they're all good riders, but to be successful they'll need to use strength of numbers.
The threat they pose as a unit is that none of them can be let go, either individually or in small groups, and that'll load pressure on Orica-GreenEDGE. All of Drapac's riders are strong all-rounders and that gives them options on what is very much an all-rounder's course.
Why they won't win…
If the race is highly selective, the team's numbers advantage will count for less. The difficulty for Drapac is deciding who it rides for in such a situation and whether the team has the quality to keep someone like Gerrans at bay.
3. The guy who's done it all - Cadel Evans (BMC)
It's been some time since Cadel Evans last graced a National Championship, but the man closest to superstar status in Australian cycling return this year as part of his preparation for the Giro d'Italia. A fixation on the Tour de France has prevented Evans from riding competitively in January previously but with the Grande Boucle out of the picture this year, local fans will be lucky enough to see the BMC man up close and personal on Mount Buninyong this weekend. Evans has nothing to prove. He's a former world and Tour de France champion, he's done it all. But a green and gold jersey would be a nice addition to the mantle, and if there's one thing that we know about Cadel it's that he doesn't ride just to make up the numbers. Will the 36 year old dazzle?
Why he will win…
He's Cadel Evans. No, he's not the mighty force of a few years ago, but he's not far off. Still one of the most feared riders in the WorldTour on his day, and a real fighter.
Why he won't win…
A meticulous trainer, Evans will be mindful of going too deep so early in the year for an uncertain reward. Then there's the fact he'll be completely on his own and one of the most marked men in the race.
4. The heir to the throne - Richie Porte (Team Sky)
Rewarded for a standout 2013 with the Cycling Australia Elite Men's Road Rider of the Year award, Richie Porte has certainly hit his stride since he linked up with Team Sky. The Paris-Nice champion will head to the Giro d'Italia, like Evans, dreaming of pink, and with May the focus, rather than July, Porte might be in better condition than ever for the Australian summer. The Evans-Porte contest will be one of the more interesting to follow in the lead up to the Giro's Grande Partenza, and it all starts on Buninyong. Will Porte make a statement in Ballarat?
Why he will win…
Porte is well-suited to the course, can time trial, and is a handy descender. A hard attack from the bottom of Buninyong on the final, or penultimate lap is a realistic path to green and gold, and perhaps the percentage play for Porte.
Why he won't win…
Like Evans he'll be marked, he doesn't have the kick of a Gerrans or a Sulzberger (see 2012) and he won't be in top-top form.
5. The comeback kid - Tim Roe (Budget Forklifts)
Picked up by BMC as a teenage wunderkind. Two years lost to injury. And now he's back. Tim Roe is a massive talent, but he's had a very unhappy couple of seasons. That's all changed since a step down to the Conti ranks last year in Europe, and a dedicated process of slow and steady rehabilitation of a broken body that's been rebuilt muscle by muscle. I spent a couple of days with Roe in December, and he's got his edge back. An excellent all-rounder, Roe is riding domestically this season, but his aspiring for big things in the Australian summer. Nationals, a spot with UniSA at the Tour Down Under and a yellow jersey on Lygon St would make for an ideal start to his 2014. It's ambitious, but for Roe, this is his Tour de France. Anything's possible. Can he complete his comeback in spectacular fashion?
Why he will win…
Prepared specifically for the race, and his time trial performance shows he's putting out the power. He's also likely to enjoy the total support of his Budget Forklifts team.
Why he won't win…
Untested at a top, top level for quite some time, it would be a big ask for Roe to come out swinging and win a national title.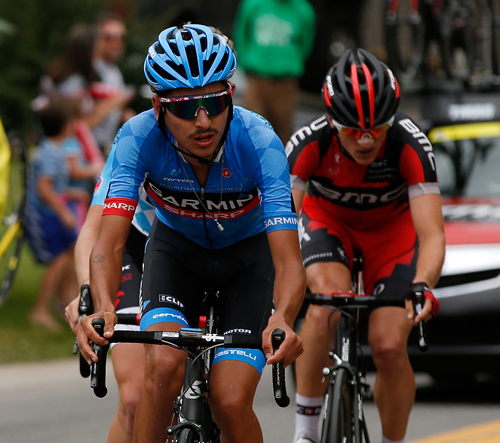 6. The spoilers - Garmin-Sharp
The Argyle. Three very sharp prongs, three very good ways to open up the guts of the racing on Sunday. Steele Von Hoff, third last year provides the fast finish in the event of a bunch dash; Rohan Dennis the ability to go long and stay away; and Lachlan Morton adds an explosive element to the team on the climb. Simon Gerrans rates Garmin as "the team to beat" outside of his own GreenEDGE stable and he just might be right. The absence of Nathan Haas (injured) will hurt the squad, but these guys all know how to ride. Dennis and Morton are both coming off highlight-laden 2013s.
Why they will win…
Versatility and strength. Each of the team's cards is a genuine shot at the title. If Drapac and Orica-GreenEDGE cancel each other out, the race will play heavily into Garmin's hands. Alliances with other teams will be key.
Why they won't win…
They're beholden to the whims of other teams. The worst case scenario for Garmin is a break with a Orica-GreenEDGE rider, a Drapac rider and a couple of lone rangers up the road.
7. The dark horses - Adam Hansen, Matt Lloyd, Ben Dyball, Will Walker
Four riders it's hard to look past. Two former champions, an in-form rider, and one you can't write off. Matt Lloyd is like a box of chocolates; you don't know what you're doing to get. New team, new rider? We'll see. Ben Dyball is sub-70 kilograms and nearly found himself on the podium of a time trial designed for specialists. He'll be flying on Sunday; and bolstered by a formidable Avanti Racing Team. And Will Walker? The Baku rider like Lloyd is a mystery man, but is the kind of rider who has an uncanny ability to be in the right place at the right time.
There will be LIVE coverage of the Elite Men's Road Race from 2pm AEST on Sunday 12 January on SBS ONE and streaming online.